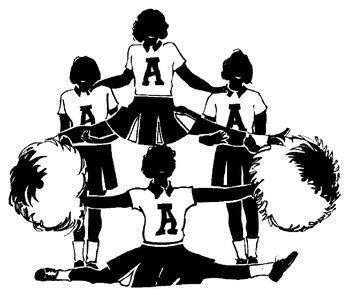 My family is far from normal. We have definitely had more than our fair share of mishaps. I know what you are thinking, all families are a little weird.  Well hold on to your seats because this ride might surprise you. I come from a family with three siblings, all females. I am the oldest, so I have the honor of clear memories.  Thank god my sisters can't remember a lot of them. People think our family is normal. We all are involved in school cheerleading, active in clubs, and quite cute if I must say so myself.
But don't let those stereo-typical ideas get the best of you. Even the cheerleaders have some of the strangest families. You have to understand that when my youngest sister was 4, we lost her at the airshow with about 100,000 people present.  It is easy for a child to sneak away when everyone is looking up at the planes flying over.
Ok, that doesn't sound too bad. When she turned 8 years old, she went missing again.  She was in the house one minute, and gone the next. To make a long story short, I can say that it turned into a neighborhood search with my mom like a noodle crying in our yard. I bet 30 people searched our house.
The poor young man that had delivered our pizza earlier that day was hunted down like a criminal. His trunk was searched by the police as if he was a murderer. Needless to say, we didn't' order pizza for a few years after that.
The fire trucks were sent through the neighborhood with their lights scanning the wooded areas in hopes to find her body. We were all crying, and my sister and I swore we would never fight again if someone could just find her. After about two hours of searching, the police made a second search through the house themselves.  They were gathering items for the search dogs to sniff when they decided to make a third search. During the third search, the armed police man finally found her sleeping under the cushions of the couch where she admitted she hid and fell asleep because she worried about robbers. Whew…that was embarrassing to tell the neighbors and family members to quit searching because she was asleep INSIDE the couch. But then again, it is my family we were talking about.
So now you get the picture….I am not talking about a normal family here. Although I could tell you many strange stories about vacationing, I will leave you with one taste of what I experience on vacations. My freshman year, I traveled to Orlando for a cheerleading competition at Universal Studios. My mom had just went to a tanning bed to gel her base tan so she didn't burn. After she visited the doctor's office and received a steroid shot and burn creme for her severely blistered body, we headed towards Florida. It seemed like things would go fairly well for a change. After a fun-filled day in Orlando, all of the cheerleaders headed back to the hotel. We were all staying on the same floor so something was destined to happen. That evening my family went to bed as me and my sisters slept in rooms with other cheerleaders. My father had a habit of sleep walking though. He arose to use the restroom. He was dressed in his briefs and walked outside of the room before he realized what he did. Knocking on the door and half asleep, my sick and tired mother never heard him. After several attempts to wake my mother, he decided he couldn't wait any longer so he proceeded outside and took care of business. When he came back in the hall, he knew he had to awake her to get back in the hotel room. Not fully awake, he went back to the room knocking a little harder. To his relief the door opened and he walked on into the room. It didn't take long for him to realize that he had knocked on the wrong door and was standing in his underwear in front of three cheerleaders and two of the mothers. They freaked out not realizing what half-naked man just walked into their room. When they realized who he was and what he had done they called my mother who successfully awoke to the ring and let him in the room. (Now do you believe me?)
Dear Reader: This page may contain affiliate links which may earn a commission if you click through and make a purchase. Our independent journalism is not influenced by any advertiser or commercial initiative unless it is clearly marked as sponsored content. As travel products change, please be sure to reconfirm all details and stay up to date with current events to ensure a safe and successful trip.
---