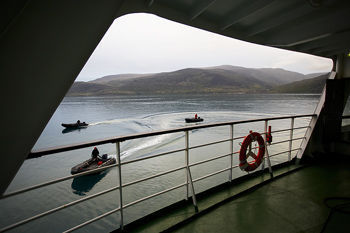 The day had finally arrived, the day I had been anticipating for weeks. I looked out the car window and saw nothing but huge trees that cast a dreary shadow over the Tamiami Trail.
I was only five hours away from a cruise to Mexico, with the ship awaiting me in the port of Miami. My mind raced with thoughts of tanning, swimming, mini golf, and best of all, 24-hour buffets. Everything was going to be perfect! We arrived at the terminal loaded with suitcases, tennis rackets, pillows, you name it.
Finally, we boarded the ship. We found the two rooms we were occupying and I couldn't wait to see what I thought would be a super-luxurious suite, but the rooms were less grand than I had expected. The room I was sharing with my mom and brother was simply decorated with three single beds right beside one another, a small closet, and a broken television.
I felt claustrophobic just standing in the doorway, but all was well. I wouldn't be spending much time in the room anyways. We spent the rest of the afternoon exploring the many nooks and crannies of the ship. We even had a practice emergency drill. Everyone on the ship was forced to go to designated areas wearing life vests.
I felt extremely dumb just standing there in a life vest for over an hour. I began to think that the staff do that just to laugh at all the gullible, innocent passengers on board. Later, I took my siblings to a showing of Fantastic Four. The movie was interrupted (at the best part of course) for a message explaining that a small aircraft had crashed at the mouth of the port. All twenty-one passengers were tragically killed in the accident, and we were unable to leave port until an inclusive investigation had been completed. We were assured that it should take only a few hours.
Nobody was permitted to leave the boat. The shocking news roused everyone, including us, in the theater so much that there were only two people left. I never did see the ending to that movie! All there was left for us to do was wait, and 'wait' was what we did.
After two trips to the buffet, a stop at the pool, a comedy show, and a formal dinner, we still hadn't left port. It was now 1 a.m., and my father and sisters had already retired to their rooms. My mom, brother, and I headed to our room, and started to set up our beds. My mom grabbed the extra blanket from the closet and let out a piercing scream. It turned around only to find an old blanket on the floor completely saturated with what smelled like urine.
We roamed the ship for an hour while housekeeping re-cleaned the room. That day, we were still sitting in the port and it didn't seem like we were going anywhere. We were informed that they would permit people to leave the ship with a full refund. Those who stayed on board would receive a $100 credit, but the boat would be re-routed to the Bahamas. Wow, I thought, wouldn't it be great to have $100 to spend at the cute boutiques? My mom had a different idea. Within an hour, my mom had the entire family packed, and we were off the ship.
Our next move was to figure out whether we should go home or embark on a 'new, exciting adventure.' Well, our new adventure was less exciting than the name made it out to be. The plan was to go to my great aunt and uncle's house three hours away. Some vacation! After much deliberation, we all agreed that we should find a hotel on the beach and spend the next few days there. We found a hotel right on the beach, and our vacation was starting to look a little better, but it rained almost the entire time we were there, so the beach was out of the question.
Our vacation was less than perfect, but I have to admit I had a pretty good time with my family. Although it seems that we had terrible luck, the ship we were on didn't leave until three days later and they spent a day at the Bahamas, so it was good we left. Besides, this vacation has been a great source of laughter with our family over the last few years, and our time together was priceless. My prayers go out to those passengers and their families.
Dear Reader: This page may contain affiliate links which may earn a commission if you click through and make a purchase. Our independent journalism is not influenced by any advertiser or commercial initiative unless it is clearly marked as sponsored content. As travel products change, please be sure to reconfirm all details and stay up to date with current events to ensure a safe and successful trip.
---