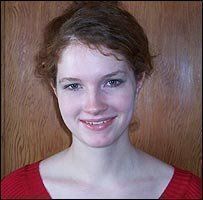 Going on vacation is a hard thing for most farming families, there are chores that must be done daily, and bills that have to be paid by the work done on those sweat-of-the-brow days. Though, neighbors and relatives are trusted with the work, there is always a farmer's independent worry that something will go wrong while he isn't there. So, it was a wonderful thing to just be planning a vacation for my farming family this summer. My dad did his best not to get our hopes up in the too likely event that we would not go, but the enthusiasm of my two younger brothers, Joe and Zach, and I won out, and we looked up every vacation destination within a thousand miles. Finally, as August approached, doubts began to surface as to wether we would make the escape this year, and besides, that it was dry, a drought really. As such, we were watching our corn wither away and turn white in the heat, putting the economics of a week long vacation in question. Then, something happened that changed our outlook. It rained. Rained hard and long, until there was water standing in the fields, and a trip outside left shoes heavy with goopy mud. So we loaded up our van and took off from our South Dakota farming town, toward the 'cities', as my brothers call them, of Minnesota, Iowa, and Wisconsin.
As we went along the countryside and beyond, our family visited, and in the case of us kids, sometimes fought, but on the whole it was very enjoyable just to be together and able to give each other full attention. A normal vacation would have found us worried about the goings-on at home. This time the rainy skies that made the air heavy, and the fields of grass and alfalfa smell so sweet, soothed us that when we got home things would be better than we left them; and that opened up the ability for all of us, even my farmer dad, to relax.
So after a few tours of colleges, we arrived at our main destination, Wisconsin Dells, to meet up with and have fun with our cousins at the various parks that are larger park of the town. The towering water slides and roller coasters were amazing as our family teased each other on rides none of us would have done on our own. There were even wave pools, which though it was fun to wallop around in an attempt to body surf, seemed totally at odds with the decidedly salt-less air that I had previously associate with any wave over four feet tall. All day for two days, we never stopped laughing and visiting whatever we did. Sure, the water parks and shops were fun to go to, but the best part was just being together with my alternatively goofy, or serious, family. Being able to take a step back from the rat race of life and enjoy the quirks of the people closest to me, was the best part of the trip.
The trip we took this summer changed my outlook a bit, or rather put into sharper perspective what I think most everyone knows, but are a bit put out to admit. That no matter how hard we try to make ourselves and our families happy through reaching toward a higher standard of living, what would really make us all happy is to be able to appreciate one another more and show our love directly to one another instead of trying to use goods, gifts, to show one another. I very much enjoyed the company of my cousins and brothers more than any birthday gift they ever gave me, and the teasing my parents, and aunt and uncle lit up their faces more than any amount of farm or yard work I've ever gave them. Though, it certainly is important to work hard, it definitely helped my outlook to step back and just enjoy people for a week.
Dear Reader: This page may contain affiliate links which may earn a commission if you click through and make a purchase. Our independent journalism is not influenced by any advertiser or commercial initiative unless it is clearly marked as sponsored content. As travel products change, please be sure to reconfirm all details and stay up to date with current events to ensure a safe and successful trip.
---