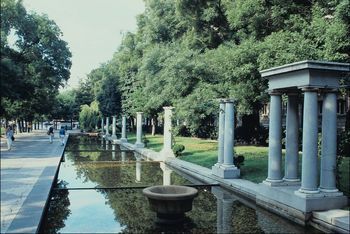 One of the most uncomfortable voyages that I have ever taken overseas was my unfortunate/fortunate (I have trouble accurately describing which) trip to Madrid, Spain. By uncomfortable, I am not referring to the quality of the airline service, but the actual time my mother, sister, and I spent on Spanish soil-or should I say:concrete.
Except for England, I've always felt as if I was an outsider whenever my travels brought me to the continent of Europe. The language and culture blocks (needless to say) never helped me. Besides the language and culture barriers, there was something about the Spanish atmosphere that forced me to keep my guard up:The people.
Some feature of our presence seemed unwanted in Espana. Perhaps I was the only one to pick up on this issue because of my hyper absorbent nature, but as we entered and exited the Hotel we were staying at, walked the streets, rode in public transportation, went sightseeing, and entered the malls and stores, the individuals I observed had an unusual nature about them. I didn't need to be fluent in the Spanish language to observe the abnormal lingo.
I'm a 5'11, 16 year old brown skinned African descended individual, and in my original stomping grounds of America, I'm a common sight. If I were to enter a small bank, life would go on. Time would keep flowing.
Events would still take place. In Madrid, this is something of a different story. Never have I experienced a whole room shut down because of my presence-of me just being apart of the atmosphere.
I glide across the sidewalks and dodge bodies as they fly by in their daily pursuits, but in this strange land the bodies dodge me first. Picture this: As I'm taking in the sights and the beautiful architecture, I scope out an older woman and what seems to be either her daughter or granddaughter ahead of me. Both of their eyes meet mine as they advice closer toward me, and before I even pass them, the older woman yanks her daughter out of my sight, and shields her from my gaze.
They both stare at the ground coldly as my being fades into the distance. Her reasons for doing this? I have no idea.On another day, I had the fortune of taking a tour of one of the art museums in Madrid. Everything went smooth.
The art was enjoyable, and very captivating, but I had been drinking too much water, and needless to say-the system was acting up. I used my best re-con skills to locate the nearest bathroom, but what I experienced before I got there was a bit surprising. Lined up on both sides of the staircase were people waiting to get into the restroom.
That would be fine, if every last one of them didn't have such a cold gaze cast in my general direction. The air was heavy, and just advancing up the stairs to reach the door to use the bathroom was going to be a hassle because I tend to be influenced very strongly by my surroundings. My surrounds at that particular moment were telling me to locate the nearest exit by any means necessary. The bathroom could wait. Stares, stares, and more stares. Staring is rude, yes, but here, it just surpassed being rude, and entered the general realm of being just downright scary and uncomfortable. Train rides were unholy in nature, and the eyes plastered on me had a paralyzing effect. My legs would tremble, my heart would play me drum solos, and my entire frame would be bathed in sweat. The eyes were just that uncomfortable and unrelenting. Just stepping out of the hotel room each day proved to be a battle between wills. Part of me really did not want to step outside the hotel building, the other did. Anxiety was an everyday thing, because I knew that wherever I went, I'd encounter the same people with the same unusual mannerisms. Now the Madrid vacation definitely had it's high points, but the weird nature of the people I came across during my stay stands out in my mind ferociously. Besides Japan, Spain had to be one of the most unpleasant destinations I've been to. Although this essay shed light on my Spanish experience, It would be near impossible to describe my entire time in that Country with combinations of 24 letters, colorful expressions, and varying sentence structures. Madrid, Spain will not be on my list of destinations to visit for a very long time.
Dear Reader: This page may contain affiliate links which may earn a commission if you click through and make a purchase. Our independent journalism is not influenced by any advertiser or commercial initiative unless it is clearly marked as sponsored content. As travel products change, please be sure to reconfirm all details and stay up to date with current events to ensure a safe and successful trip.
---