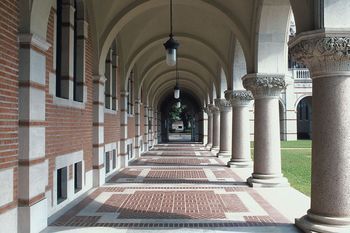 At first my trip to Alpine, Texas was one of those great trips that one takes with a straight face so as not to show any negative emotion. But somewhere inside that four and a half hour drive, it turned into one of the most confusing expeditions of my young, uninspired life. I say this because this was the trip where I lost my closest friend to an honorable cause — college.
Even though it was inevitable that she would soon leave me to fulfill her own dreams of becoming an ER physician, when it happened I just could not seem to wrap my mind around it. Suddenly the ground I spent years and hard hours tending just opened up and began to suck the life out of me with out ceasing. I mean, I always knew in my subconcious mind that the world would surely end before God would allow anything to separate me and my confidante, especially since we spent the last 6 years of our lives becoming so close that not even our own attitudes could get in the way.
My partner and I had been through it all: a familly demolition, molestation, assualt, high school, boyfriends, breakups, first kisses… everything. We even went so far as to create a little world that only we could understand. However, in the process of entertaining ourselves, I had forgotten to find other friends and suddenly I was cursing the long, seemingly endless stretch of road surrounded by nothing but mountains , small bushes, wild cows, and dirt.
I also found that I had what seemed to be an eternity to think about what had to be done. During these endless minutes I attempted to convince myself that I would see her again, that our relationship would never change and I was not alone, that this was a benefit and not a curse, but somehow it just didn't seem to make this any easier. The the third to worst posssible thing happened — our car began to run low on gas and there were no towns in sight. We would never make it back to a gas station if we turned back.
It was then that I realized that this road was just like time, a seemingly endless and annoying song that has no rewind or fast forward, but does have a visible tape that seemes to go forever either way you look at it. What this meant was that I have no choice, but to go forward and move on although in no way did that mean that I had to forget the good times. Sometime later we came across that verry little town of Marfa, Texas. It had no stoplights, about five dozen houses and one 1500 square foot building containing its firehouse, police station, post office, and city hall. But as strange as it looked, nothing could compare to the odd aroma of beef jerky mixed with beer and day old bread. Yet we were here and in serious need of gas.
We pulled up to a Chevron which we soon found out had no pumps available in an area with absolutely no cars. We blew that off and went one more mile down the road to the Shell, where we filled up and proceeded to hightail it out of Marfa before any thing else happened. Fifteen minutes later, we were back on the never ending road, and one and a half hours later we were in Alpine, Texas.
Once in Alpine, we began searching for Sul Ross University and found it  on top of a hill after about nine and a half minutes. To my surprise and wonder, it was absolutlely gogeous, with its faded red exterior and plush green lawn and a small familly of wild hart timidly grazing at the entrance. It was picture perfect. Unfortunately, we did not think to bring a camera, although if supplied with one we most definitly would have burned the film up with fun filled pictures and memories.
One of these pictures would probably have been of my mom and I waiting in line for an hour and forty-five minutes trying to register my sister or of us attempting to look cool playing pool in the campus game room even though we had not played since a three hour game in 1999. Then, at 6:15 p.m., my mother called to tell me and my brothers that it was now time, to really leave my sister to her own vices.
All I could do was try to be strong and not cry, although it still felt like the only world I knew was being violently riped away with a smile. It worked for about five minutes and then I finally broke down and cried on and off for the remainder of the trip. Although i did not pay attention to the trip home, I vaguely remember my stepfather almost ran over a rabbit, which I wished for a while was me just so that the pain would stop. And then we were home. It's been one whole day since I've been away from my sister and it seems that i just might make it alone, but then again I still wish she were here to tell me that it would be ok and that if I still felt alone in the morning we could talk . I miss her dearly and I hope that in my haste I was still able to write a paper worthy of winning even a small scholarship toward my college experience.
Dear Reader: This page may contain affiliate links which may earn a commission if you click through and make a purchase. Our independent journalism is not influenced by any advertiser or commercial initiative unless it is clearly marked as sponsored content. As travel products change, please be sure to reconfirm all details and stay up to date with current events to ensure a safe and successful trip.
---