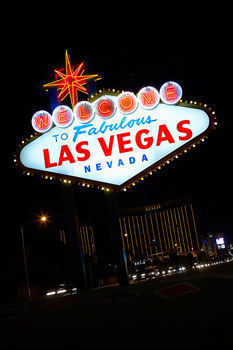 SUMMER! I've been waiting my whole life for this. Not just because this was going to be the first summer where I wouldn't have to take any extracurricular courses, but because I would get to travel out of the state of California for the very first time!
It was a very big deal, even if it was only one state over. And of all weekends to go to Las Vegas, my family and I were going to stay there for July 7th, 2007 (also known as 7.7.7, supposedly a very lucky day.) But before we went to Vegas, my mom told me that there would be one more surprise.
Our trip started off like any other — a stop at the gas station and another one at McDonalds. We ordered three McChicken sandwiches and chicken nuggets. My sister and I exploded with laughter when we saw the total.
What was the total, you ask? It was exactly $7.77. Coincidence? I think not. Finally, on the freeway, my mother said that before we get to Vegas, we would pick up someone special.
I wondered who it could be. I feel asleep, but when I awoke, I was in a house that I've never seen before. Silence. Then, I heard footsteps in the hallway. Who could it be? 'Good morning sleepy head,' said a familiar voice. My vision was still blurry, but I knew who it was.
It was no one else but my big brother Bao. I was so happy to see him, but all that could come out of my mouth was a tired 'hey.' He laughed. 'I haven't seen you in six months and that's all I get? Go brush your teeth.' Okay, the last comment might seem like a random gesture, but that's how Bao is.
Aside from mom and dad, Bao always looked out for my other siblings and I when we were younger. Too lazy to argue, I got up and brushed my teeth. Mommy told me that Bao and his girlfriend Jamie were coming with us to Vegas.
I didn't really know Jamie, but from what I can tell she was very nice. Jamie came over and we all left in the van towards the city of gamblers. You'd be surprised how fast three hours goes by when you're eating Sour Patch Kids and Skittles and playing the License Plate Game (where you hit another person when you see a license plate from another state).
Finally! We made it! We grabbed our luggage and jumped out towards our beautiful, castle-like hotel, The Excalibur. Little did we know it was over 100 degrees outside. The heat made the Bay Area seem like Alaska. But it didn't matter. We were so excited to be there, that is, until we got to our room. When we saw it, we were dumbfounded. Six people all in one small room with two beds, a bathroom, a TV, and a very loud air conditioner.
We decided that my parents get their own bed and the rest of us sleep on the other. What's worse than having your dad snoring loudly all night? Having your dad and your brother snoring loudly all night. Like father like son.
The next day, July 7th, 2007, we headed down to the game room. What a lucky day. Every game I played, I won the very first time trying. First, I knocked down milk bottles and got a Curious George stuffed animal. Then I won a cute stuffed elephant from a game where you had to get your horse to the finish line first. And finally, my sister spotted a game where you had to knock three blocks off a table. My sister missed and so did Jamie. I was given the last ball and, without really even trying, I got a brand new acoustic guitar.
Then, my mom came and said we were going swimming. She was so shocked to see me holding a box almost as big as I was. After swimming, we went to the MGM Grand Buffet. It was heaven! Every single thing I tried, I loved! The only bad thing about it was that I saw a new bride get punch on her beautiful wedding gown. Like every other adventure, ours had to end somewhere too. So we packed up our belongings and said our goodbyes.
Dear Reader: This page may contain affiliate links which may earn a commission if you click through and make a purchase. Our independent journalism is not influenced by any advertiser or commercial initiative unless it is clearly marked as sponsored content. As travel products change, please be sure to reconfirm all details and stay up to date with current events to ensure a safe and successful trip.
---