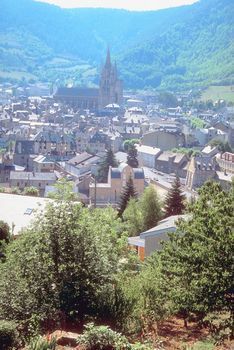 I had imagined it so clearly. Each evening, my Montpelier family would all sit around a table outside on a terrace. The table would be set with the first course — " cantaloupe with ham, a tomato and mozzarella salad, or maybe even some French bread with fois gras.
We would sit out there and chat in French for hours while we ate. I knew I would have difficulty understanding the language, but I figured that with each dinner conversation, I would gain confidence and contribute more. With this image in mind, I could not wait to meet my French host family.
I was excited to get away from English-speakers and immerse myself in a language that I was determined to master.When my group arrived in Montpelier, I found my host sister, Marina. She greeted me with the customary triple-kiss on the cheeks and we took off in her dad's car. I was disappointed that I didn't get an opportunity to greet her father properly, but I shrugged and figured there'd be ample time to do so.
In the car, I attempted to make conversation with Marina and her dad, but I was again disappointed to discover that they would only answer my inquiring questions with a simple yes or no and the conversation would quickly die. I soon discovered that this was the way it would be with my host family the entire week I was with them. There were to be no leisurely French conversations over dinner as I'd pictured — " no family dinners at all for that matter.
Dinners were self-serve whenever one wanted. It seemed that my only French language exposure would come from the television or radio, one of which was on at all times. By the second day, I felt miserable.
I had had such expectations for this immersion week, but suddenly all I could envision was a week of silence and lost opportunity unfolding in front of me.Determined not to waste my time in Montpelier, I decided to go for a run to explore my French neighborhood. Breaking away from the TV, I left the apartment and meandered through narrow cobblestone streets, past old brick homes, and to a small canal. Jogging down the bank, I passed a man fishing with his son and another boy throwing sticks to his dog.
It was all very quaint. This was the France I had imagined. Turning to head back to the apartment, I realized that, although I can observe this lovely yet stereotypical French life on my runs, I can only experience the actual life of a modern French teenager by spending time with Marina.
When I arrived back at the apartment, I mustered the courage to ask Marina if we could go out somewhere. 'Want to go to my friend's house?' she asked me in French. Perfect.
I could get out of the house and meet some new people.I soon found myself joining in a conversation with Marina's friends around an outdoor pool. We talked and laughed in French for hours. Not only was I getting exposure to the language, I felt like a French teenager. This was real. I got to know these French kids well. We spent every day together. We went to the beach, walked around the city, camped on a lawn; one of them even agreed to go running with me. And throughout every activity, we conversed in French.At the conclusion of the immersion week, I reunited with the other American students. We exchanged stories of our families.
Most of the other students had experiences similar to the one I had imagined myself having. Their families not only ate dinner as a family, they also took them to nearby towns to see the sites. I expected myself to be jealous, but I wasn't. I felt like I got the most real experience. I wasn't in France to see some tourist sites; I was there to live like a normal French student. And I was there to speak French, which I had taken every opportunity to do. When I found I couldn't talk to my host parents, I had searched out other French people with whom I could. Although it wasn't the idyllic French experience that I'd pictured it to be, I made the most of what it was and enjoyed it thoroughly.
Dear Reader: This page may contain affiliate links which may earn a commission if you click through and make a purchase. Our independent journalism is not influenced by any advertiser or commercial initiative unless it is clearly marked as sponsored content. As travel products change, please be sure to reconfirm all details and stay up to date with current events to ensure a safe and successful trip.
---