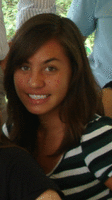 Most people come back from summer vacation with a new tan, a new outfit, and new, exciting stories to tell. Everyone greets each other with the usual "How was your summer?" and then proceeds to sum up their vacations in a few sentences. But when I came back from my trip to the Philippines, I could not just sum up my summer vacation in a mere thirty seconds. This is because my trip was not just a trip, but an experience.
I went to the Philippines the summer going into my sophomore year of high school. This is important because I was at an age where one begins to understand and see things in a clearer, more truthful way. Coming from an American household and growing up with air conditioning, real milk, and two cars, I did not know any way of life except my own. So when I visited my mother's hometown, the small village of Salvacion, my eyes were opened. I had visited the village twice before when I was younger but coming back with less childhood ignorance, I saw what a different culture and way of life I was coming into. Showers were not showers but buckets of water. There was no running water or electricity. Cars were not appropriate for such a small town where everything was accessible by foot. And you caught your own fish for dinner.
So overall it was completely uncomfortable. And not only was it uncomfortable, but awkward as well. Being half-white and unable to speak Tagalog, the Filipino language, I was the outsider that was constantly being stared at and talked about. People were not used to seeing someone with light brown hair and distinctly Caucasian features, especially in such a small town where visitors did not come often. I was shy from the attention and very self-conscious.
My days were spent walking around the village to the shore, swimming, or inside reading. This may sound very relaxing, but it was far from glamorous. It was so hot outside that you couldn't do anything except swim, and sometimes I was so bored that I would just stay inside and read for hours. And walking not only caused you to work up a sweat, but you also came back with new mosquito bites to connect the dots with.
While the trip was uncomfortable, awkward, and not much fun, I believe that it was necessary. My perspective was changed. It was not that these people were living in poverty, because they would not know it. They were just living the way that they were used to, and it was normal. Life was different for them and much harder than anything I experienced, but they did not know that either. And thinking back to it, I realize that they were happy with the way things were. There was no way that I could explain to my friends what my Philippines vacation meant to me without taking them with there. The trip opened my eyes in a way that no textbook could because I was there and I experienced it. While it lasted only about a week, it did change me. Afterwards, I had a different, more thankful outlook on my own life. Coming back from my summer vacation, I didn't just have a new tan but a new perspective.
Dear Reader: This page may contain affiliate links which may earn a commission if you click through and make a purchase. Our independent journalism is not influenced by any advertiser or commercial initiative unless it is clearly marked as sponsored content. As travel products change, please be sure to reconfirm all details and stay up to date with current events to ensure a safe and successful trip.
---