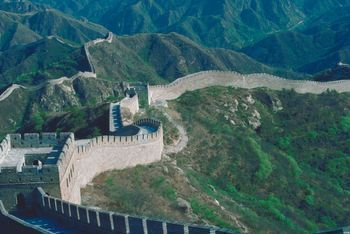 Christmas is usually a time for family gatherings and present exchanging. For me, however, the holiday meant another time to be envious of all the happenings around me. The only family I had in the United States was my parents.
We had left China when I was five and haven't been back since. I hardly remembered my relatives and felt a sense of remorse whenever a friend talked about seeing their grandparents or cousins. So when my parents announced the summer after my freshman year of high school that we would be going to China, I felt excited and nervous.
The day of our flight came too soon and before I knew it, I was strapped in tightly in my seat preparing for the plane to take off. The next eleven hours passed by in a blur, consisting of sleeping, listening to music, and staring out the window. Finally the plane landed in Beijing airport and I stepped, for the first time in nine years, on the land where I was born.
Next morning, I found myself stepping onto a train going to the town where my grandparents lived. The train was set up so that each compartment had six bunk beds, three beds stacked on top of each other on both sides. And, lucky for me, I had a ticket for a middle bunk.
Lying down, the bottom of the top bunk was several inches from my nose. I couldn't sit up and I couldn't easily climb down. I groaned and flipped onto my stomach for a new position.
When we stepped off the train we were immediately greeted by two men that I had a vague recollection of. I realized they were my uncles. My parents excitedly greeted them while I just stood back and watched.
I wasn't sure what to say to them and I couldn't understand the dialect they were speaking in. We all got onto a cab and started driving towards my grandparents' house. As the car drove past the town, I felt a strange sense of dejà  vu.
That big bookstore on the corner looked so familiar. That street, that hotel, I felt memories rushing back to me. As the car turned onto the street where my grandparents' house was, my mind started going into overdrive.
'Holy crap,' I whispered, 'I remember this place.' I timidly grasped the handle on the iron front gate and pushed the door open. I gasped as I saw the familiar looking front yard and the one-story house. Before I could get a good view, however, about twenty people came up to greet me. I felt overwhelmed with the attention, especially since I couldn't really understand what they were saying. There was no doubt in my mind, however, when I saw my grandparents. I could never forget them. I wanted to go up to them and hug them as tightly as I could, but thought better of it. That wasn't really the custom here. Instead I settled for smiling at them and letting them make comments about my height and how grown-up I looked.
After the initial shock, things began to settle down. I felt comfortable with these people because I knew they were related to me in some way. I had never had this feeling before. I felt like I belonged and that all of these people truly cared for me. My favorite times were at night during and after dinner. The entire family plus whoever had dropped by that day would sit and eat in the huge front yard. The endless chatter and laughter were soothing to me and I enjoyed just sitting back and observing my surroundings. The food we ate was delicious.
I couldn't remember the last time I had such good food. I stuffed myself with noodles, dumplings, and soups. Time passed quickly, too quickly for my liking. I didn't bother hiding my flow of tears as the cab drove away and the house became smaller and smaller. I couldn't believe how much I had been missing out on these nine years and the incredible people I had failed to know. I no longer felt alone in the world, knowing I had so many people who loved me. Sure, they were more than ten hours away, but that just made any time I could spend with them more memorable. Before our plane even landed, I was thinking about the next time we would go back and visit.
Dear Reader: This page may contain affiliate links which may earn a commission if you click through and make a purchase. Our independent journalism is not influenced by any advertiser or commercial initiative unless it is clearly marked as sponsored content. As travel products change, please be sure to reconfirm all details and stay up to date with current events to ensure a safe and successful trip.
---