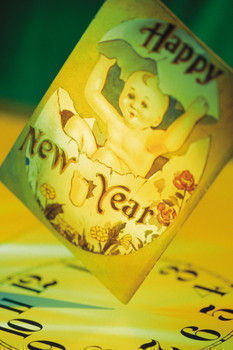 After spending our Christmas at home, three days later my sister and I were invited to travel back east by our aunt and uncle in Columbia, Maryland. Having lived in sunny, southern California for most of our lives, traveling in late December to the east coast was an abrupt change. Since this was our first winter without our family back in California, we were a bit unsure what to do for New Year's.
Should we stay home and have a nice dinner? Or should we go out somewhere and celebrate? In the end, my uncle decided to attend a party at his previous church elder's house. The congregation at that previous church had been mostly people of Cantonese descent. My aunt wasn't Cantonese and had wanted a church with more of an American congregation, so they had moved.
Nevertheless, both my aunt and uncle kept in touch with most of the families at the old church and got together several times a year. My sister and I were eager to finally go to a New Year's Eve party at a place other than our quaint little house in Glendora, an unknown town in the suburbs of Los Angeles County. We arrived on a stormy night to a cheerful looking two-story house lined with white panels, golden windows, and a winding brick walkway that led up to the cavernous porch near the front door.
As we took off our shoes and entered the warm kitchen, five people greeted us immediately and offered us some egg custard. Other than a few more adults, there were two younger guys and a girl that all looked in their 20's. After the first introductions went around, the adults started watching a black and white Cantonese drama on their laptop and reminiscing about the good old days of watching the show on television when they were younger.
I felt like such a wallflower at this point. I could tell the other two guys were busy between cleaning the kitchen and talking on their cell phone every 2 minutes or so to answer a call. The girl sat herself on the dark blue couch in the corner of the next room over and started logging on to her own laptop.
Up to now I had always been known as a shy, timid person who hesitated to speak whenever my teachers would call on me. But I decided to change that, for it was New Year's after all. So I decided to approach her and just introduce myself in the most cordial, pleasant way-I remember I tried to smile at least five times during those first few minutes of our conversation.
I soon learned that she, also, was feeling a bit left out, for although her family was originally from Hong Kong, her immediate household had grown up in Beijing and mainly spoke Mandarin. This house was her uncle's house, and their family had invited her to stay over for New Year's. However, they had to use English to communicate most of the time, for the difference between Cantonese and Mandarin in terms of sound and speed is pretty enormous.
She told me that if it wasn't for me coming up and talking to her, she would have felt just as left out. As we started introducing ourselves by name, grade, location, etc., it was then that my sister joined us on the couch and started opening up a bit too. The Chinese girl's name was Xueyao, pronounced like Sheryl, and she was a Chinese international student attending Purdue University at the time.
Xueyao and I discovered that we both have heard of Jay Chou, a famous singer in China at the time, and loved watching music videos online. While the adults were laughing and joking about their own movie, we decided to watch one too. Together we laughed ourselves silly watching 'Love on a Diet', a Cantonese comedy about two people trying to lose enough weight to become beautiful for someone else, but then falling in love with each other in the end. We giggled and smiled so much at the different scenes; it was all in all a very good bonding experience. It's almost been a year since then, but I keep in touch with her regularly through e-mail and she always sends me the latest photos of her travels. Looking back, meeting her was so much fun, and that evening was by far the happiest New Year's I had ever spent.
 
Dear Reader: This page may contain affiliate links which may earn a commission if you click through and make a purchase. Our independent journalism is not influenced by any advertiser or commercial initiative unless it is clearly marked as sponsored content. As travel products change, please be sure to reconfirm all details and stay up to date with current events to ensure a safe and successful trip.
---