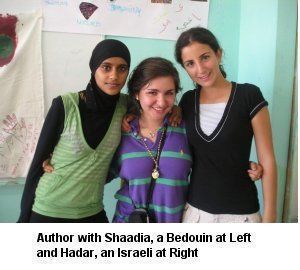 ---
We were born into different worlds — she into a Bedouin Arab village in southern Israel, and me into a middle-class Jewish American household. Fate, or perhaps random chance had given me my shoes, and she hers, waiting for the moment when we would meet and exchange them for a short walk.
Shaadia, a devout Muslim, dressed in a long, black and pink robe-like dress, concealing her neck, arms, and ankles. In the desert heat, her delicate, fragile body was buried under layers of fabric, yet the black hair-covering she wore emphasized her delicate, pretty face and startling olive-colored eyes. Through she tried to hide it, I could tell she was beautiful.
Being a stranger in her school, she greeted me with a hug. The warmth in her greeting surprised me and her constant giving of affection, a part of the Bedouin culture, made me feel instantly welcomed and comfortable. We went to the open-air market, pungent with the mysterious smells of spices and cooked meats where she led me by the hand, as though I was a lost child, introducing me to family members, showing me exotic foods, jewelry, and clothing.
The differences between us were obvious. We spoke mostly of our separate worlds, showing the other the context of our lives. I told her about my parents and my brothers. She told me about her father's two wives and the rivalry between her many siblings. I spoke about my college plans. She told me about her failed engagement. While girls my age in America look through magazines for prom dresses, girls in the Bedouin village of Rahat were looking through similar magazines for wedding dresses. Shaadia once asked her father to arrange a marriage between her and the boy she loved. However, because of family ties and politics, her father would not let her marry him. Instead, he engaged her to her cousin, a boy a few years older who did not want to marry her. Because both parties refused, the engagement was broken, but it left Shaadia feeling deeply shamed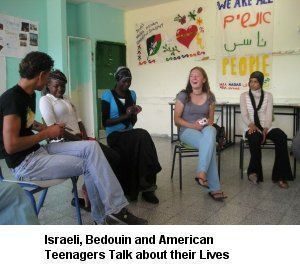 After listening about her parent's marriage and her failed engagement, I asked if she still wanted to get married, if ever. 'Not yet,' she told me, explaining that she wanted to study Arabic at a university to someday become a professor. "Arabic is difficult,' she explained, 'but the complexity of the language make it beautiful.' This reminded me of my love of learning languages, the beauty of a culture's beliefs expressed in words.
As we smiled and laughed, doing art projects and eating pizza, I wondered about my new friend and her world. We were so different, and yet on a very basic level, we were just two teenage girls.
Certainly, our different cultures, lifestyles, and religions could be sources of conflict. For a few uncomfortable moments, we talked about my house and material possessions, making me realize how much more I had than she did. She once offered to give me her email address, but, apologizing, told me she did not have a computer. In those moments I wished that I had less and she more. Yet material things did not really matter to her, using what she needed and sharing what she had. Though she had never left her village, she understood something about the world that I, who have traveled many thousands of miles, did not. Our lives were fundamentally different, and yet, we were both human.
Dear Reader: This page may contain affiliate links which may earn a commission if you click through and make a purchase. Our independent journalism is not influenced by any advertiser or commercial initiative unless it is clearly marked as sponsored content. As travel products change, please be sure to reconfirm all details and stay up to date with current events to ensure a safe and successful trip.
---