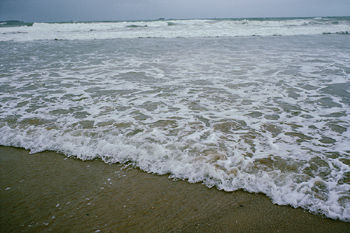 In June 2007, my family took a trip to Fort Walton Beach in Florida. We go there nearly year, so I expected this trip to be the same as all the others: we go to the condo, we stay there for a week watching television, then we come home.
This time, the trip was a little different. Okay, it was a lot different. We got to Fort Walton and, to our surprise, found that the town had a Billy Bowlegs Pirate Festival going on that week. We found a calendar of events for the week and realized that very night was the beginning of the festival.
The festival started out with a night of colorful fireworks. Bursts of reds and blues and greens exploded from boats along the beach. It was so gorgeous, and we took at least twenty pictures. That night, we met a family with a couple of rowdy kids. My sister and I kept watching as the parents tried to keep their son from jumping off the dock and into the bay. They seemed very frustrated, so my sister decided to help them out a little. She told the boy that there were jellyfish in the water, and if he jumped in the jellyfish would attack him. He didn't go near the bay the rest of the night. It was so funny.
The next day was filled with all kinds of festivities. There were all kinds of different foods, music, and activities. My sister, my mom, and I walked around for a few hours until it got too hot outside. As we were walking, we saw a man dressed up as a pirate… and he looked just like Jack Sparrow from Pirates of the Carribean. Of course, my sister and I just had to get a picture with him. It was so awesome. Then, about thirty minutes later, we came across am area set up by the Marines. They were blaring music from a huge red Hummer. In front of it was a fold-out table with cool little things like key chains and t-shirts, and a little further out was a pull-up bar. Well, I got the brilliant idea to try to win a prize by doin the flex-arm hang. The minimum amount of time was thirty seconds, so I figured it would be easy. I mean, come on, it's only thirty seconds, right? Wrong! About fifteen seconds into it, my whole body started shaking, but I still held on. Then, with about five seconds left, my right hand started slipping. I tried to adjust it, but it didn't work. My hand totally came off the bar, then so did the rest of my body. I was so angry. There had only been about two seconds left! After that, we all went back to the condo for the day.
There weren't really many more activities until the last day. On the final night of the Pirate Fesitval, there was an enormous parade. It was just like Mardi Gras, except with pirates only. There were huge floats decorated as ships with the people on them dressed up as pirates. We were thrown beads and candy and toys. There was even a float giving out one-serving pizzas! It was so fun. We came home with hundreds of beads. In fact, I ended up with 74 beads, my sister with 100, and my mom with about 60. We had so much fun.
We left the condo the next day and came home, but with plenty of memories and beads. I can't wait until next year. Who knows what fun things could happen?
Dear Reader: This page may contain affiliate links which may earn a commission if you click through and make a purchase. Our independent journalism is not influenced by any advertiser or commercial initiative unless it is clearly marked as sponsored content. As travel products change, please be sure to reconfirm all details and stay up to date with current events to ensure a safe and successful trip.
---