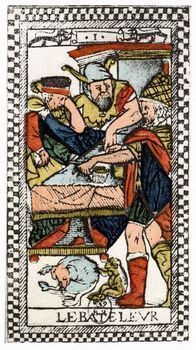 On Christmas Day, my family visited my grand-uncle 'Chiook' (pronounced 'Chook') in Indonesia. He is the psychic medium of our family who performs exorcisms and predicts fortunes. I was sitting on a sofa next to my family, listening attentively to Uncle Chiook, when suddenly he turned to me and told me what kind of person he thought I was just by reading my face.
He said to me, 'You're the type of person who doesn't care about anyone or anything but yourself. If there was an earthquake or fire, or even if your parents were very ill, you would just think to yourself, 'Oh, it's their own business. They can take care of themselves." He told my parents that they would have to depend on Dominique (my older brother), who has a guardian angel/spirit protecting him, who has a really good heart, who is 'destined' to save people's lives and even have a special place in heaven.
I'm the person who my parents cannot depend on. My parents nodded and completely agreed with him. A few moments after he told me these words, tears streamed out of my eyes excessively; I could not stop crying.
Everyone gave a quick glance at me, and nobody did anything except for Dominique. He brought me to the bathroom and told me that I could stay there until I was ready to come out. I sat there for a while, atop the toilet seat, wondering why words from a distant relative who I haven't seen in years affected me so much.
My parents' reactions had devastated me. Nobody had faith in me; nobody wanted to defend me. I thought that maybe everything my grand-uncle told me was true.After all, the main reason why I didn't want to become a doctor was because I didn't care about saving people's lives simply for money.
When I finally returned to his living room, he was reading everyone's fortunes off of simple cards made up of dots, lines, and zigzags. For my mother, he predicted that the following year would be a financial success.
He saw in the cards that my father was having conflicts at work with a co-worker, and told him that those problems would go away. He told my brother that he must become a doctor to fulfill his destiny. After Uncle Chiook shuffled the cards, he let me pick a few from the deck and place them on the table.
My fortune came out even worse than my face-reading. He asked me if I was heartbroken, and I replied 'no'. He told me that next year, if it hasn't happened already, a person that I really like will leave me and I'll be very heartbroken.
He warned me not to be emotionally attached or get too close to anyone, which was unlucky for me, since I had just gotten into a relationship. As he flipped over the cards, he shook his head. 'You're the type of person to dwell on something and analyze things thoroughly. You're a good thinker, but you can be suicidal and eventually kill yourself because you don't tell anyone your true feelings and keep everything inside.'
Up to this point, I had never been so bitter about fortune-telling in my entire life. When I returned to Hawaii, the words of my grand-uncle still plagued my mind, and I was befuddled. How could someone, close to being a stranger to me, claim to know so much about me? What did I do to deserve such a dreadful fortune? Am I really so selfish that my parents will never be able to depend on me? My agony was only aggravated when Uncle Chiook's predictions came true for both of my parents. My father's co-worker had left the company and moved away to the mainland. My mother made the highest salary that she's ever made. My brother now plans to be a doctor or a plastic surgeon. What does this make of me? The anxiety gave me many sleepless nights, but when I did sleep, I had dreams. I dreamt of drowning in the ocean, being convinced that my life would end right there, but being saved by my brother at the very last moment. When I told Dominique (in real life) about my dream, I said to him, 'You were the only person who saved me. Maybe it's a sign.' He told me that it wasn't a sign. 'You are the only person who can save yourself.'
 
Dear Reader: This page may contain affiliate links which may earn a commission if you click through and make a purchase. Our independent journalism is not influenced by any advertiser or commercial initiative unless it is clearly marked as sponsored content. As travel products change, please be sure to reconfirm all details and stay up to date with current events to ensure a safe and successful trip.
---