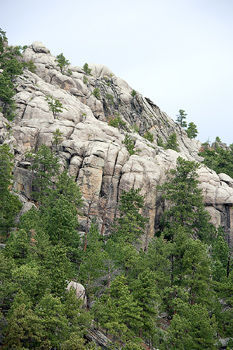 'You think you live in the middle of nowhere? Come here!' (My Journal entry from 7/24/07) 'Here' was the Crow Creek Sioux Indian Reservation in South Dakota settled just southeast of Pierre. 'Here' contained nothing but rolling hills with cattle, the occasional shrub, and hay fields upon hay fields. Even from the road on the way there the poverty was blatantly obvious.
My high school cross country team was there for a week over the summer to perform community service and learn about the culture of the Lakota, Dakota, and Nakota Plains Indian tribes, or more commonly known as the Sioux. These people form a poor nation, providing everything for themselves with little to no help from the government. These people must pay much more for common services with less money.
The average annual income is $5000, but the people on the reservation must pay 16-17 cents per kilowatt of electricity compared to 6-7 cents for us. How unfair! Our greedy government and the corrupt Bureau of Indian Affairs (BIA) have cheated them repeatedly out of so much money. No wonder they hold a grudge against the White Man! Well, I believe we did something to help change that vision.
Throughout the days we spent there, we showed them how much we cared by performing multiple tasks such as painting an elderly lady's home, building a fence for the protection of a girl with a mental disorder, stabilizing the foundation of a home with dirt, and painting the dormitories of an elementary school. These tasks not only helped them, but helped us as well. By taking this trip, I gained a newfound respect for minorities, the difficulties and prejudice they endure, and how much strength is required to overcome these difficulties.
Here, we were the greatly outnumbered minority; we were the ones being given covert glances. In one incident at the Dakota Mart where we stopped for supplies, I noticed the Lakota workers staring at us in what they thought was a subtle manner. The situation that these people are in taught me, and I hope every other member of the team, to take nothing for granted.
Sadly, that is very commonplace in today's mainstream society. We live off of more than we realize and what we do realize, we don't stop and think 'Wow, what if this wasn't here?' One doesn't appreciate what one has until it's gone. Well, these people have never had that problem.
They don't take anything for granted because they know it might not be there in the future. A few of the girls and I bought handmade necklaces from a lady who was just trying to make gas money. Despite their unfortunate demise, the Lakota maintain rich traditions and a complex culture, illustrate at an evening powwow.
What a colorful experience! This event introduced us to the deeply spiritual and heritage-centered culture of the Lakota. The many varieties of dances coupled with the vivid colors of the dress attire of the Lakota dancers made for an intriguing evening. Each dance, such as the traditional, fancy, and jingle dress dances, had its own step, beat, and purpose.
For example, one could only dance the jingle dress dance if one had a vision or dream of one dancing it. At the end, the Lakota let us have a turn dancing. What a workout! For a cross country team, it sure took some effort! One famous Lakota legend is that of the White Bear Calf Woman. She once killed a man who hit on her and told his frightened companion exactly how to make a sweat lodge and what to do in it. After he did this, she would come back in seven generations when his tribe was in a time of desperate need. From this legend, the sweat lodge was born. A ritual of physical sacrifice, the sweat lodge is a small tent building in which the Lakota sing, smoke a pipe, and perform a type of meditation in extreme heat for hours at a time. I feel as if I could have stayed longer because now I have more questions than answers, although I did learn so much. Our race focuses too much on progressing forward, instead of respecting the past and maintaining old traditions. The Lakota have so much more than we have in more ways than one. It's amazing that they have kept the old traditions alive for so long- I hope they don't lose them. We need to learn something from that.
Dear Reader: This page may contain affiliate links which may earn a commission if you click through and make a purchase. Our independent journalism is not influenced by any advertiser or commercial initiative unless it is clearly marked as sponsored content. As travel products change, please be sure to reconfirm all details and stay up to date with current events to ensure a safe and successful trip.
---