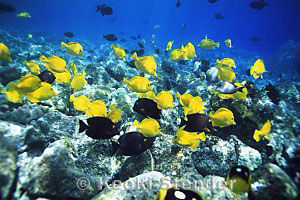 As I swam farther and farther out to sea, I imagined myself as one of the numerous sea creatures who surrounded me. I swam as a giant sea turtle, letting the waves take me in and out.  I glimpsed a fellow turtle as the waves propelled me towards a barnacled rock, after which I remained to see if a school of fantastically colored angelfish would whirl my way. Finally, I had to resurface for air; blowing bubbles as I went, I whirled towards the surface, the dazzling Hawaiian sky, and reality. My family, relaxing on the beach, called out to me. It was time to leave my new, pleasantly calm abode.
This is just one of the many fantastic experiences which my family and I encountered on our trip to Hawaii. We explored the big island, first in Hilo and then in Kona.
When I first arrived in Hilo, it was like I had disembarked on a different planet, it was so distinctive from the mainland. There were people adorned with flowered dresses and shirts with smiles so ecstatic and friendly that I had to smile myself out of pure joy.  When we got to our hotel, it was just as I had imagined it. I just couldn't believe we were going to stay in a beautiful, historic building situated adjacent to the ocean until I had seen it for myself. After unpacking, we went outside and a rickety bridge took us out to a miniature island. Birds we identified as mynahs were squawking and cawing everywhere. I imagined I was on a deserted island in the middle of the Pacific and these birds were our only companions. At that moment, I glimpsed a squirrel scramble up a massive tree. I smiled to myself; at least we had a tufted squirrel for a companion.
The next day, we decided upon a trip to Hawaii Volcano National Park. While there, we traveled along fantastic pits with molten lava deep inside and walked on dried lava from centuries before. I imagined that we were wandering in Jurassic Park and a Tyrannosaurus Rex would jump out and try to eat us all for lunch.   Fortunately, all that was apparent from the Jurassic Age were ferns and age-old dried lava.
After staying four days in Hilo, it was time to travel to the other side of the island, nicknamed the "dry side." As we traveled past cattle farms and stunning waterfalls I anticipated what Kona would look like. Would it be a deserted dry land with nothing but tumble weeds and lizards? When we finally arrived at our destination, I was immensely reassured. Even though much of the surrounding land was largely grasslands and dried-up lava, our condo was situated on the greenest and most splendid golf course imaginable.   The next day, my family and I traveled out to a local beach, expecting numerous tourists like us to be crowding the landscape. However, it was the complete opposite; it was akin to a deserted no-man's-land in a battle. I dropped my towel, flipped off my flip-flops, and darted straight for the ocean's edge. As I jumped with a splash into the cool saltwater, I knew at that moment that this was going to be a trip I would never forget. I had beheld red-hot lava, had turtles swim lazily alongside me, and had been greeted with "aloha" at least a dozen times by complete strangers. And as I again let the waves take me to and fro, I thought I caught a glimpse of a rainbow peeping through the clouds.
Dear Reader: This page may contain affiliate links which may earn a commission if you click through and make a purchase. Our independent journalism is not influenced by any advertiser or commercial initiative unless it is clearly marked as sponsored content. As travel products change, please be sure to reconfirm all details and stay up to date with current events to ensure a safe and successful trip.
---