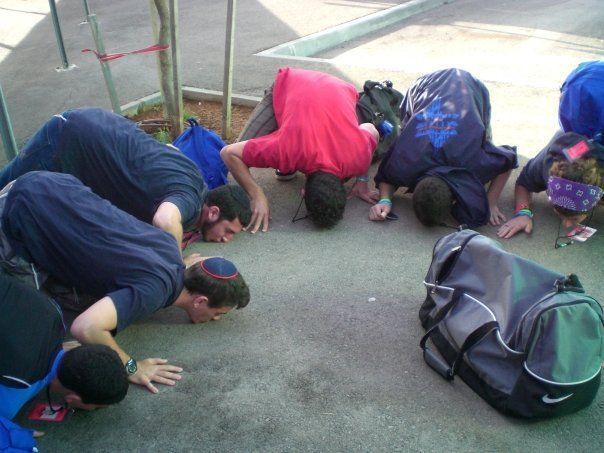 I have hiked the mountains of Montana, and swung through the treetops of Costa Rica. I have soaked in the seas of Sicily and I have explored the castles of Germany. None of these amazing ventures, however, can compare to my experience as a participant in the March of the Living. 
        The March of the Living is an international, educational program that brings teenagers from all across the world to Poland and Israel in order to teach the lessons of the Holocaust and to ensure that it never will happen again. While I have so tremendously enjoyed seeing, smelling, and tasting other cultures throughout the world, this experience definitely took precedence because of how it truly changed my life. Standing inside the concentration camps that I had spent countless years researching sent shivers down my spine. And returning to Israel, my homeland, brought tears to my eyes and joy to my heart. This trip did not so much teach me about the Holocaust as is it taught me about the human race. It taught me the importance of treating people of all races and religions with the utmost respect, and of the responsibility I carry to stop injustice at all times and to work towards improving the planet every day of my life. No mountain and no beach and no resort and no landmark could have ever taught me something so direly important.
         Following a seemingly unending flight to Czech Republic and an impossibly long bus ride to Poland, the trip finally began. Not so much a vacation by definition, the trip led us through the concentration camps of Auschwitz, Birkenau, Treblinka, and Majdonek. I feel that I have seen what so few others have ever seen, so it is difficult to explain exactly what I witnessed; It is difficult to ensure that anyone could possibly understand. But to explain how it made me feel- that is my responsibility, my dedication, my apology to all those who suffered unjustly. I felt saddened, devastated. I felt angry, enraged. I felt incredibly helpless. But mostly, I felt proud. At no other time in my life did I ever feel so triumphant, at no other time did I radiate with such a sense of unparalleled victory. Because I stood in the barracks where the Nazis' tried to kill my ancestors, and I opened a sacred torah and prayed. Yes, the prayer was for all the eleven million people who suffered in barracks like the one I was standing in. And yes, the prayer was for all the people who did not perish and who bravely survived. But mostly, the prayer was an appreciation for still being alive, for being free, and for having the opportunity to help others in need and to change the world one good deed at a time. 
Following Poland, I joined thousands of other teenagers in boarding a plane headed for Israel. As we exited the aircraft, people got on their knees and kissed the ground, so thankful to have survived, and so determined to survive forever. This wonderful sight set the mood for a week that embraced life, love, and peace. We rafted in the Jordan river, rode jeeps through the Golan, and floated on the Dead Sea.  We went from mourning to celebrating, from crying to laughing, from death to life. We were shown that with a fierce passion for life it is possible to overcome any obstacle, and that although evil exists, it will never prevail. We learned to never forget, and most importantly, we learned to forever love.       
Dear Reader: This page may contain affiliate links which may earn a commission if you click through and make a purchase. Our independent journalism is not influenced by any advertiser or commercial initiative unless it is clearly marked as sponsored content. As travel products change, please be sure to reconfirm all details and stay up to date with current events to ensure a safe and successful trip.
---