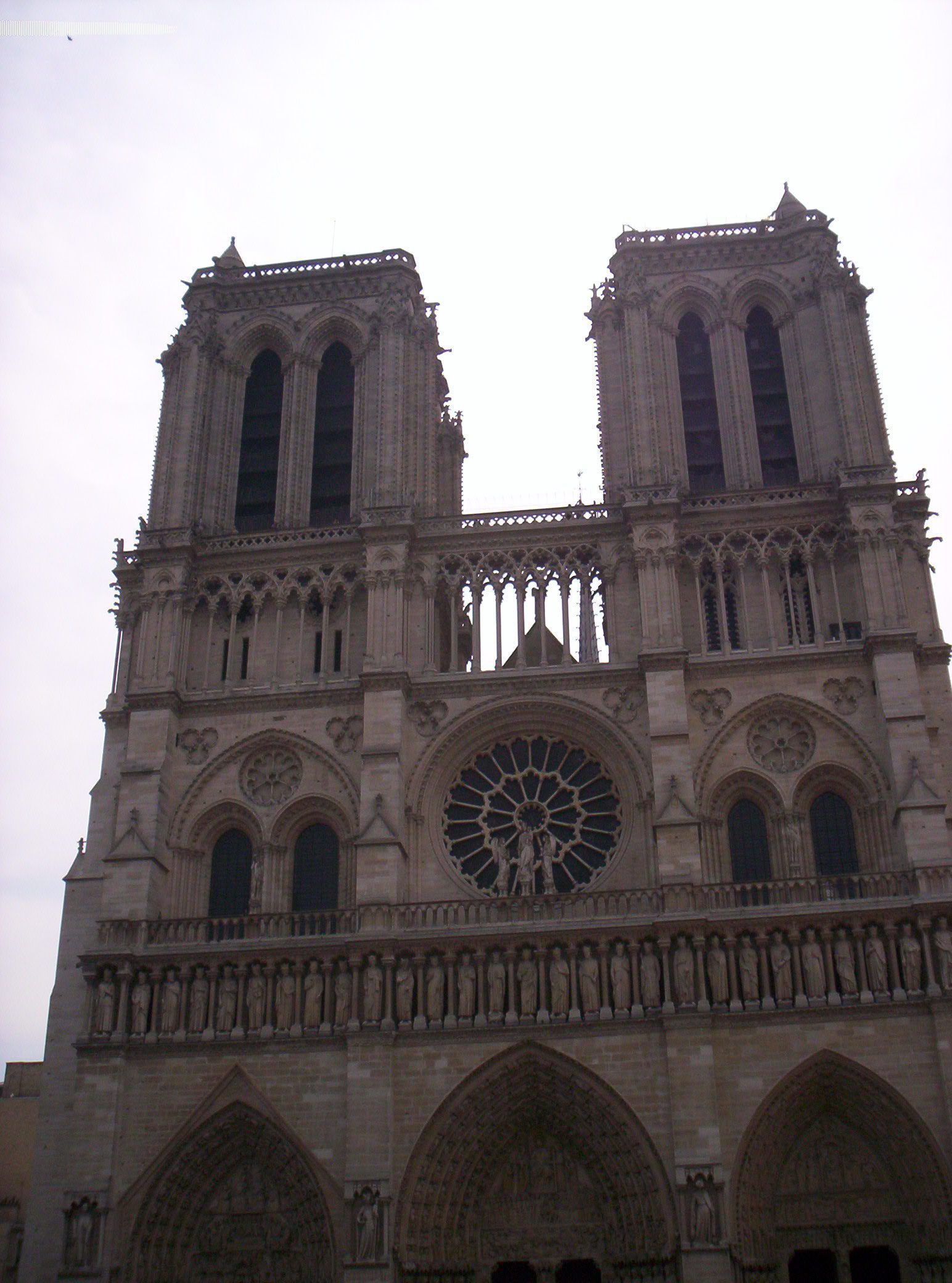 All of my life I have wanted to visit France, and this summer I finally got the chance. My family and I spent three amazing weeks in France, in which time we were able to visit Paris and the Loire Valley in Southern France and spend a week touring the French canals. Every aspect of this trip was absolutely amazing, but I have one memory that will stay with me forever. Most people would think that for a girl, visiting the fashion capitol of the world would definitely be the highlight of her trip, if not the highlight of her life, but for me, the best memory was the day that we went to mass at the cathedral of Notre Dame.
                The streets of Paris were sunlit and empty as we made our way to Notre Dame. Most stores were still closed, and the smells and sounds that usually filled the air were absent. As we reached the bridge that crossed over to the Ile de la Cite (the island that sits in the middle of the Seine River), I got my first distant glimpse of Notre Dame. The front towers were the only visible components of the cathedral from where I stood, but even from there, I could still see the magnificent sight ahead. The rising sun that cast beams of light on the building and the pigeons flying overhead created a stunning and movie-worthy scene. When we had crossed the bridge, we walked along the streets, trying to find the right one that would take us to the cathedral. We took a quick side trip to the cathedral of Sainte Chappelle, where we admired the incredible stained-glass windows before continuing to our original destination. We finally arrived at the cathedral, and we were just in time for mass.
                The entire mass was in Latin and French, but I had learned enough French in my French class to be able to understand a few words here and there. Even my mom, who was nearly fluent in French (and was ironically my French teacher) had trouble understanding what was being said. I don't know how my dad and sister felt, because neither of them knew any words except hello, goodbye, and thank you.  Lucky for us, the church was prepared for foreign tourists, so they had handouts that had translations of the readings. However, they did not have a translation for the sermon, so I spent that time admiring the gorgeous stained glass windows, high ceilings, intricate columns, and "holy pigeons" who had somehow found their way inside the church. Perhaps the most unforgettable part of the entire mass was when we exchanged peace with the people sitting around us. In Paris, you never know what language someone speaks; some people speak French, others speak German, and I even saw some people from China and Africa there. So, when we exchanged peace, no one said anything, we just shook hands and smiled. It made me realize just how much people had been brought together under God.
After mass was over, we crossed the bridge again and walked along the Seine River. By now, the streets had once again become alive with crowds and tourists, and the vendors who had been absent before were now rapidly selling their wares. On our way back to the apartment, we stopped at a small café and bought a crepe; my mom had said that we couldn't get the full French experience without trying one. That day was one of the most enjoyable days that I had while we were in France, and I will never forget it.
Dear Reader: This page may contain affiliate links which may earn a commission if you click through and make a purchase. Our independent journalism is not influenced by any advertiser or commercial initiative unless it is clearly marked as sponsored content. As travel products change, please be sure to reconfirm all details and stay up to date with current events to ensure a safe and successful trip.
---