---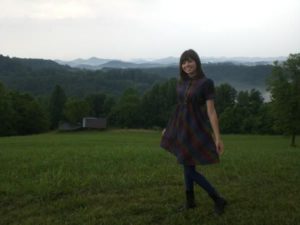 It is dark now, but I know tiny lights are scattered in a hectic array beyond the shadowy clouds. Threads of red lights and white lights race past each other in opposite directions over the highways. Skyscrapers filled with impossible aspirations reach toward the clouds. As millions of clocks tick below, I already miss the patchwork of rolling stretches of land and that calm green of the treetops covering the hills.
Every summer since I was born has been spent in the little white clapboard house my grandfather and his father built on Blue Knob in West Virginia. Everything there is a little backwards and jury-rigged. That much is evident as soon as you reach the crooked sign perched on a rusty pole that reads "PRIVATE RITE-A-WAY" in painted red lettering of inconsistent size. But I love the property in spite of all its eccentricities, because every creak of its rail-less old stairway sends family memories flying into the air like dust. It has been passed on through the generations of my family, and someday it will be mine to take my own family to.
We take our yearly hike to the Devil's Tea Table in the woods below the house. After walking along a rarely traveled path and taking a turn off course, we hike down a steep side of the hill, clinging to tree branches with each step. The path is wrapped in trees and lined with black berry bushes and if we're lucky we can spot a few eastern box turtles. When we reach the Tea Table, we sit on its rock formation that juts out over the Elk River. We capture the breathtaking view in a family photo each year.
The dusty path winds down the hill past the tire swing, the fishing pond, and the rundown one room school house. My little brother and I sit and laugh together in the truck bed and hang onto the inner tubes as the truck rattles down the bumpy dirt road to the Elk River. This is a place where roads go unpaved and we don't have to worry about being ticketed. I don't believe there is a single officer in Clay County, and it's doubtful to run into anyone at all. And if we do meet someone along our way, it's likely that once we get to talking we'll discover that we share the Davis name. When we reach the river, we hop in and float for hours without a care in the world, just enjoying time together as a family. We get out at King's beach and I always enjoy collecting the river glass that washes up on the bank. There are pieces of cobalt blue glass, bits of old perfume bottles, chips of pottery, and other varieties of glass worn smooth. All have been tumbled over the floor of the Elk River and turned into treasures, along with my memories.
I recall a night of the annual meteor shower, when my family and I walked to the height of the knob. At the top, we flopped down on my great grandma's handmade quilt and looked up to the sky. The air throbbed with a placid silence and no one stirred for miles around. An infinite number of stars unseen by eyes in the city splashed the dark expanse. Every constellation was crisp in the darkness without ground lights to tarnish the lustrous stars. Every so often a falling star would skim over the velvet night. In the face of this vast sky, it occurred to me that my thoughts were just whispers tossing around in a colossal tornado, and I was humbled. There was a certain comfort and serenity in the recognition that no matter where life led me I could never distress the immense universe that enveloped me. When the last shooting star darted past my eyes, with my family lying by my side, I wished to carry this feeling with me always.
Dear Reader: This page may contain affiliate links which may earn a commission if you click through and make a purchase. Our independent journalism is not influenced by any advertiser or commercial initiative unless it is clearly marked as sponsored content. As travel products change, please be sure to reconfirm all details and stay up to date with current events to ensure a safe and successful trip.
---