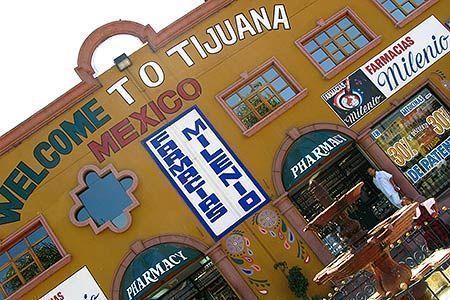 ---
Gripping my father's coat, I gazed upon the unfamiliar land with awe and curiosity. My forehead trickled with sweat and my heart raced uncontrollably. Each step became heftier and slower as I approached this land—this mysterious land of Tijuana, Mexico. For a 15-year-old, leaving the "safety zone" of United States was a daunting, yet equally breathtaking experience that exposed me to both the light and shadow of life in a society completely different from my own.
My first impression of Tijuana was not so pleasurable. After passing the port of entry, my shoulders were suddenly burdened by a dense, dismal atmosphere. Litter whirled around like a miniature tornado and filled every vacant lot in the street. Weeds bulged out through gaping cracks in the unleveled sidewalk. Buildings, whose walls were engulfed almost entirely by graffiti, slouched wearily against the scorching sun.
Intensifying these horrible conditions were the pleading, curious looks of countless children wandering around the streets, begging for any tourist—just anyone—to buy their 25-cent gum. Their faces were covered with mud and their emaciated body hidden by ragged shawls. One girl in particular caught my attention: she was playing an accordion in the middle of a bridge, her little hands fiddling skillfully on the instrument. My eyes were glued onto this girl, until my father tugged me away, forcing me to leave behind the melancholy sound of her melody.
Traveling deeper into the city, I was able to unveil a hidden portrait of Tijuana: a place full of life, spirit, joy, hopes, and dreams. Musicians in sombreros set a vivacious mood in the restaurant with their guitarras and maracas, as we savored an authentic meal of enchilada de pollo and a mouth-watering dessert of helado de chocolate mexicano. Outside at the heart of the marketplace, we joined in the daily life of Mexican dwellers. Crammed on both sides of the bustling road were vendors selling fresh fruit and vegetables, jewelries, potteries, clothing, and rugs. I strolled down the street, gazing at these colorful treasures like an astronomer studying the twinkling stars in the night sky. But the one treasure that appealed to me the most was the laughter I heard and the smile I saw from these native people. Although many of them may not have owned much material valuables or led a prosperous life, they owned happiness—the strength to search for a bright light even in the midst of difficulties.
On the way back home, we once again encountered the girl playing the accordion on the bridge. And once again, my eyes were glued onto her little figure. However, instead of passing by as if she were not there, I reached into my pocket and placed two quarters into the cup in front of her. Our eyes met. Then slowly, her tightly sealed lips turned into a glistening smile, through which she whispered "Gracias." I smiled back, nodded my head to reassure her, and moved along. Her melody, carried along with the gentle breeze, sounded a little bit merrier and optimistic. I gripped my father's coat and looked back over my shoulder at the mysterious land of Tijuana, Mexico—not with the initial feeling of anxiety or fear, but with a feeling of wonder and hopefulness.
Dear Reader: This page may contain affiliate links which may earn a commission if you click through and make a purchase. Our independent journalism is not influenced by any advertiser or commercial initiative unless it is clearly marked as sponsored content. As travel products change, please be sure to reconfirm all details and stay up to date with current events to ensure a safe and successful trip.
---