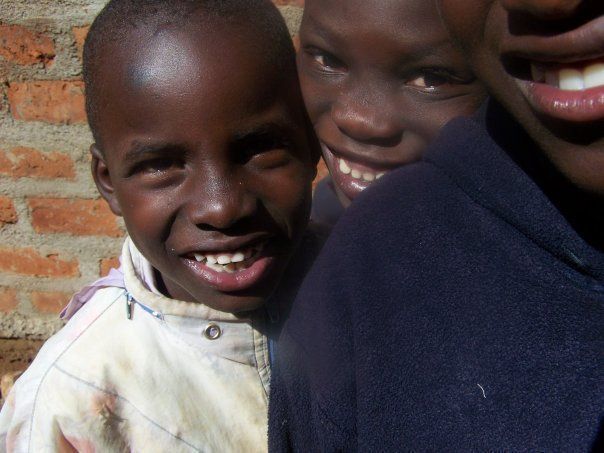 My sister ran into the hotel room in a scramble of excited speech (sometimes I think she is too enthusiastic about the world) to tell me that there was a little girl in the tree behind the fence. She asked me if I knew where her bracelet was. I told her that I didn't as she searched through her bags and mine and the beds that had been pushed together to accommodate five teenage girls. She passed me a toy to give to the girl,   "No," I said, "there is a bunch of stuff that I brought that I want to get rid of too, I will bring her one of my toys."
         "You can give her both. And what about the sausages we saved from breakfast? Where did you put them?"
          We hadn't exactly saved sausage from breakfast, we had sneaked it out of the dining room while the servers weren't looking to later give to children we saw on the streets. Wasting food could not be done in Kenya unless one wanted to offend everyone, and our mission trip leaders expected us to be on our best behavior. We weren't allowed to dish our own plates, so our bellies had swollen, and our gag reflex's had increased, and the sausage was terrible, and this little girl in the tree would love to have some meat. I got up and grabbed a few of the left-overs (as well as our Swahili travelers guide) off of the table crowded with dirty clothes, sunscreen, and mosquito repellent, "I've got them," and rushed out the door.
         "Jambo!" I said to the the girl.
         "Muzuri." she mumbled.
         She told me her name was Sarah, and I chatted with her for about an hour in broken Swahili trying desperately to understand what she was saying, occasionally having to run to the hotel check in desk to ask about certain phrases (not knowing where one word ended and the other began). This was my first taste of speaking to a monolingual Kenyan without some educated native translating. Of course everybody knew how to say "How are you?" and "I am fine," even without knowing what it meant, and everybody who had gone through the first three years of primary school was fluent in English. But talking to someone too old to know my language (or too young, as in this case) felt like actual immersion. Meeting Sarah was the turning point of my trip, where I went from regretting leaving the USA to understanding what it is about a different culture that can change someone. Before that hour I had only physically left home, but Sarah had pulled my mind and heart into Africa.
Dear Reader: This page may contain affiliate links which may earn a commission if you click through and make a purchase. Our independent journalism is not influenced by any advertiser or commercial initiative unless it is clearly marked as sponsored content. As travel products change, please be sure to reconfirm all details and stay up to date with current events to ensure a safe and successful trip.
---