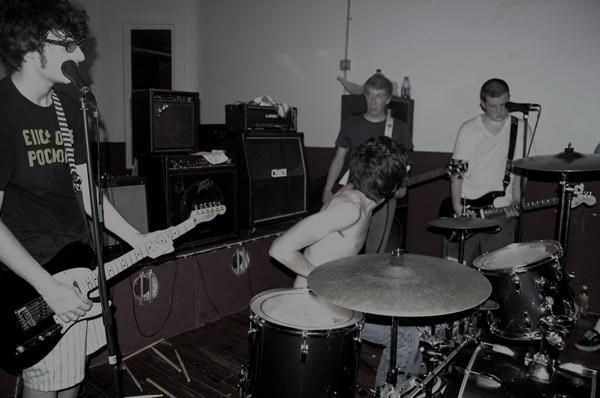 Everything was packed into the mini-van; the drum set, the guitar amps, the bass amp, and the guitars. Nick got out of his truck and walked up to meet Jake and me in my driveway.
"Everything packed?" Asked Nick.
 "Yeah," I said. "Thanks for the help, jerk."
Nick slapped me in the head. Still laughing, we departed to make the 682 mile round trip from northern Chicago suburb, Mundelein, south to St. Louis suburb, Belleville.
We stopped in Chicago to pick up the rest of the band.
Waiting outside Geoff's apartment in "Little Italy", I pulled off my shirt. The late June sun forced beads of sweat to excrete from our foreheads. And it was only going to get worse as we went south. Geoff whistled loudly.
We looked up to see Geoff and Jeremy walking towards us.
"Shotgun!!" Geoff yelled.
 "Screw that!" Nick replied.
Nick and I got in front, as Geoff complained about having to sit in back, with Jake and Jeremy. Cramped yet air-conditioned, we cracked jokes about people from Boston.
"NOMAAAH, WE GOTTA SAVE DA PAAAHK!" "MAAAH GET IN DA CAAAAAH!!" Laughing and screaming obscene things until our throats hurt, we tasted the thick, soupy air for brief moments during cigarette breaks.
"Dude, we are honestly in the middle of nowhere." Geoff said as he opened the sliding side door. As far as the eye could see it was only fields and sky. We stretched our legs at our first gas break somewhere near Bloomington.
Two huge guys with a confederate flag decal on the rear window of their massive Ford pickup yelled at Geoff, "Ay kid! What's that shirt say there?"
Geoff, who's shirt seemingly said EIICY OEE POCR OPP, folded it in a certain way so it said F**K OFF. The two men groaned and showed smiles that contained fewer teeth than ours did.
Geoff yelled, "You asked for it!" We filled up, blasted the soundtrack to Team America World Police, and pulled out of the rural gas station, screaming every word.
The sun started to fall into slumber as we found the venue, a modified storefront. As we unloaded our gear, a kid with a Mohawk wearing a Propaghandi shirt said, "I just got punched in the face, right there", pointing to a spot on the blacktop where blood pooled.
His attacker sat next to him, laughing. "It was an accident man!" 
As the first bands played, the local punks gave us a warm and friendly welcome into their scene. The energy in the room was impossible to reject. Kids were jumping up and down, moshing to the first two bands Trenchfoot and You're Not Kablamo.
My own band, The Please & Thank Yous set up and played to one of the most receptive crowds we have ever experienced. As sweat dripped into my eyes, and my muscles ached, the crowd yearned for one more song.  Making eye contact with the rest of my band I counted off  "Hey Suburbia", a punk classic by a band named Screeching Weasel. Every kid screamed every word and went insane as we sped through the song.
            At around midnight, we packed up and began our journey home. We waved goodbye to our new friends and pulled our crowded, stinky minivan away. As we drove through Illinois' pitch-black countryside, we cracked more jokes, looked at the stars and talked about girls.
We entered into the southwest suburbs of Chicago, as dawn began to break. The five of us silently looked in awe as the sun climbed over the top of the beautiful Chicago skyline. 
Dear Reader: This page may contain affiliate links which may earn a commission if you click through and make a purchase. Our independent journalism is not influenced by any advertiser or commercial initiative unless it is clearly marked as sponsored content. As travel products change, please be sure to reconfirm all details and stay up to date with current events to ensure a safe and successful trip.
---