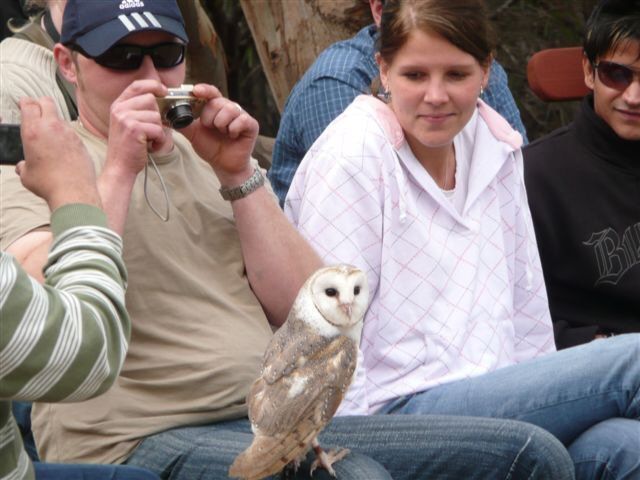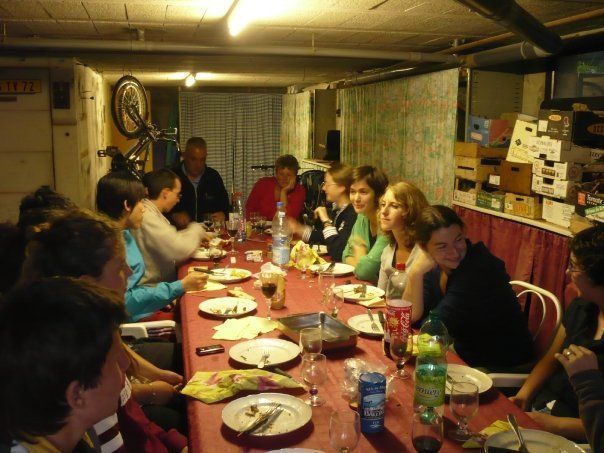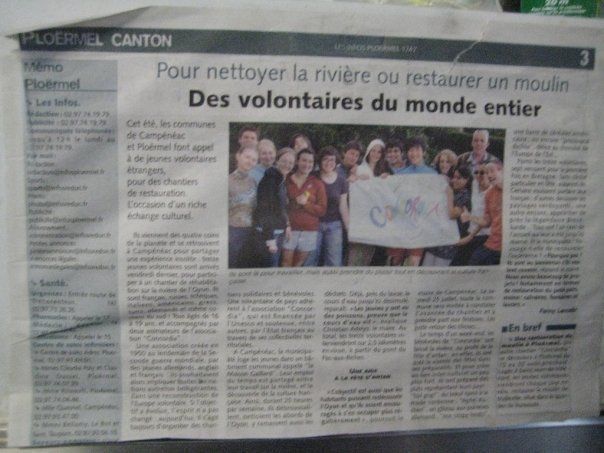 The clouds turned a menacing grey and, as usual in Britanny, it began to rain. We quickly carried the long table from the garden into the Mayor's garage where our dinner party would commence, and the Mayor's wife brought out plates and cups and appetizers which we eagerly spread along the 17 places at the table. Once the Mayor's family portrait had been sufficiently oohed and aahed at, and the Mayor, Christian, had finished displaying his prized collection of precious rocks, the vin rouge was poured and a toast was made… in French. Of the few words I could understand, Christian was happy to have the 13 volunteers from 9 different countries in his small town, helping to clear brush from 3 km of an ailing river, setting up a traditional festival, and beating the locals at games of football (soccer). The camembert and chèvre were passed around and the sausages sizzled on the tiny grill. As we filled our stomachs with fine French cheese and wine, we began to fill the garage with giggles, laughs and loud harrumphs. Satisfied and sleepy, I sat back and let the rapid French discourse wash over me without leaving an ounce of meaning. I longed to be able to understand the jabbering without having to tap into French class's rules and conjugations, but instead I slowly trudged through the unforgiving waters of foreign language, chasing the meaning of the dinner conversation as it gracefully floated by like a weightless feather in a swift current.
Honorable Mention 2009 FTF Teen Travel Writing Scholarship
We left the mayor's house at after three amusing hours of good food and dappled understanding. As we walked through Campénéac to our small house, passing the pâtisserie, the épicerie and the local bar, we talked and sang and laughed in every language. I spoke slowly in French with Julia, who patiently corrected and laughed at my strained accent, and as we splashed through puddles she taught me the French version of the children's song "rain rain go away:" "Il pleut, il mouille, c'est la fête à la grenouille," meaning "it's raining, it's wet, it's the party of the frog." Deniz and Yasin spoke in rapid Turkish behind us, and I heard the faint accents of Amalia and Noemi gabbing in Italian as Kim obligingly taught Nele to say curse words in Korean.
We went straight to bed when we got home, sleepy from the Mayor's feast and conscious that we had to wake up early the next day to continue work on the river. The breakfast team quickly agreed on an earlier time to awake to buy our daily 12 baguettes from the pâtisserie, and we crowded into our only bathroom to brush our teeth. I climbed into my sleeping bag and fell asleep to the sound of rain dripping from the eaves.
Strewn around the floor next to me were Turks and Czechs and Russians and Germans, all full from the same meal, all tired from the same hard work. We were all just people and our language barrier was just that – a barrier – a wall that could be easily scaled to reveal the unity of humanity on either side. And as we lay there sleeping on the same floor, dreaming of the same breakfast, and listening to the same rain, the only difference between us was that some sang about old men bumping their heads while others hummed about frog parties.
Concordia Association International Workcamp
Dear Reader: This page may contain affiliate links which may earn a commission if you click through and make a purchase. Our independent journalism is not influenced by any advertiser or commercial initiative unless it is clearly marked as sponsored content. As travel products change, please be sure to reconfirm all details and stay up to date with current events to ensure a safe and successful trip.
---