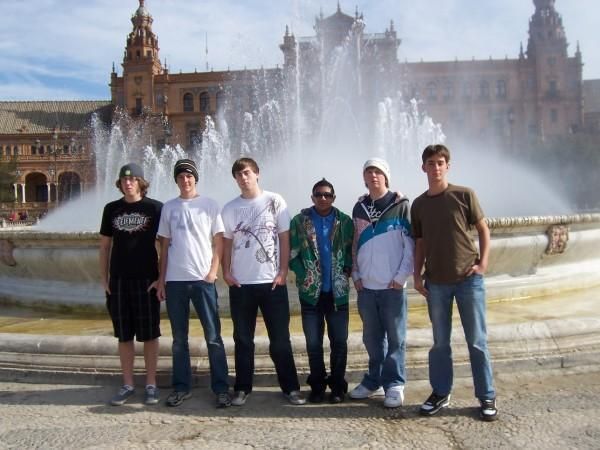 The roaring of the airplane's duel engines abruptly ended my brief nap. I bolted upright in my small, crammed airplane chair and looked around. We, my Spanish class from my high school, were on our way to Spain. My neighbor, a bulky youth with blue eyes and blonde hair, clapped me on the shoulder and yelled, "We are leaving" at the top of his lungs. Several startled patrons turn to regard my friend with a mixed look of disdain and annoyance, for his shout could be heard the length of the plane. We quickly rose into the misty depths of the San Francisco sky.
 After a long flight of eleven hours, we landed, first in Paris, then, on to our first stop in Spain. We stayed in a great hotel complete with a spectacular view of the Mediterranean Sea and a picnic area that contained two life-sized statues of granite lions. After a day of exploring the town of Marbella, my portly friend that sat next to me on the plane decided that he wanted to go have a night out on the town. He left me and our other roommate behind in our shared room. As time passed, my roommate and I became more concerned that our friend had lost himself in a foreign country. We silently crept to the room next door, careful to take off our shoes so they wouldn't make any noise on the hard marble flooring. We whispered as loud as we dared that we had lost our friend, "Beans", and we wanted to come inside. We discussed what to do about "Beans". It was similar to talking about a lost dog. We could either, wait it out and hope he finds his way home, or we could go look for him and hope our teacher wouldn't notice that we were out of bed. We decided to send out one person to rescue "Beans". He left and we patiently awaited his return. He returned quickly, and much to our delight, he was leading the drunken "Beans" behind him. We quickly took "Beans" back to our room, put him on the floor and went to bed.   
The next week was spent in a busy blur of activity. We visited Seville and saw countless architectural wonders, including La Giralda, a 1400's church that extends its loft bell tower high into the heavens. At our next stop in Granada we visited one of the modern wonders of the world, the Alhambra Castle. This castle is as grand as it is beautiful, with gorgeous red rock walls. 
We dreaded our arrival in Madrid, our last stop in Spain, knowing this was the end. We went to countless museums. On our last night, we decided to go to the Hard Rock Café. Ten of my friends and I ran to the elevator and got in. As the lights of each floor passed, it seemed to me that we were slowing down. A yard away from our floor the elevator came to a resounding halt.  We thought that it was a trick our friend was playing on us so we asked him to open the door. His ghostly pale face was suddenly lost from view as the lights in the elevator went out. One of our friends had wisely taken the stairs and he yelled out to stay calm and he would get help. The air became sticky and tasted sweet in our mouths. After what seemed to be an eternity, the doors opened and we were pulled out. We took the stairs the rest of the trip.
Dear Reader: This page may contain affiliate links which may earn a commission if you click through and make a purchase. Our independent journalism is not influenced by any advertiser or commercial initiative unless it is clearly marked as sponsored content. As travel products change, please be sure to reconfirm all details and stay up to date with current events to ensure a safe and successful trip.
---