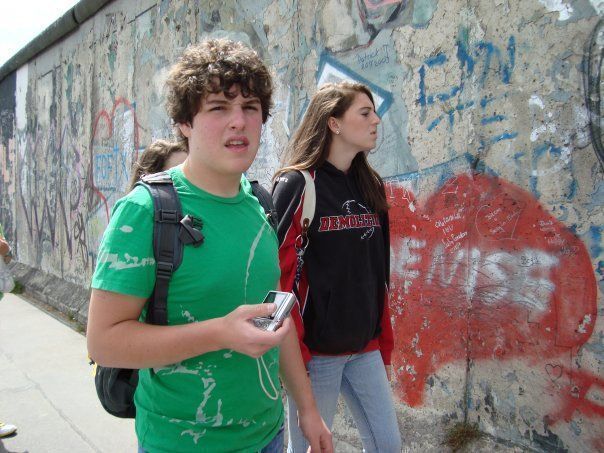 As we approached the gate a great deal of chatter was emerging from our tour group. Our tour guide had explained that we would have an emotional experience unlike any other we've ever had. We continued walking till we reached the creaking gate. As the gate was pushed open a wave of silence had taken over our tour group. The only sound that remained was the systematic crunching of the pebbles as my other class mates walked in behind me. I had never seen anything like this place before nor had I felt such a feeling of empathy and disgust for one place. All my class mates had walked through the gate and there we stood; Dachau.
The camp consisted of countless rows of foundations from the barracks that once were there. The thing that baffled me was the tall and beautiful trees that were planted along the foundations. How can a place so dismal have something so lush and full of life? My friend and I began to walk around the camp and as I walked I could feel the anguish and the suffering that the captives felt. This feeling over powered me and I could not comprehend what would posses someone to commit such an atrocity.
My friend and I had not spoken a word since we began to walk around and never has a silence been so boisterous. We had made our way to the preserved barracks and though I had seen pictures of them in my history class, I had never seen anything like them. It was hard to believe that thousands of people had slept in such a compact area each night. It sort of angered me to see such terrible living conditions and gave me an idea of how fortunate I am to be living in the country that I am, though this was not the most impacting part of our excursion around the camp. My friend and I considered not going over to the crematorium and the gas chambers but we felt as if we had to.
As we made our way over there was still nothing but the sound of the gray pebbles crunching under our foot steps. We seemed to notice something strange though. There was a religious service happening on the grounds of the camp. For me, I would be too repulsed to ever have a service in a place as depressing as this. But I ignored the fact it was going on as to respect what had taken place in the camp not to long ago. We made our way to the building that had housed the crematorium and the gas chambers. As I walked toward the entrance I began to feel the pain of the millions of people that had died in these camps.
This feeling was something very new to me for I had never seen anything like this place. The first room where the prisoners had been held had a fearful atmosphere about it and I don't know why but I began to feel nervous. I could tell my friend had began to feel uneasy too and we questioned going any further but we felt that in order to gain the full experience we had to keep moving on.
The next room consisted of the gas chambers. As my friend entered the chamber, I froze at the entry way. My nervous feelings mixed with my disgust made me feel almost like vomiting. I slowly descended into the chamber with my mouth agape with awe. Though we had seen videos and pictures of these chambers, nothing had hit me like this. A wave of emotion had flooded me and my throat began to choke up. I stayed in the chambers for a few minutes trying to register what had gone on in these chambers but I couldn't even fathom the suffering all the victims went through. We left the chambers and made our way to the museum.
The museum consisted of many profiles of the people that had gone through the camp. This just contributed to my uneasy feelings because I realized that no one is ever safe. This time I walked alone. I left the museum and sat outside because I couldn't stand to read any more. I could never imagine not having my parents or my brother around me and I gained such a sense of appreciation for them and everything that they do for me.
From that experience, I learned a lot about myself as well. I realized that racial discrimination happens all around and it's often ignored by the masses for one reason or another. This is why I have decided to join the Amnesty International club at my high school because I want to make a difference in the fight against racial discrimination throughout the world. Before this trip to the camp, I chose to ignore a lot of the world genocides that go on because I simply felt that it was none of my business but now I have a sense of empowerment. To this day, I will never forget my experiences in the concentration camp.
Dear Reader: This page may contain affiliate links which may earn a commission if you click through and make a purchase. Our independent journalism is not influenced by any advertiser or commercial initiative unless it is clearly marked as sponsored content. As travel products change, please be sure to reconfirm all details and stay up to date with current events to ensure a safe and successful trip.
---