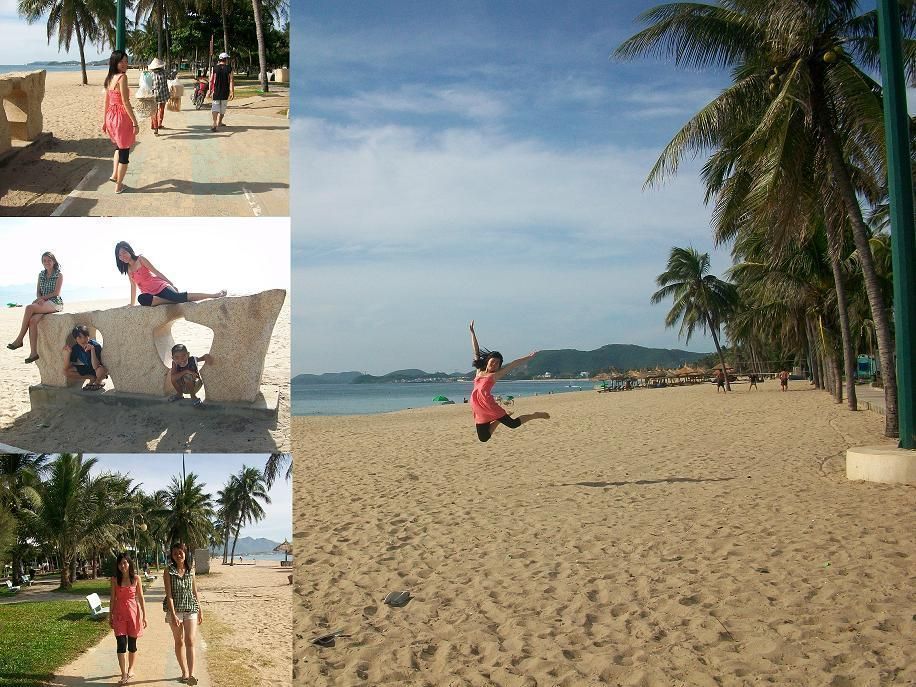 I was eagerly waiting in my seat. Then I felt it shift and recoil. I thought I was going to fall out of my seat. The attendance's voice then reassured me, " Welcome to Viet Nam". The airport was filled with others like me who were eager to see their family impatiently standing by the baggage claim area to take their luggage. The smell of street food hit my senses as soon as I walked outside the airport. The smoke emanated from nearby food carriages and filled the air with the sweet scented aroma of grilled shish kabob in fish sauce and lemongrass-seasoned pork. Motorcycles' engines on the busy street was a familiar melody. My entrance was almost as grand as that of a movie star on a red carpet event. The eager crowd surrounded both sides of the door with welcome posters and signs waving in the air like fan signs. My brother immediately spotted my family in the midst of the crowd. Their countenances warmed my heart; I couldn't help but smile. 
Sauntering my old neighborhood, I saw my childhood friend living in a grass house and two others were fortunate enough to have brick houses near the road. I discovered that one of my best childhood friend has a one-year-old baby girl as I walked by her house. She is only sixteen. The image of her holding her baby was tragic. She told me, "I was too embarrassed to see you. I was ashamed of my job." She said to me, "When I had my baby they didn't want me anymore." Her future is already set before it even began. She was like a mirror image at myself if I were to blindly go through life without a purpose. 
The market was one of my favorite places to go to when I was little. My grandpa used to take me there with him every morning. Our first stop would always be the food stand, filled with varieties of noodles, soup, and puddings. The market was filled with fresh fruits, vegetables, and meat that were brought straight from the seller's homes and farm. Consumers who wanted the best quality meat and vegetables came to the market as early as five o' clock in the morning to bargain for the cheapest prices. Walking in the old market that I used to love so much takes me back to my childhood, my life. My grandpa, the wisest man I have ever known used to tell me, " Lifting a pen is much lighter than a scale."
In Viet Nam, finance is the worry in almost every family. My aunts and uncles have to go into the city to find a job. Almost every house that is facing the street is used as a small shop. Children as young as five years old have to start helping out with the family's financial needs. Whether I'm sitting in a restaurant or joy walking in the park, little kids always come up to me and offer to sell lottery tickets. My cousin has to sell lottery tickets to pay for school. He told me, " It's hard because I hardly know anyone, so I have to go in the street and ask everyone I see to purchase tickets." When I asked him how much he had earned he said, "less than two USD per day depending on the amount that was sold". Of course, two dollars is hardly enough to buy books.
The sight of waterfalls and the abundance of flowers along the edges of the mountains seemed almost heavenly. Little did I know, underneath all the beautiful appearances is an ugly truth. The Thuong tribes used to occupy this mountain top until they were driven out and forced to live on the foot of the city. " It takes my husband fourteen hours to get to another mountain to yield the crop," one Thuong woman told us. Her story reminded me of my journey up to Mount Nui Cam in Tri Ton. With sweats and dry heat constantly torturing me, my attempt to reach the top was void. I realized that the Thuong's determination and perseverance are what made them true survivors in these mountain areas. Sometimes we pretend to be blind and ignorant of the truth because it's not as pleasing as the looks of the surface. I realized that we need to see the worse scenario to truly embrace our own life.
Dear Reader: This page may contain affiliate links which may earn a commission if you click through and make a purchase. Our independent journalism is not influenced by any advertiser or commercial initiative unless it is clearly marked as sponsored content. As travel products change, please be sure to reconfirm all details and stay up to date with current events to ensure a safe and successful trip.
---