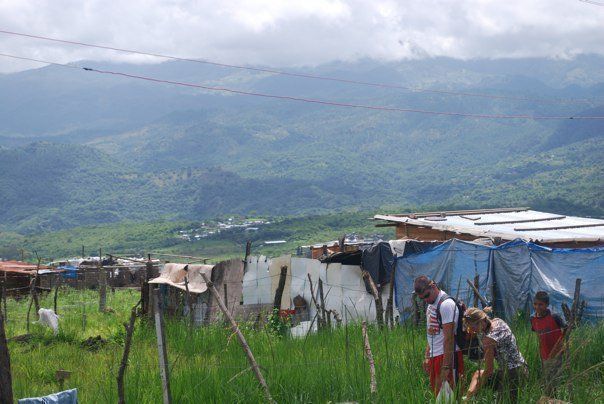 At 2 o'clock our plane landed at Toncontin International Airport in Tegucigalpa, Honduras. As I peered through a small window on the right side of the plane, I could see the city rising up all around me. Upon exiting the plane, it was clear I was no longer within the comforts of southern Tennessee. I had entered a universe full of new foods, music, ideas, and life. Little did I know that what I would be experiencing within this country would have an impact on me for the rest of my life.
Upon leaving the airport, we headed northwest to the third district. Here We would be staying at an orphanage designed for young street children. After a good nights sleep we were ready for some adventure. Our goal for the day would be to head out to a small, poverty stricken village and give out over 300 pairs of shoes and bags of food. Therefore we left the shelter and headed for the countryside. As approached I began to get nervous. It turned out the village was situated upon a near vertical slope, which we would have to climb. We dismounted the bus and headed up the hill. As I looked around, my heart longed to help the people of the village. I witnessed families consisting of over 9 individuals living under tin roofs. They owned only a pair of clothing and their floor consisted of tightly packed dirt. I watched as sewer flowed freely from house to house. As you can imagine, the sanitary conditions were appalling. The majority of the children could not afford schooling and the parents rarely held a job. Yet after all this, I was not prepared for what I would experience next.
As I approached one of the makeshift houses, beans and rice tucked under my arm, a familiar sound reached my ears. I looked into the dwelling, and there on the floor sat 2 toddlers, staring anxiously at a small television. While this is a common scene within the homes of Americans, I was shocked to see it channeled into the small third world shack. While my first reaction was amazement, it soon turned to anger. I looked on as the children watched a show concerning 2 American teenagers. One of the teenagers was complaining to his parents about how he didn't have the nicest car to drive to school. The other was upset that he had to go to work at a movie theater. Contentment was obviously not the central message this show was communicating. By this point I was outraged. How could children who own nothing be educated on the ways of the filthy rich? Yet the longer I thought about it, the more the anger was directed toward myself. I couldn't count the number of times I had sat and watched the very same show and thought nothing of it. It tore me up to think of my own selfishness back home.
A few moments later, the mother of the toddlers made her way out of the house. I handed her the goods and was soon on my way. A couple days later I was on a northern bound plane back to the States. It's been almost 4 months since that trip and that story still tends to enter my mind. My obsession for materials have dwindled drastically. I no longer find it necessary to have the latest things in my possession. I have seen that I need to be thankful for what has been given to me, and hopefully my story might encourage you to do the same.
Dear Reader: This page may contain affiliate links which may earn a commission if you click through and make a purchase. Our independent journalism is not influenced by any advertiser or commercial initiative unless it is clearly marked as sponsored content. As travel products change, please be sure to reconfirm all details and stay up to date with current events to ensure a safe and successful trip.
---