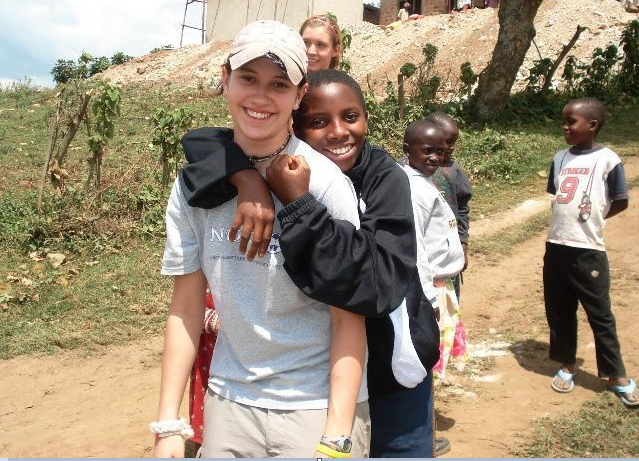 ---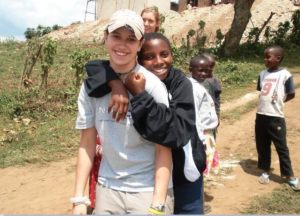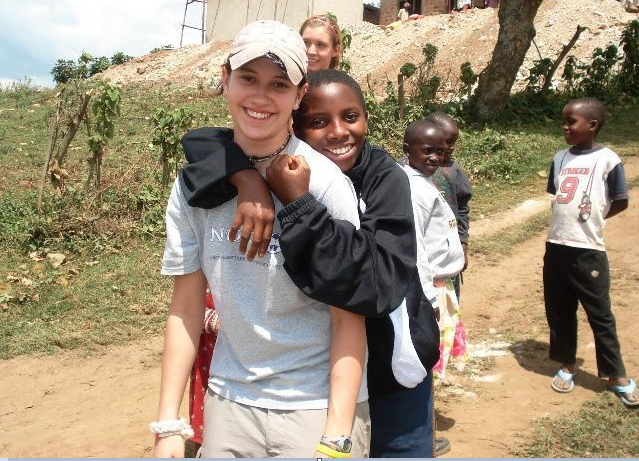 Throughout the canoe ride across Lake Bunyonyi, all I could think about was building my soccer field. We had come to Uganda, East Africa from the U.S. through Brussels to work with Juna Amagara. I was here to share myself with the people but I wasn't so sure what that meant. No doubt the rocky land would stubbornly resist real goal posts but I had already resigned myself to the idea of using baskets or boxes or even rows of stones to delineate goals. That's because I've always believed that the beautifully universal game of soccer can be played anywhere, even in the hills of rural Uganda, where orphans run barefoot on sun baked clay.
On the shore we were greeted by hundreds of little children singing with joy, clapping their hands and smiling as if my friends and I were the most important people in the world. Then we heard the rolls of thunder coming across the mountains and I felt a single raindrop on the back of my hand. Within minutes it was a deluge that completely shut out the sun. Seeing my disappointment, my dad patted me on the back and began to guide me into the nearest building.
That's when I saw the shovel lying on the ground. I don't even remember thinking; I just knew that God had given me a gift. Before Dad could say anything, I grabbed the shovel and started running down the hill to a flat space I'd seen, the perfect place for my field.
With wet hair dripping into my eyes, and the splattery mud running down my legs, I began to pace off the blueprint in my mind. I quickly eyeballed the field dimensions. Anchoring the four corners with rocks, I sloshed to one end and drove the tip of the shovel into the ground. To my utter amazement, it sank in. The rain had loosened the clay just enough for me to easily dig four holes.
I was so determined to construct my soccer field that I hadn't noticed the 12-year-old orphan girl, Lynate, who had been following me the whole time. Without a word, she came alongside to help put four timbers into our recently constructed holes and the field had goals!
That's when Lynate's lilting African English words poured out almost like one of my cello melodies. She loves soccer, she told me, but the boys never let her play with them. Then she said something that stunned me then and still gives me chills today. She had been praying every night for someone to let her play soccer and maybe even teach her new things that she could show the boys.
As we gathered rocks to line the field into one huge rectangle I told Lynate I would love to be her friend and play soccer with her. We worked side by side in the drizzle and talked about family, friends, Uganda, school and her dreams. In the end, we were a team, two wet, dirty soccer girls hugging on our brand new soccer field. Then the sun broke through the clouds as we walked back up the hill to find a ball.
Laughing at my drowned rat appearance, Dad's look of amazement turned to surprise when I told him how we dug the four holes for the goalposts. "There's no way," he said. "They make bricks out of this soil." That's when I laughed and thought to myself, good thing I'm not afraid of a little rain. I grinned at Lynate and said, "Let's play some futbol!"
Dear Reader: This page may contain affiliate links which may earn a commission if you click through and make a purchase. Our independent journalism is not influenced by any advertiser or commercial initiative unless it is clearly marked as sponsored content. As travel products change, please be sure to reconfirm all details and stay up to date with current events to ensure a safe and successful trip.
---