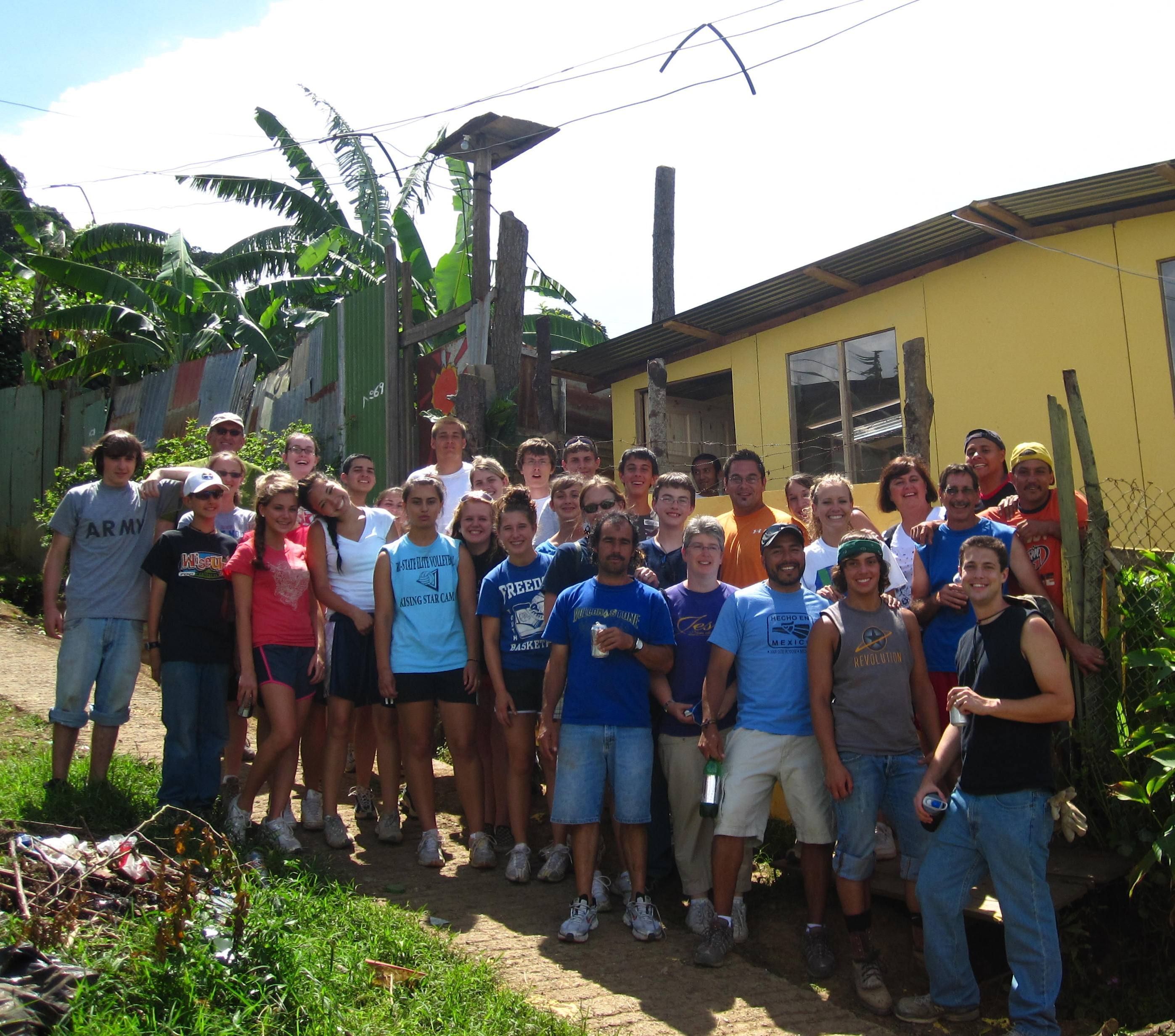 What is the purpose of travel?  The purpose of travel is to get away and treat ourselves.  The new purpose of travel is to go to others and treat those who can't treat themselves.  This summer I went with my youth group to Costa Rica for a mission trip, made possible by 6:8 Ministries (www.68ministries.org). I redefined the purpose of travel and in turn, redefined my life.
     The rugged jungle green mountain tops covered with a haze of clouds was one of the most beautiful things I had ever seen.  When we left the airport and boarded a bus headed for the mission house, I saw the same beautiful mountains, only now, I saw what was beneath them.  Under the towering peeks was poverty, small houses with protective gates, and dirty streets.
     Broken and humbled, I walked in the rain to meet families the missionaries helped.  Before me were tin roofs on top of tin walls that leaked and let murky rain water flow in.  I saw single mothers without rice to feed their young children.  In having nothing, they had the strongest family bonds and true happiness.  So, walking to the mission house after the first day in Costa Rica, I wanted what they had.
     "We will be building two Yellow Houses in one week," announced one of the missionaries.  "We have never done this before.  If you didn't know, yellow is the color of hope.  That's what we are giving the village of Jasmine, hope."  The girls built panels which would be the walls for the Yellow Houses.  The boys wheeled bags of cement up the hill to the construction site.  I didn't know why I was doing this grueling work.  I learned in a few days when I got to go up to Jasmine for the first time.
     The sight of Jasmine caused so many emotions to flow through me that I wanted to scream and close my eyes, but shock kept them wide open.  Shacks of tin grouped together on a dirty street, and children running barefoot with clothes that barely fit.  Colorful flowers and fish paintings covered the tin fences intended to raise the morale.  I also saw the most beautiful view of the city of San Jose below, but this time, I turned to the heartbreaking sight in front of me, and didn't look back.
     I have to finish, I thought, as I aggressively covered the small wooden fence in yellow paint.  While waiting impatiently for more paint, I had a moment to evaluate what was happening.  I had just carried heavy panels up a hill and built two houses with my peers, but I wasn't tired.  Instead, ambition and frustration kept me from collapsing.  All the new homeowner wanted was this gate to be painted.  She said the color yellow would make it look happy.  She needed so much; I have so much.  Frustration was boiling up in me to the point that I almost broke down.  I had to give her something; the painted fence.
     Our team barely fit in the new Yellow House we just finished for the celebration pizza party. Now that the house was done, my frustration left and was replaced by overwhelming peace.  I had never done anything in my life so fulfilling.  When people ask me if this trip was life changing, my answer is yes, but more importantly, lifestyle changing.  I redefined the purpose of travel by completing the yellow painted fence.
Dear Reader: This page may contain affiliate links which may earn a commission if you click through and make a purchase. Our independent journalism is not influenced by any advertiser or commercial initiative unless it is clearly marked as sponsored content. As travel products change, please be sure to reconfirm all details and stay up to date with current events to ensure a safe and successful trip.
---