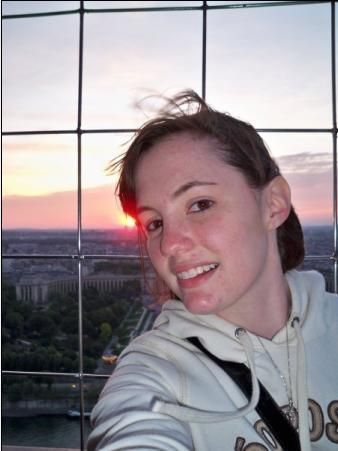 I can not even begin to describe the excitement I had to get off of that United Airlines flight born from Chicago to Paris that Monday morning. I was tired, I smelled, and I was pretty sure I was going to have a kink in my neck for the next week, but after an entire year of planning and an eighteen hour plane ride, I was here, I was in Paris, France. Every other year, my French teacher takes a group of students to France on a week long trip to participate in a typical French life and this last year I was able to go. Paris is a big city, there is no doubt about it, but I never imagined it to feel so much like my home either. I had been across the Atlantic before but this would be the first time I went across with twelve other people that were not related to me.
After landing, we travelled for another hour and half on a bus to our hotel, my school group met up with the other five EF Tour groups we were joining with. They were groups from Arizona, Nebraska, Oklahoma and Louisiana, and mixing them in with our twelve from Kansas, our group had a total of forty seven people. To make it easy on our tour guide, we were all assigned numbers, mine was 29, and we had to call it out every time we regrouped from being separated.
Over the next couple of days, we visited the places that most Americans think of when you talk about Paris. My teacher had photos from her previous trips but nothing is ever the same as experiencing it first hand. Notre Dame is the most beautiful church I have seen both inside and out. We went to Napoleon's Tomb and even I can not believe that Napoleon himself is in casketed within seven different caskets. We spent an entire day at the castles of Versailles where the Kansas group got to hang out in the gardens for two hours before we toured the castle itself. I had split up with two other girls and we ate at the small café that was in the garden called 'La Girandote' were I ate my very first French crêpe and never could stop getting enough. While visiting the Louvre I got to see the Mona Lisa with my very own eyes and got to do some shopping in the underground of the museum. After climbing over four hundred steps on the Arc De Triomphe, I got to see all over the Paris skyline. We visited the Opera House and even saw the gardens were the statue named 'The Thinker' stands.
On the second to the last day, we got to see what I had been waiting for, the Eiffel Tower. It becoming night fall, and though it it was freezing, the view was breathtaking and one that I will never forget. I had closed my eyes at one time that night while we were on the second floor and just listened to the breeze and the cars drive by down below, because that is all you could hear and it was relaxing.
The EF tour I went on is one I will never forget, I met so many people from around the country who were all interested in the same culture I was. Paris, France is an amazing city and there are places that we were not able to visit while we were there, but it is a place I will most defiantly visit again in the near future.
Dear Reader: This page may contain affiliate links which may earn a commission if you click through and make a purchase. Our independent journalism is not influenced by any advertiser or commercial initiative unless it is clearly marked as sponsored content. As travel products change, please be sure to reconfirm all details and stay up to date with current events to ensure a safe and successful trip.
---