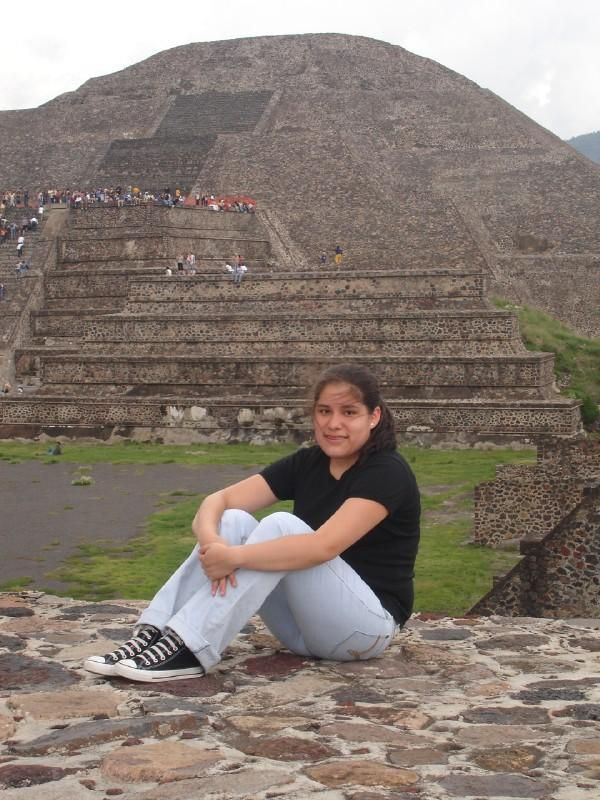 Flying for hours through the air; going through clouds and atmosphere; crossing oceans and other bodies of water; feeling a sense of superiority simply because you are thousands of feet above sea level. These are some of the reasons why I enjoy traveling. Even if one is used to traveling, going away from home may seems a bit frightening at first, but as time progresses, one feels home away from home.
The summer of 2007 has been the best summer throughout my sixteen years of life. I traveled to Mexico City on July 13, 2007, the main reason being; to prepare for my Quinceañera. Although finding everything for my fifteenth birthday celebration was our priority, my family and I agreed to visit all the places we possibly could. When we received our luggage, and stepped outside the airport, I felt a huge shortness of breath. I felt as if breathing, the easiest thing to do, suddenly had become difficult to perform due to the high altitude of Mexico City. A few hours later, I grew accustomed to it and was fine.
The first place we assured to visit was El Palacio de Bellas Artes because a special exhibition of the famous mexican painter Frida Kahlo, was occuring due to her 100th anniversary of birth. There, my family and I were able to see paintings nobody had ever seen before! Wow! I thought, I am getting to see paintings only Kahlo's family had in possession! I also got to read some letters she wrote to her family, and friends. I could not believe I was reading something Frida had written, something in her own hand writing! I could not believe my luck. Her exhibition due to her 100th anniversary (1907-2007) was an amazing, once in a life time experience, and I am so glad I got to witness it!
A few days later went to La Casa Azul, or The Blue House, which is where Frida Kahlo lived. Kahlo's house became the best house I'd ever seen because of all the vivid colors and unique decorations it has. The feeling of being in the same rooms where my favorite artist painted, ate, slept, and lived was absolutely priceless! I saw the wheelchair she used to get around, the pallet of paint she used, and the mirror where she would look into in order to paint her self-portraits. Her kitchen became my dream kitchen after I visited it. I promised myself that when I have my own house, I am going to have my own kitchen with vivid colors and plants, similar to that of Kahlo's. I even got to touch the cast she wore until the day of her death due to the horrible accident she experienced when she was only 18. Visiting La Casa Azul was like a dream come true because I felt as if I had met Kahlo in real life!
Weeks later, my family rented a car and we headed to Teotihuacan, Mexico, home of the Aztecs. We were able to witness some of the beautiful architectures the Aztecs had built. We then climed the highest pyramid in Mexico called, The Pyramid of the Sun. While I was halfway up, I felt as if I couldnt breathe. The altitide in Mexico City is already high, nonetheless, climbing a pyramid made it much worse. As I got closer to the top, the pyramid became more and more steep. As I was climbing, I asked myself: "How in the world did the Aztecs climb several pyramids multiple times a day?" After a long time, I finally got to the top, and when I did,I felt a sense of relief, peace, and serentiy. From the top, I was able to see most of Teotihuacan, and a few surroundings of Mexico City.
For the rest of the vacation, we visited more historical places and prepared for my Quince simultaneously. I had a big birthday celebration two months after upon our return in October, 2007. I was able to put many of my pictures from my vacation on my slideshow the day of my birthday.
The summer of 2007 and my trip to Mexico City has been, by far, the best experience of my life and something I will never forget. The memories I made there, are someting I truly treasure and always will!
Dear Reader: This page may contain affiliate links which may earn a commission if you click through and make a purchase. Our independent journalism is not influenced by any advertiser or commercial initiative unless it is clearly marked as sponsored content. As travel products change, please be sure to reconfirm all details and stay up to date with current events to ensure a safe and successful trip.
---