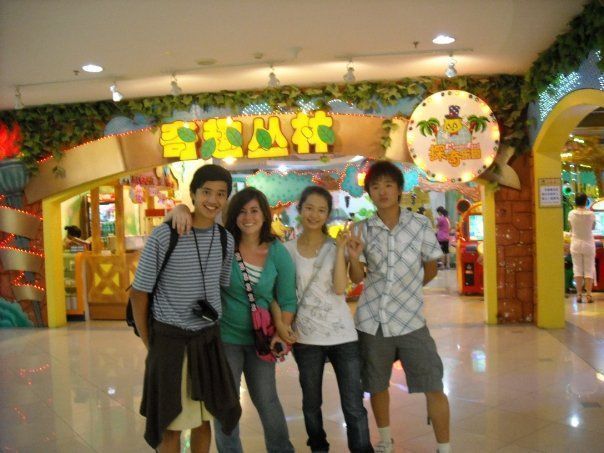 <
            Sunday, July 19, 2009 – Kunming, Yunnan Province, China.  Daylight.  When I found out earlier in March that my application to enroll in "Hanban's Confucius Institute for American and British High School Students" was accepted, my initial reaction was that of elation – my fingers creasing the edges of the envelope, then suddenly a breath of relief as I read the opening sentence.  This was an opportunity to experience an ancient culture, to garner fresh friendships, and hopefully, a chance where I would once again find inspiration in a way of life that I had already forgotten.  April passed by drudgingly and May seemed to linger on each successive day.  Then, as the airline carrier from Beijing declined towards the city of Kunming, I could only gaze into the fading daylight and wait for the occasion of redemption which I so longed for.  My past filled with errors, I had to erase them and start anew. 
            I didn't know what to make of Kunming on the start of my first day there.  The landscape was encircled by scenery of painterly perfect mountains, skies meeting them high above in the horizon.  Beneath the peaks we stood beside Lake Dian, which is absolutely stunning.  But the tourism of China wasn't my focal interest, and some hours later we went to Kunming No. 1 Middle School, where the effect of the trip began to grab me.
We entered a classroom.  A sea of faces staring right at me – I strolled gently by a pair of eyes that looked directly into mine.  Then another pair, and even a third after that.  We were complete strangers to each other and came from different "worlds."  My heart yearned to build friendships with them, but I also realized that I had multiple barriers to overcome.  The primary issue I had, and I believe that a majority of the traveling group experienced this exact problem, was the overwhelming fact that I did not know the spoken language of the Chinese.  I have an outreaching personality by nature, but at the same token I have a tendency to be quiet at times in the company of other people; this was a habit required to break down in order to attain personal growth.  However, it struck me that I was not alone in the storm of passionate feelings that was raging within me.  They, the Chinese students, were probably just as anxious and nervous as I was, probably even more so.  What added further responsibility on their part was the fact that they held the pressure of hosting us.  Not much time had passed after I took my seat that a suited gentleman began the official introduction of the summer program.  The oration was as formal as any usual one – a few statements and remarks on the purpose of the two week course, the agenda, and last came the minute fraction where each participant briefly became acquainted with the Chinese students.  For at least a few moments, time appeared to stop – I nervously approached a group of scholars and said my name.   They looked perplexed for a short while, as if they've never heard of such a forename.  The air swirled around me while my own breath became solid.  Our hearts beating, and slowly but surely smiles crept on the corners of their lips.  I reflected back with my own smile, and even though we had language barriers and were from two different countries, we were longing to make friends.  I knew then that I had hit my mark for a new starting place and young friendships.  
Dear Reader: This page may contain affiliate links which may earn a commission if you click through and make a purchase. Our independent journalism is not influenced by any advertiser or commercial initiative unless it is clearly marked as sponsored content. As travel products change, please be sure to reconfirm all details and stay up to date with current events to ensure a safe and successful trip.
---