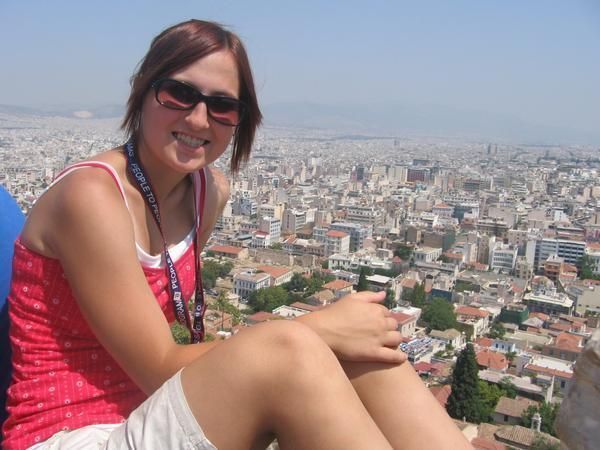 In 2008, thirty-six California Central Valley teenagers stepped off a ferry into a new adventure. There was Greece, the country that Homer wrote about, a place of great historical significance. Talk about a journey straight out of the pages of a book!  
My name is Katie Jaycox. I live in a small farm community in California. Most teens here dream of seeing the world, but sadly most never have their dreams realized. Since I was five, my dream was to travel and have my own story book adventure. I was lucky to have received a big break from People to People Student Ambassador Program at the end of my sophomore year in high school.
              The People to People Student Ambassador Program selects high school students and prepares them to travel to different countries around the world. Students learn first hand about the culture from people in the community itself. My trip allowed me to explore Greece.
            We gained leadership skills through interacting with fellow ambassadors, world leaders, and community. We helped complete different service projects such as saving the sea turtles, which called for leadership roles in all of us. The most important change in me occurred through the skills I gained as an ambassador. I found my own voice and realized it only takes one person to change the world. Because of my experience I grew from a kid to a mature adult.
            My favorite thing about the trip is the memories I gained. It's been a year since the trip and I still remember my first donkey ride as though it was yesterday. Donkey riding is a Greek tradition no traveler should miss. Or so we were told! To this day I believe the evil donkey I was riding wanted to kill me. When my turn came, my donkey was on his third trip. I believe he thought if he could kill me he could rest sooner! He was a small, young donkey, quite ordinary and harmless in his appearance, I'm sure. Yet when I imagine him, I see a devil donkey with red eyes and big horns disguised as ears. I called him Devil Donkey. Once I mounted him Devil started veering towards the trees. His sinister plan was to knock me off him by running me into all the low hanging branches. I tired to steer him in another direction, but Devil had a mind of his own! All I could do was hold on tight while I was hit with several branches that left bruises and scratches on my face and arms. Devil realized his malicious plan was foiled; so the next plan of attack was to race his fellow brother donkey. He ran into the other donkey trying to force him off the road. Bouncing up and down while hanging on as best I could, I   pulled on the reins to slow Devil down. However, Devil was not done yet! His final trick was to trip and hope that I fell forward. I held tight hoped the nightmare would soon end! Finally we came to our end point. I flung myself off the donkey. I've never been so happy in my life to be standing on my own two feet!  I will never ride a donkey again! The first one didn't kill me, but I am convinced the next one could!
            My Italy and Greece trip not only helped me find my voice it has taught me who I really am.  I may be a small town farm girl to some, but I know who I really am. I am an adventurer!
Dear Reader: This page may contain affiliate links which may earn a commission if you click through and make a purchase. Our independent journalism is not influenced by any advertiser or commercial initiative unless it is clearly marked as sponsored content. As travel products change, please be sure to reconfirm all details and stay up to date with current events to ensure a safe and successful trip.
---