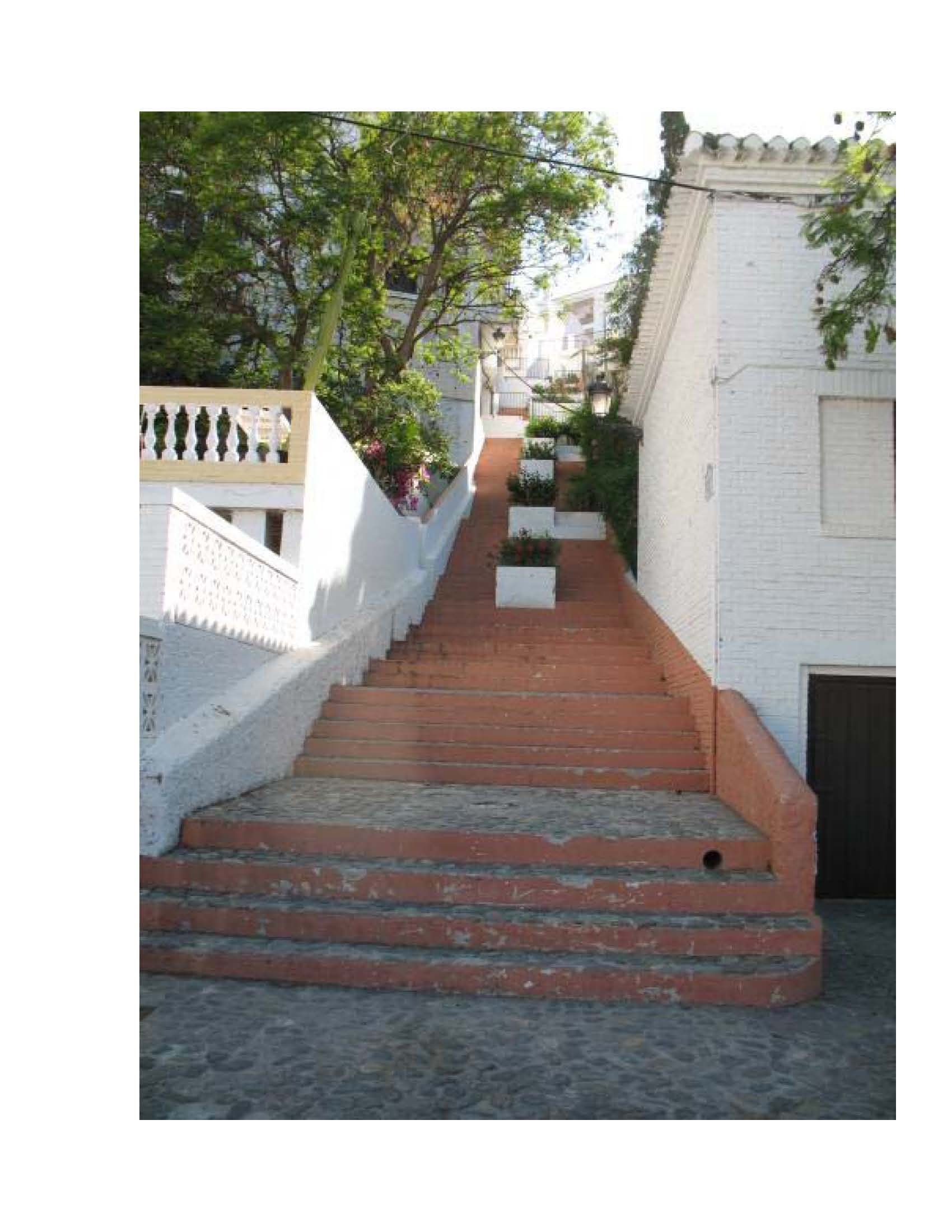 My muscles burned, and I willed myself to carry on, to take one more step.  I counted each stair: thirty-one, thirty-two. As I trudged on, I imagined a tragic war taking over my body: thirty-three, thirty-four.   The tendons were bitter over their fellow friends who had been sacrificed to the cause. They were getting their revenge, tearing the ligaments away from the bone:  twenty-five, twenty-six.  To tell the truth, the fighting cells in my body had forgotten where their quarrels even started and were beginning to go numb.  I'd forgotten too why I began to climb these stairs; it had been so long since I started. 
I'd lost count by this point, and I seemed to have lost control over my legs.  This was the fourth time that day I'd climbed this particular case of devil stairs, and the sight of cobblestone was beginning to nauseate me.  As my sneakers dragged onward, weighing far more than normal rubber should, fast paced footsteps raced past me, introducing a blur of color.  It was my brother putting my throbbing muscles to shame.  He was smiling and carrying a full-grown teenage boy on his back.  Without so much as breaking his stride, he yelled over his shoulder, telling me to hurry up; that dinner should be ready soon.  This significantly brightened my mood, since a Spanish home cooked meal was the closest thing to heaven on earth I had yet to experience. 
I crested the steps, and the house came into view.  It seemed to be upside down, with a garden on the roof and a door meeting the street without a foyer.  Although inconveniently located on top of a mountain of stone steps, the house was beautiful in its simplicity.  Tendrils of green ivy traced the clay house, and the curtains billowed through the windows, inviting the sunlight to warm the floors.  I quickened my steps.  My roommates were inside and waiting for me
The reason I was so burned out was because we had been studying all day long.  However, this wasn't your ordinary, white walled classroom type of studying.  The La Herradura immersion program involved tramping around the city, interviewing the locals, and drinking in the culture.  It was like swimming laps in a pool filled to the brim with the Spanish language.  Even my mind couldn't resist, and Spanish leaked into my thoughts.  Thankfully, after a hard day of work, we had the good fortune of coming home to a sweet señora who was dying to show off her culinary skills to a couple of famished teenagers. 
            Aside from her ability to make a magical tortilla española, Señora Elena was famous in La Herradura.  A well-known flamenco singer in her prime, she performed as a duo with her late husband.  In grocery stores around town, you could find a wine named after her, with her picture decorating the bottle.  After dinner, she told us stories about herself as a teenager and who she'd wanted to be.  The sun set on her words, and the wind carried her voice through the house as she dressed for bed.  
            My last day in Spain, we walked to the bus stop, rolling suitcases in hand.  Señora Elena teared up over breakfast, overfeeding us as if we would eat too much and get too full to leave.  She insisted upon loading us down with gifts, tying bread rolls to our backpacks and looping necklaces around our shoulders to make sure we never forgot her.  More reluctant than ever, I reached the bottom of that ever-painful staircase, and it couldn't have seemed shorter. 
Dear Reader: This page may contain affiliate links which may earn a commission if you click through and make a purchase. Our independent journalism is not influenced by any advertiser or commercial initiative unless it is clearly marked as sponsored content. As travel products change, please be sure to reconfirm all details and stay up to date with current events to ensure a safe and successful trip.
---