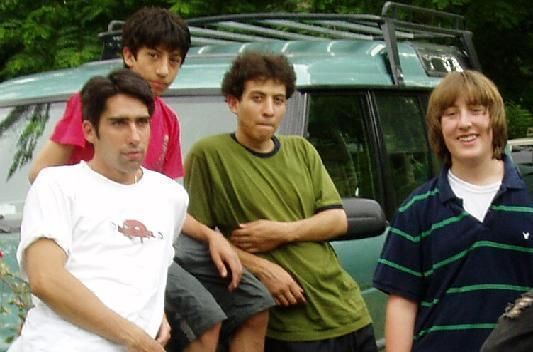 My mother was born in Cochabamba, Bolivia, and my dad was born in Ankara, Turkey. When I was a kid, my mom would always tell me stories about how beautiful the rainforest of Bolivia is. She was talking about a place called Chapare. I expected it to be just like a normal forest but with more animals. When we arrived at the airport, my family was there to greet us. The first few days we were there I hung out with my cousins and played cacho a local dice game. In the mornings, we would eat saltenas which are a type of empanadas that Bolivians eat as a mid-morning snack. Saltenas are a lot sweeter than empanadas, and way better. I ate the dulce saltenas because I couldn't take the super picante saltenas my parents ate.
            After the first week, I wondered when we were going to Chapare, so I asked my uncle. He told me that a year before a large rain storm had taken a whole bridge out and killed a bunch of people in Chapare. He said that in a few days we would leave for Chapare. When we left, we took my aunt's old 1960's VW van and my uncle's Land Rover. The trip to Chapare took a few hours and was pretty rainy and slippery as we went up into the mountains. Once we got past the scary ledges of the mountain road, we stopped for a while and I saw the beautiful rainforest around us. There were multicolored parrots, butterflies, and weird bugs I'd never seen before. It was amazing. Even the weather was different. It was getting warm. But we weren't at Chapare yet. A few hours later we arrived. The locals had rebuilt the bridge that had been swept away. The hotel that we had booked was full, so we had to get another hotel that was located right on the ledge next to the river that had swept the bridge away. We got settled in and then we went to a tropical spring in the middle of the rainforest, which was amazingly beautiful. There was a sort of natural water slide that we all went through. When we walked down to the spring we had to watch out for the bullet ants, famous for their painful sting. When we were in the water, we saw a giant water spider which my uncle took tons of pictures of. That night, my cousins and I stayed up all night talking while the parents slept. In the middle of the night, when we had all gone to bed I woke up to a banging sound right next to my bed. I looked out the window and saw nothing. I looked around and my cousins were still asleep. I heard the noise again several times and eventually fell asleep. The next morning, I found out that my cousin had felt someone touch his shoulder and when he looked, there was no one there. We told our parents about it and they told us that the original owner of the hotel was hacked to death with machetes near our hotel room a few years earlier. Though this scared me, I still enjoyed my trip to Chapare, its beauty was so amazing that nothing could have ruined it for me. I thank my parents for bringing me to learn about my heritage and the beauty of my mom's home country. I hope to go back there soon. And one day, I want visit Turkey, where my father is originally from.
Dear Reader: This page may contain affiliate links which may earn a commission if you click through and make a purchase. Our independent journalism is not influenced by any advertiser or commercial initiative unless it is clearly marked as sponsored content. As travel products change, please be sure to reconfirm all details and stay up to date with current events to ensure a safe and successful trip.
---