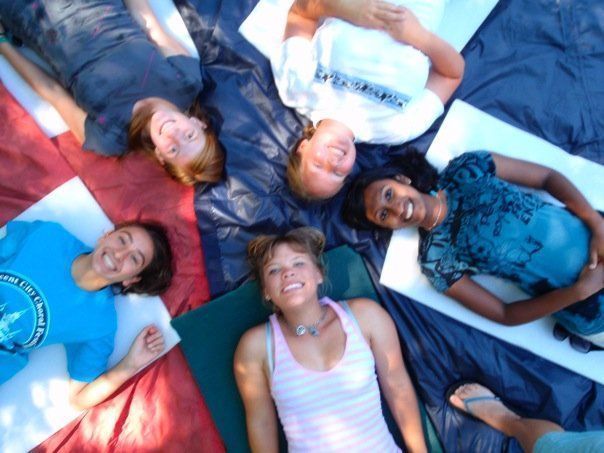 ---
As I stood at the terminal awaiting the flight's departure, a thought occurred to me: what have I gotten myself into? See, I'm a California girl who has never done anything remotely close to being associated with the outdoors, and here I was standing in the Oakland airport in anticipation of an experience that seemed so foreign to me.
I embarked on my voyage: a plane flight from Oakland, California to the beautiful oceanside city of Seattle, Washington. Upon arriving in Seattle, I was greeted by four of our guides and a loud, boisterous and energetic amalgamation of sixteen girls, who had never met, from all around the country. At first glance, I was worried, no, terrified, that I would be the black sheep; it seemed to me that all these girls knew exactly what they were in for. I felt like a flashing billboard ad for the epitome of a clueless city girl, thrown into the wild outdoors.
The guides announced our departure and the sixteen of us pilled into two vans. After three hours of blistering heat, the air-conditioning almost non-existent, we finally arrived at the ferry terminal, both anxious and nervous for the upcoming feat. We were to take the Seattle ferry out to the San Juan Islands, which are known to be one of the most beautiful island chains in the world. When we boarded the ferry, all of us ran to the topmost deck to see the majestic view of the Pacific Ocean. What I will never forget was the smell of the ocean on that cloudy, summer, Seattle morning: a scent that forever lingers in my mind. At that moment, I stopped feeling like an outsider to nature, but instead, found that we could both co-exist in a perfectly balanced and serene way.
The days after arriving on the islands were spent kayaking, camping, and just goofing around. For me, learning to kayak was not the problem; my fear for the deep ocean had always prevented me from being comfortable in water. But with the guidance of my counselors and the support of my fellow kayakers, I was able to conquer my fear and do the unexpected. The rush of kayaking across the straightaway past all the ships was a feeling I cease to forget; the adrenaline that consumed me in those moments was the reason why I knew the trip was completely the initial paranoia.
At this point though, I had a layer of sea salt build up all over me, and all my clothes had lightened in color about three shades; unfortunately, that is the downside of the Pacific Ocean, no freshwater! And no showers for that entire week! That, in itself, was something I was definitely not used to, and frankly, something that I don't think I would ever be able to be at ease with.
On the final day, something dawned on all of us: we would never be able to experience the islands and its splendor like this again. As one by one, the kayaks streamed in, we began jumping off the dock into the ice-cold bay, quickly realizing that the water was much too cold to swim in. But most were too numb with bliss to even consider leaving the calm, glistening water in which they were now submerged.
Many will speak of experiences they will never forget, but mine was truly an experience to remember; for that entire week, nothing else mattered but to be happy in appreciation of the wonders that nature has to offer, something I have always taken for granted.
Dear Reader: This page may contain affiliate links which may earn a commission if you click through and make a purchase. Our independent journalism is not influenced by any advertiser or commercial initiative unless it is clearly marked as sponsored content. As travel products change, please be sure to reconfirm all details and stay up to date with current events to ensure a safe and successful trip.
---