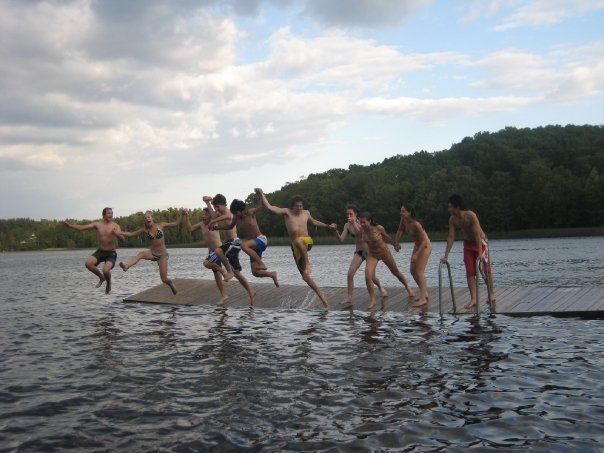 Two summers ago I went to Sweden with a program called CISV. Four fifteen-year-olds from a dozen countries around the world were selected to live, eat, debate, plan, clean, and learn together. We lived in a small high school where we shared bathrooms, feelings, and our deepest secrets. CISV is a program where everyone is accepting, and no one judges from prejudices or stereotypes. The easiness allowed us to get immeasurably close during our three short weeks of bliss. This international peace camp allowed me to grow as a person and learn about cultures and ideals that no textbook can teach. This memory takes place on our last night together, the best night of my life.
Sixteen teenagers trudge up a grassy knoll; arms linked and dew licking the sides of our tennis shoes. Etched into our contorted faces is uncontrollable sadness mixed with the euphoria of spending our last precious hours together. We are pulling an all-nighter, trying to forget that time is our enemy. Our feet carry us as we launch into the best memories of the camp; the talent show, discussing camp gossip late into the night, and the most hilarious skits. The laughter temporarily puts a band-aid on the emotional overload each of us is experiencing. Why, after getting to know each other so well and becoming best friends, will we have to experience the realization that tomorrow there is a likely chance that we will never see each other again?
We round a turn and step onto a gravel road, watching the Swedish sun start to pierce the horizon at three in the morning. I love everyone at the camp, but the people I am with are special. The German, Indonesian, French, and American delegations immediately formed a bond the first day off the plane, when we first found our secret spot. Now, we head to finish our journey where it began.
As we come closer, the gravel road turns into a thicket of wild grass that after days of being trampled on is now permanently imprinted with the footsteps of a family. In perfect synchronization, we stop in awe of the sight in front of us. Our precious dock stretches out onto the black lake, and mist shrouds the water making it feel like our own personal pool. The sun, now extending beyond the tree line, radiates heat onto our shivering bodies.
The scent of wildflowers and our own giddy fear propels us to drop our towels, take off our shoes and plunge into the lake. Valentine, from France, is the first in. Headfirst she dives into the water, screaming all the way. On most occasions, I would have made this a competition, and beat her to it, but the freezing water and imaginary prospect of hypothermia makes me hesitate. Luisa, my best friend from Germany, grabs my hand and starts racing down the pier. We jump. As soon as the water touches my body, I feel liberation. This is my last chance to do something crazy, something memorable with my best friends. We splash in the water, singing at the top of our lungs. The sixteen of us form a circle, and with the loud voice of Bayu leading, we sing the CISV song and truly capture the CISV spirit. 
Eventually the water starts to feel warm, and then we know it's time to get out. Our bodies glistening with the purest water in the world, we climb back up on the dock and run to the towels. Semi-dried off, we plod back up the hill together: four nations, side-by-side, friends. We arrive back at the commons, and the Americans began to lug their suitcases out to the sidewalk. As we form a hug circle, we realize our departure is more of a "see you later" and less of a "goodbye."
Dear Reader: This page may contain affiliate links which may earn a commission if you click through and make a purchase. Our independent journalism is not influenced by any advertiser or commercial initiative unless it is clearly marked as sponsored content. As travel products change, please be sure to reconfirm all details and stay up to date with current events to ensure a safe and successful trip.
---