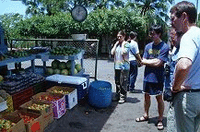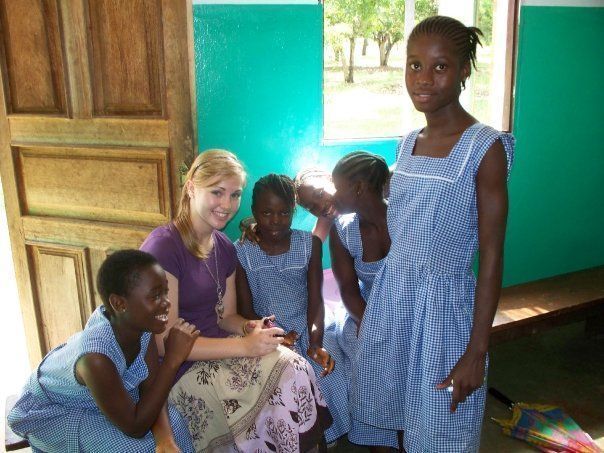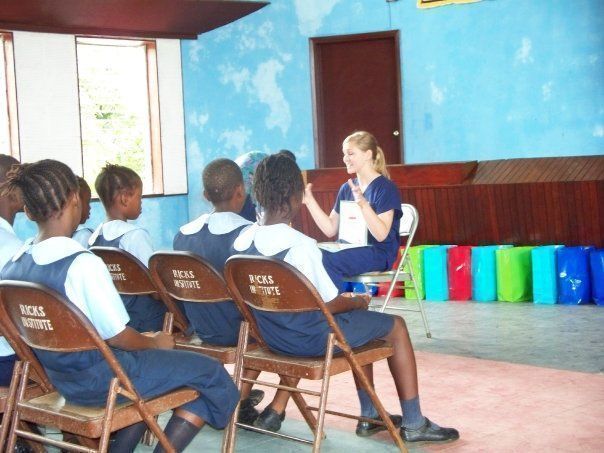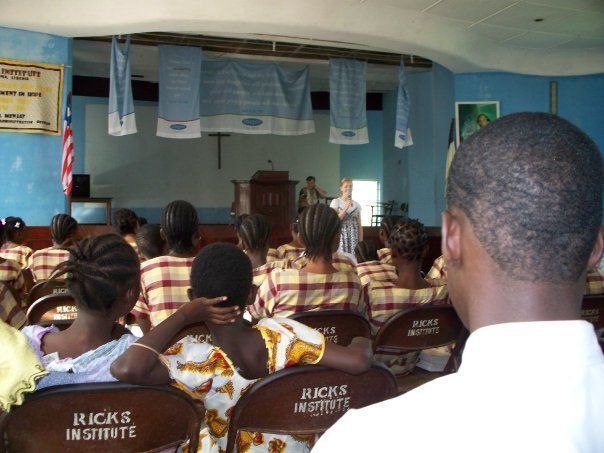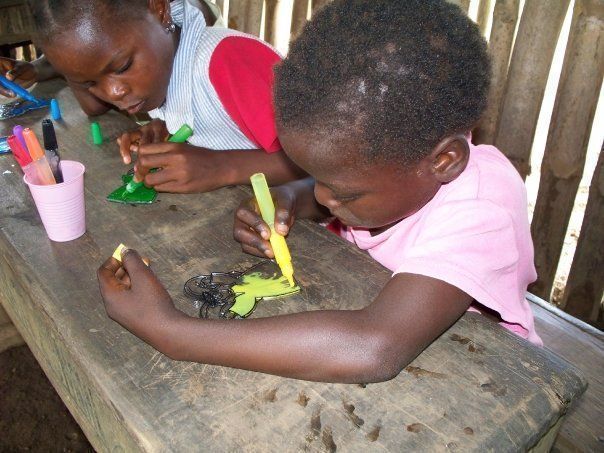 Nervously, yet, excitedly, I wring my hands as I stare out the plane window into the black, African nightscape.  My pulse quickens as we descend my heart nearly explodes as we touch down. The hot, solid humidity hits me like a wall as we step out of the plane and I breath deeply.  "I'm actually in Liberia." The streets of Monrovia, the capital, are teaming with people, but it is not hard to keep track of our Caucasian group. 
Our ride to the school we'd be staying at was like a dream. Though we rode for hours through seemingly inhabitable terrain, there was hardly a minute we did not see people walking down the road. The ride was incomprehensible–it was all so sad and hopeless at night. Where were they going? Where did they come from? Why were so many people, including children, treading this beaten path at midnight? So many faces and so many questions, bounced in my head as we rode part of the 5706 miles out of 6162 unpaved roads.  After that, the night was a blur. I vaguely remember falling asleep to the sound of an African rain.
The next morning, I awoke on a mattress on the floor in a guesthouse of Rick's Institute. Rick's had once been a prestigious college in Liberia, but when the civil war broke out, it was rampaged by gorilla rebels. Although much work had already been done, we were part of the rebuilding team. We offered medical and dental care to the four hundred students, but I had a different purpose. Some days I would help organize and distribute medications, but my absolute favorite part of the trip was spending time with the children.
Our first day, we woke up, brushed our teeth with bottled water and headed to church. Now when I say church, I don't mean the organ, pew, and stained glass kind of church. Sure, they sang hymns, but we could hear them bellowing "I Surrender All" from a quarter of a mile away! The whole service was led by the high school students and I think we said "Amen!" one hundred times. During the service, I got the opportunity to sing a song named "When I Call on Jesus." The verses talk about how weary and ordinary we feel sometimes, but the chorus proclaims that when we call on Jesus, all things are possible, and that He would move heaven and earth to rescue us. They "hmmmed" and "Oooo yeahed" through the verses, but when the chorus came, they went crazy! They clapped and whooped so loudly, I could barely hear myself, even with a microphone.
I made four hundred friends that day. The message of that song resonated with hope for so many of the students. Some of these high school students were actually twenty-one years old, because their educations were interrupted by the war. Many were forced to watch brutal scenes of loved ones being harmed or killed. For so many Liberians, life seems hopeless. Bringing hope in the form of music was the most incredible privilege of my life. One day, a few of the younger girls came to me and asked me to teach them the song. Yes, there are lots of crazy stories I could tell about getting arrested, duck-taping the toilet seat, and eating bamboo worms, but sharing simply singing a song under a palm tree with eight little African girls was so much more important for me.
Dear Reader: This page may contain affiliate links which may earn a commission if you click through and make a purchase. Our independent journalism is not influenced by any advertiser or commercial initiative unless it is clearly marked as sponsored content. As travel products change, please be sure to reconfirm all details and stay up to date with current events to ensure a safe and successful trip.
---