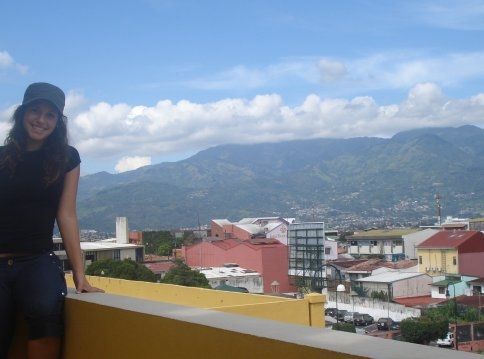 Among the beautiful beaches, majestic volcanoes, and the variety of natural diversity it has to offer, there is a vast difference between the "tourist" Costa Rica and the one which I lived in temporarily. I had the opportunity to experience something most Americans will never get the chance to: step out of my comfort bubble. I stayed in the most dangerous city in Costa Rica, San Jose, and experienced firsthand the daily life of a "Tico," or Costa Rican. With no previous knowledge of Costa Rica's customs, I went into culture shock upon arrival. I knew that the dress, food, and language would be different, but the smallest things took me off guard. In the house that I stayed at, there was no air conditioning, or hot water. You were not able to flush toilet paper or any other products down the commode. I was not used to this standard of living, but I respected their way of life, and maintained a positive attitude throughout my stay in order to obtain the most fulfilling experience.
My host family hosted three other girls from America besides me. There were two restrooms that nine people shared in the house. My host family thought we were very well-off because we all had iPods. To them, an iPod was an extreme rarity, as luxurious to American eyes as a Ferrari. I learned quickly that many of the men, including police officers, would shout out profane comments, even with their wife and children next to them. I was warned that if I did not get "cat-called" at, then there was something very wrong with my appearance.
Many of the students on the study abroad program with me had to get used to eating rice everyday
—

breakfast, lunch, and dinner, to learn how to turn on the shower without getting electrocuted, to understand that the Ticos did not abide by many of the traffic laws, and pedestrians did not have the right-of-way. During the trip, I bit into an apple with tiny worms in it. My American upbringing told me to spit it out, but instead I calmly swallowed when I realized that it was normal for Ticos to eat unclean fruits. There were many "normal" things going on that to me, were simply absurd.
After my experience in Costa Rica, I realized how good life is for me. I was lucky to be given this great opportunity, to get a better understanding of the world around me and to appreciate the smallest things in life that I previously took for granted. My "vacation" popped that ignorant bubble I was living in. I became a more independent person, and by the time I left Costa Rica I was practically fluent in Spanish. I was fortunate enough to experience a new culture so early in my life, and to accept and adapt to change. I will remember my time in Costa Rica for the rest of my life, and it taught me to always have a "Pura Vida"- a pure and happy life.
Dear Reader: This page may contain affiliate links which may earn a commission if you click through and make a purchase. Our independent journalism is not influenced by any advertiser or commercial initiative unless it is clearly marked as sponsored content. As travel products change, please be sure to reconfirm all details and stay up to date with current events to ensure a safe and successful trip.
---