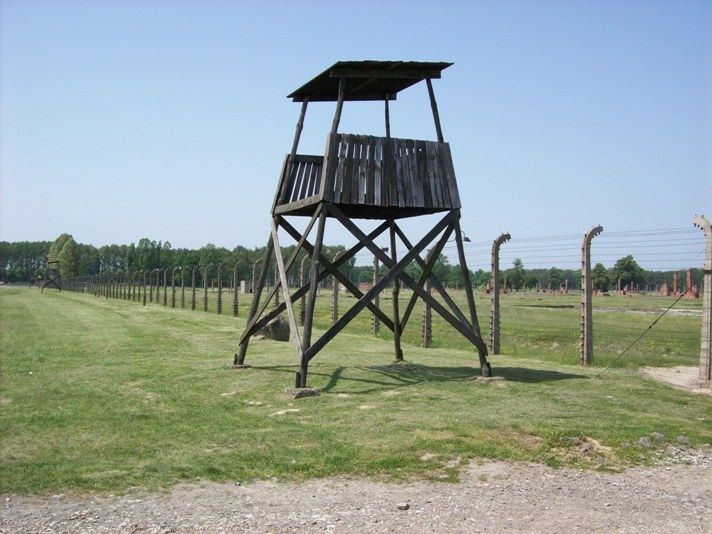 Two summers ago, my high school choir director scheduled a performance tour in Poland and Germany.  Of course, we had a lot of fun singing for many different people in several cities, such as Krakow and Wroclaw in Poland, and Berlin, Leipzig, and Dresden in Germany.  However, the most memorable day for me was the day we went to Auschwitz, the infamous Nazi concentration camp, located in Poland.
Everyone was in great spirits after a few days of wonderful performances and terrific sights.  That all changed, however, when we walked through the gates at Auschwitz.  A few of the students did not realize the significance of the old prison camp, but the tour guide explained to us about all of the death and tragedy that had occurred there.
The beginning of our tour was inside a museum.  In this museum, rooms were filled with belongings confiscated from the Jews.  The Nazis took their possessions because the Jews no longer needed them, since they had a sentence of forced labor and execution.  The Nazis used the Jews' possessions to benefit their war efforts.  One room was piled high with shoes.  In another room, were piles of suitcases with names and addresses on them which really personalized the situation.  There were giant containers of eyeglasses as well.  As we progressed, there was a mountain of human hair that was intended to be used to make garments for the Nazis.  There were also prosthetic limbs that had been forcibly taken.  Further into the building was a room entirely filled with children's shoes.  It was heartbreaking to believe that people in the world could be so cruel to other humans.
We went out of the museum and after a short walk, were inside the gas chambers.  We were in the actual gas chambers where thousands of Jews and other people were killed.  It was absolutely unbelievable that so many people were herded into the buildings to be mercilessly slain.
As we proceeded with our tour outside, the sights became more and more horrifying. We stood in an area marked with wreathes of flowers where prisoners had been executed by being shot at close range in front of a plain wooden wall in a courtyard.
As for those who survived, I could not even imagine living their lives.  They were crammed into tiny coop-like shacks with many other people.  I remember our guide told us that when the alarm sounded in the very early morning, the prisoners would have five minutes to be ready to work as far as a mile away.  Their work would continue all day until the sun went down.  I believe that their lives were the worst of anyone ever on earth.
At the end of our tour, there was a gigantic monument for the victims of the Holocaust that passed through the gates of Auschwitz.  By that point, everyone was silent, as the reality of what had happened where we were standing struck everyone.  The impact on our lives was much larger than we would have ever expected.
My choir director does amazing things with a choir that is always successful, but she often comments that the biggest thing she does for us is to build our character.  Now, two years later, reflecting on the trip, many memories have faded.  I still have vague recollections of some of the places, but mostly I just remember the emotions that we felt after great performances and impressive cities.  However, the day at Auschwitz will never fade from my mind.  That horror must never be forgotten by citizens of the world.
Dear Reader: This page may contain affiliate links which may earn a commission if you click through and make a purchase. Our independent journalism is not influenced by any advertiser or commercial initiative unless it is clearly marked as sponsored content. As travel products change, please be sure to reconfirm all details and stay up to date with current events to ensure a safe and successful trip.
---