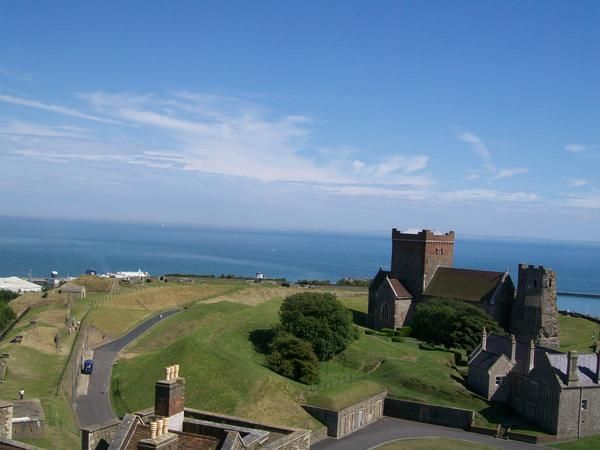 The excitement of being in a new place and being able to witness a world outside of your own is one of the most exhilarating opportunities and is one not often presented. When the opportunity is presented, however, it often makes an impact not likely to be matched.
 Dover was my dad's idea. Secret tunnels? A castle? Cliffs? As far as I could tell, this was just going to be another ordinary day in Europe. The ride to Dover was nothing special: miles of highway stretched before us and strange cars whizzed past us, but Dover was a world of its own. The smell of the ocean streaming through the windows, the shops, and the hustle and bustle of the ships carrying cars and people to and from France was mesmerizing. The atmosphere was light and breezy, as if no one had a care in the world.
Stop one was Dover castle, ancient, just like everything else outside of London. The gray that flowed from room to room, broken only by tapestries woven in deep shades of red, green, and blue cast an eerie shadow on the inside of the castle. The courtyard was bright, warm, and a very welcome change from the dark and dank of the castle. There were grassy hills to climb and moss-covered battle stations to explore. We roamed the grounds and came upon a fully functioning Anglo-Saxon church. The stained glass depicted bible stories in brilliant colors.
We somehow managed to squeeze onto a tour of the secret wartime tunnels, the last of the day and an unexpected adventure. We entered a room where we screened a short video of the tunnels' history and were then led up steep ramps, down steep ramps, up stairs, and down stairs. We visited a mess hall, complete with place settings for would-be attendees of the day's lunch. Newspapers were scattered amongst the settings and "current events" were splashed across the faded headlines. The communication centers were filled with switchboards and headsets and appeared as if the staff had just left for lunch only to return shortly and continue relaying secret messages.
We had a few hours until sunset and knew that there was no way we had completely taken advantage of what Dover had to offer. We followed a few signs through town until we managed to find ourselves in a parking lot facing the English Channel. Dad paid the three pound parking fee and we set out along the sea wall. The water was an interesting blue: cloudy and bright. The rocks that peeked out were pocked and jagged. We meandered along until the sea wall came to an end. We descended the stairs that led to the coast and we soon found ourselves navigating slimy rocks and shallow tide pools. We ventured back towards the cliffs and explored vast caves randomly positioned along the giant wall of chalk before us.
A stray piece of chalk served me well and I sketched my initials amongst some others on the sea wall. I did my fair share of picture taking and hope to be able to take one look at that amazing place and be rushed back there to feel the warm sun on my arms, the icy water around my ankles, and the absolute awe of being in such a unique place. I wish that someone, be it a tourist, a native, or any random passerby will see my initials, and feel what I felt on that one day in Dover.
Dear Reader: This page may contain affiliate links which may earn a commission if you click through and make a purchase. Our independent journalism is not influenced by any advertiser or commercial initiative unless it is clearly marked as sponsored content. As travel products change, please be sure to reconfirm all details and stay up to date with current events to ensure a safe and successful trip.
---