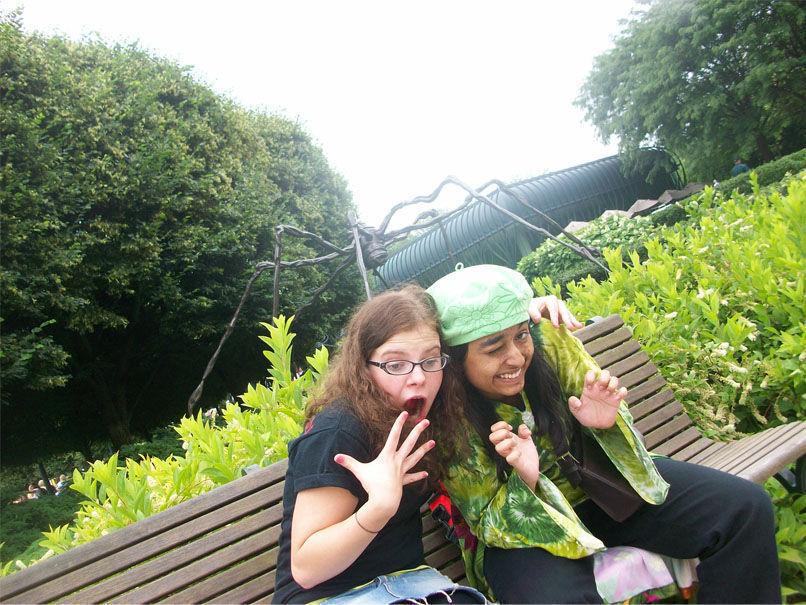 In the month before school let out, my art teacher announced one last field trip to end the year right. The trip was for the National Gallery of Art in Washington D.C., and even though I am inclined not to go look at boring pictures tacked up onto dusty walls in dimly lit rooms, I went anyways so I could miss an entire day of school. I am still amazed at how very wrong I was then.
But first, before going to the Gallery, my teacher told out bus driver to drop us off at the Sculptural Garden. "I have been to parks like this before," I thought, "one glance and there is nothing else to see." Not these. A body could stare at them for at least ten minutes before getting tired of them. One, we could not decide what it was – an eraser, a squid, a guitar, a guitar pick? And in the midst of our debating, someone shouts out "SPIDERZILLA!" Immediately, we turned around to face the massive monument and ran towards it to take a picture.
      Time was running too – running out, that is. My art teacher made us book it to the National Gallery of Art to make up for the lost time (if it had been sunny, I would have fainted from exhaustion).
      The building itself was a work of art. Gigantic columns of rock held up the ceiling, a fountain in the lobby, and, to the left, a hallway that looked like a Greek-Roman pavilion (statues, setup, everything).
      Leading off from that hallway were entrances to numerous exhibits. The art pieces of this gallery, I assure you, were not done by amateurs. Those works really left an impact. I distinctly remember an entire room of paintings of people wearing, what can only be called, "super-frills" (the detail was astounding). Another room had paintings with rather dark backgrounds, but brightly colored animals… recently killed (disturbing, yet captivating). One piece was of a cup, and besides it was a cup in real life; the purpose: to show how well-versed the creator of the painting was about light and shadows. I could hardly tell the difference.
   Art from all over the world was displayed here. Giant porcelain, Chinese dishes, African dolls (some three feet tall), portraits of Napoleon (or so it seemed), and even an entire room of medieval tapestries hanging from the walls (I felt like I was part of the round table). It was amazing.
    There was also a photography room, but that's nothing to get worked up over. It has nothing over modern day photography (these were taken around 1930).
     However, the thing that I will always remember (and probably be haunted by forever) is the elevator. Now that I reflect on it, it was more of a relic than a piece of art, but nonetheless, its doors were still open so my friends and I decided to get in. However, the doors had trouble closing, and every time those would get stuck, the entire thing shook. It took not more than an instant to realize the fear of this elevator dropping along with us inside it. Quickly, my friend stabbed the "open door" button. Once the elevator doors had opened a foot on both sides, we leapt for our lives onto the stable floor and never looked back. We used the stairs like able-bodied civilians should.
    Mind you, the entire thing was so huge, I could not see the entire thing. Though I will say this, it was worth the six hour bus ride to go see the National Gallery of Art.
Dear Reader: This page may contain affiliate links which may earn a commission if you click through and make a purchase. Our independent journalism is not influenced by any advertiser or commercial initiative unless it is clearly marked as sponsored content. As travel products change, please be sure to reconfirm all details and stay up to date with current events to ensure a safe and successful trip.
---