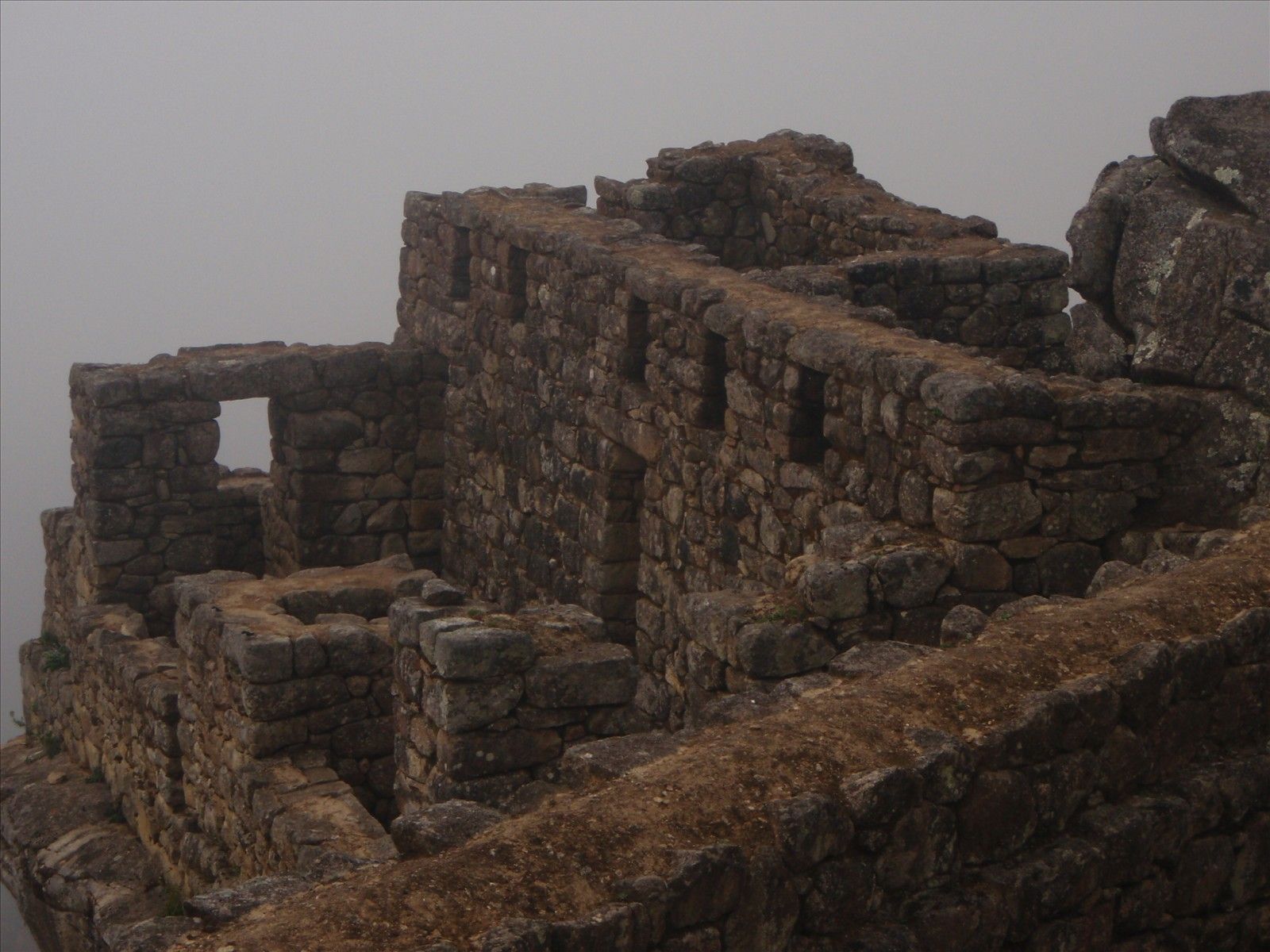 The only access to the Machu Picchu ruins is through the small town Aguas Calientes – a fitting backdrop for "lost city of the Incas". My mom, grandma, sister and I appreciated the recuperation before our journey to the mighty Incan ruins. This quaint but captivating town developed around the nearby train. A single bus system delivers tourists from this town to the ruins, beginning at 5:00 AM.  The night before we planned to visit, our guide Willy told us about the option of climbing Huayna Picchu, the iconic mountain that towers over Machu Picchu. After much debate over the difficulty of this adventure, we decided to accept the challenge. Only 400 people are allowed on the mountain per day, so it was essential we were on the first buses.
     When the bus arrived t 5:00 AM we had been in line for two hours. The lines were crowded, and tensions high, but I couldn't wait! The bus took us up a mountain on a switchback tail. We ascended toward Machu Picchu, which sat at 7,970 ft. above sea level. It was still dark, so all we could see was the flashes of road in front of us illuminated by the headlights. I felt like a modern-day Indiana Jones! When we arrived, we ran behind Willy in order to receive a ticket to Huayna Picchu. As we ran through the ruins, everyone else fell behind. I was right behind him, sprinting though the 500 year old ruins. Now I really felt like Indiana Jones. The atmosphere was magical, unreal. Everything was silent, except for the crunching as my feet rushed over the stones. Dawn was just beginning, illuminating the clouds around me. Everything was covered with a thick mist, which faded out the edges of the ruins. I could not see where the ancient houses stopped, or where the mountain dropped off into the Urubamba valley.
     The ruins around us consumed the valley. The misty air filled the houses, temples, and immense terraces. The stones were gray and worn, but refused to acquiesce and crumble completely. An open field lay in the middle, surrounded by the ruins as well as the occasional llama. We could see Huayna Picchu towering 1,180 ft. over the ruins, much bigger than we imagined. Second thoughts abounded as we tried to stomach what we had agreed to do.
     Everything he told us presented a new piece of insight into this ancient world, but also presented a hundred new enigmas. Every house, every stone, even the location of the ancient city itself has its own story and meaning. The curiosity and adventurous spirit mingled throughout the rustic stones contributed to the allure that enveloped me in that place. Everyone has that little part inside of him or her that inexplicably but inevitably draws you to experiences that fulfill your curiosity.
     The hike up Huayna Picchu was demanding but rewarding. Standing on the top of Huayna Picchu, all of our hard work faded into the immense green around us and was replaced by feelings of triumph and marvel. Climbing Huayna Picchu also provided us with some comic relief when my grandma told our taxi driver that we climbed "Pikachu Mountain".      
     There are certain places in the world that leave you speechless, simply by existing. They seem almost too magical to exist, and it can be startling to realize this astonishing place had been there all along, waiting for you to discover it. A whole year has passed, but I still cannot think of any other location with the beauty, mystery, and endless fascination to rival these prodigious ruins.
Dear Reader: This page may contain affiliate links which may earn a commission if you click through and make a purchase. Our independent journalism is not influenced by any advertiser or commercial initiative unless it is clearly marked as sponsored content. As travel products change, please be sure to reconfirm all details and stay up to date with current events to ensure a safe and successful trip.
---