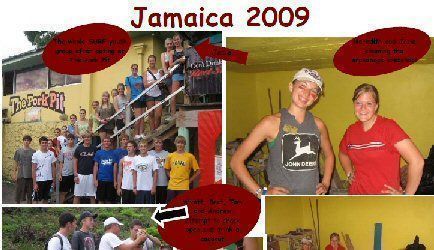 Smiling at the flight attendant as she glanced at my passport and directed me to my seat, I thought about the week ahead and the experiences I was about to have. Glancing at my watch, I realized that I hadn't eaten since six the night before. While my mind wondered to the uncertainty of the days ahead, I pulled out a handful of raisins and tossed them into my mouth.
Jamaica was our final destination and our SURF youth group was not going for a vacation, spring break, or cultural experience. We were going to serve at a children's home high in the mountains that had nothing but donations to live on. Robin's Nest Children's Home takes in children that needed a home, a friend, a parent, and a fresh start. I was prepared to give just that to all the children there; little did I know that what I would receive in return would be far greater than what I gave.
As the plane taxied down the runway, I snapped out of the daze I had been in for the past three hours. Customs flew past, and we finally got to step out of the airport only to have the wind knocked out of us by the searing heat. After arriving at Toby's, our home for the next week, we met with our new youth leader, Ross Enger.
The next morning our whole group loaded a bus and began our hour long ride up the mountain. Audly, our bus driver, taught us how to converse with Jamaicans, and told us remarkable stories about his own life. The road that we took up the mountain was so jarring and rutted; Audly informed us that he had to change the tires on the bus every two months. When we finally arrived, we were introduced to the staff and then divided into groups. My small group went to a church located still farther up the mountain to put on a bible school for the kids from the children's home and from the community.
The first day of bible school did not go as planned. We had children who were full of energy and many kids were there simply because they had nothing better to do. Each day we were lucky if we could get everyone seated for five minutes. At times the only way to accomplish this was to use a Machiavellian approach. I gained a lot of patience from being inside that small church for two blistering hours with many exceptionally energetic children.
The relationships I formed with the kids there will last a life time.  Sande, a small boy from the children's home, was always eager to quietly sit on your lap and just observe what was going on around him. Zoey was a girl with so much energy it seemed to radiant off of her like the sun. Kim was an older girl form the nearby area who was an amazing singer and, although quite shy, led some of the songs that we didn't know. Each child had a distinctive personality that contributed to the unique community in Jamaica.
Through my experiences in Jamaica I have learned to be more patient. Jamaican Bible school taught me many lessons that I would have never been able to learn in a classroom. When I boarded the plane the last day, I looked back and realized that I had left a small piece of me in Jamaica; however, I also knew that I had also taken a small piece of Jamaica back with me.
See my photo album at this link.
Dear Reader: This page may contain affiliate links which may earn a commission if you click through and make a purchase. Our independent journalism is not influenced by any advertiser or commercial initiative unless it is clearly marked as sponsored content. As travel products change, please be sure to reconfirm all details and stay up to date with current events to ensure a safe and successful trip.
---