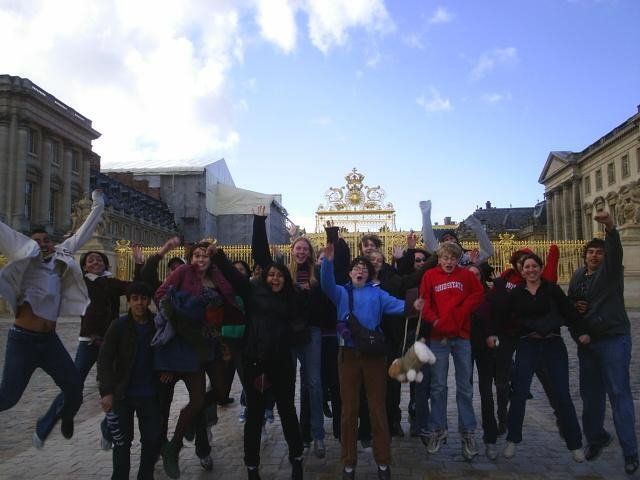 My adventure to Spain and France was the highlight of my life. My trip started before the other travellers. The night before I departed, I lay in bed thinking of everything that was going to unfold over the next thirteen days. I thought of the food, the people, but most of all, the dreams and legends that occurred there. I thought of the movies that have been filmed there. Some of my favorite movies, like Moulin Rouge, have succeeded there. I could not help but thinking that I was going to take the same steps as my favorite actors.
I hurried over to my friend's house about four hours before the plane departed to discuss in detail what we wanted to happen on this trip. We drove to Miami Airport and met up with our teachers and kids who went to our school, most of whom we had never met before. Honestly, I started to doubt how much fun the trip would be, because I would have no one to talk to but my friend. We were boarding the plane, and all of that doubt left my body in an instant. In the distance, I heard one of the people on the trip sigh and say, "I can't believe I have to come! My parents made me, so I was like whatever." Some people do not appreciate the opportunities presented to them.
We arrived in Spain, and toured all of Madrid, Saragossa, Segovia, and all of the castles and museums. One thing in common every city had, was the amount of people that would drink and shout through the streets about soccer. I witnessed bar fights that were taken out of the bar, and quarrels that lasted twenty minutes, all having to do with soccer. But I would have to say that the most competitive and defensive city was Saragossa. In Spain I started to take interest in one of the girls from my school. We talked about everything around us and how amazing it was to be here. There, is where we started to talk more. I thought that she was too out-of-reach, because she was significantly smarter and older than I. The out-of-reach girl is now my girlfriend and has been for three months. I could not help but think that this was a country of magic and dreams.
When we left for France, I could still hear the girl from the airport complaining about everything, and could not help but laugh. This part of the trip attracted me the most for three important reasons. First, I had been taking French classes for a semester, and could not wait to use my classroom skills in the presence of people who speak it as a first language. Secondly, I could not wait to touch Le Tour Eiffel and walk inside L'Arc De Triomphe. Lastly, the Crepes. Everything about Paris attracted me: the romance, the bread, the people, and the buildings.
My favorite parts about this excursion was meeting new friends, seeing all the different buildings, and forming inside jokes. We joined with a comics group from Idaho and Ohio. Both bunches were full of would not allow me to stop laughing.  All of my friends and I would joke about out tour guides accent and the way he said Barcelona, because he was from Spain and would pronounce it Barthelona. My tour guide was a big reason my trip was so much fun and I laughed so much.
This trip changed my life by introducing me to new cultures,
Dear Reader: This page may contain affiliate links which may earn a commission if you click through and make a purchase. Our independent journalism is not influenced by any advertiser or commercial initiative unless it is clearly marked as sponsored content. As travel products change, please be sure to reconfirm all details and stay up to date with current events to ensure a safe and successful trip.
---