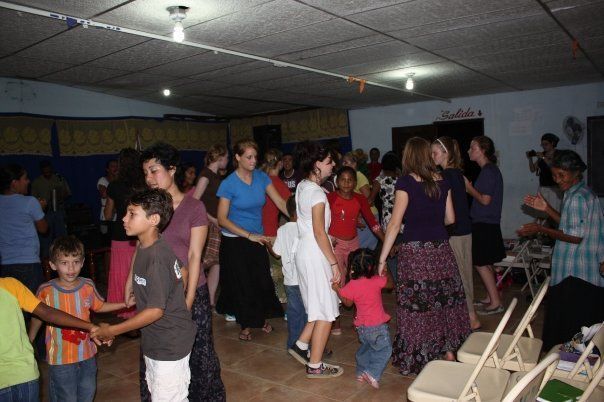 Touch the World. That is what I aspired to do and what I set my mind on, the day of October 4, 2008. The slogan that was endlessly repeated in my thoughts was a result of watching video footage of an organization called Global Expeditions, which revolves around mission trips for teenagers. On this two week mission trip to another country I had to continuously break out of my comfort zone, and I saw things I had never seen before. Two weeks in the middle of the jungle showed me how in a few moments, the lives of many can be drastically altered and positively changed.
            Ten months after I had been inspired to be a part of something bigger, I was standing in the midst of Panama's vast jungle. Our team of missionaries, who had trained for one week straight to deliver a proactive message, was greeted by half-clothed children and a couple of toothless men and women. The Panamanians' introductions were followed by faint, dainty smiles. Immediately, we were sent off to work. Accompanied by fellow missionaries who weren't as fluent in Spanish as I was meant I was to be the group's translator. As nerve-racking and terrifying as it was to stand in front of a crowd, to repeat the church service in another language, I knew that this is what I was called here for. With perspiration running down my forehead, I was soon able to calm down, thinking of how much this would mean to the people. I was constantly swayed from one conversation to the next, somewhat like a ping pong ball, so that the missionaries would be able to talk to the Panamanians and the Panamanians would be able to understand. Eventually, the once conservative, too shy to participate at church people, became a dancing, singing, and vibrant congregation full of beautiful life.
            Throughout this visit, I met many more other unique and special individuals. A woman's short leg grew out after fervent prayer of the missionaries! We came to know Antonio, a young man who lingered around the church often but never set a foot inside, on a more personal level. When Antonio entered into the church's presence one night, I started to notice strange movements coming from him while the sermon was taking place. Slowly, people started to move away from him and others were looking at him with agape expressions. At this point, Antonio was rocking back and forth on the bench and violently bashing his head against the seat in front of him. I was gestured to come down from the podium and once again, the team leaders gathered us together to assist in Antonio's battle. Nervous, I placed my hand over his chest to get him to look at me while I was speaking. However, Antonio continued to lack eye contact and instead further salivated while his eyes rolled back into their sockets. The remaining of the night was spent on ongoing, powerful prayer.
            Looking back at this experience, I am filled with great gratitude for having been a part of something so lovely. Each time I relive a moment from Panama, I am filled with awe as if it is my first time seeing such wonderful changes in the people's lives and hearts. From all this, two things remain true; I will never forget how one single mission trip helped me to burst out of my cocoon in order to assist others to pick themselves out of their graves and I will use the tools I have to continue to be a world changer.
Dear Reader: This page may contain affiliate links which may earn a commission if you click through and make a purchase. Our independent journalism is not influenced by any advertiser or commercial initiative unless it is clearly marked as sponsored content. As travel products change, please be sure to reconfirm all details and stay up to date with current events to ensure a safe and successful trip.
---