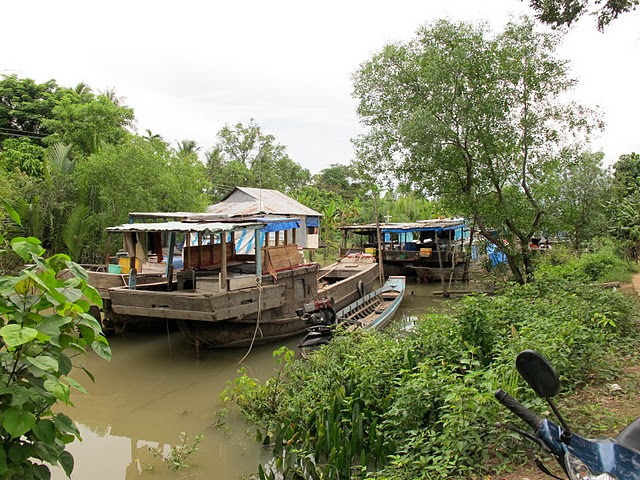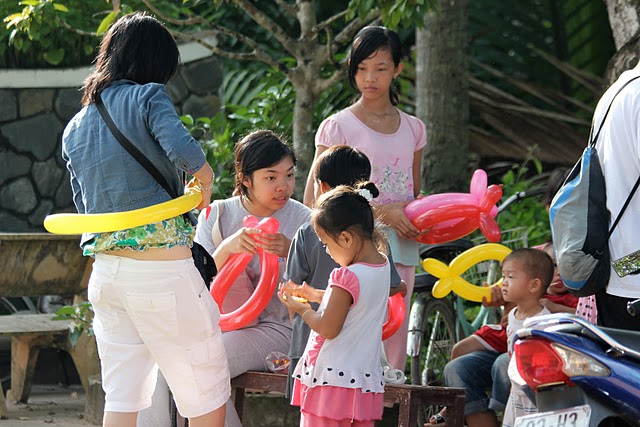 "The fact is, that to do anything in the world worth doing, we must not stand back shivering and thinking of the cold and danger, but jump in and scramble through as well as we can."-Robert Cushing
  When I was offered the chance to go to Vietnam for three weeks to participate in a five day medical mission in the central highlands, I jumped at the chance. Three years ago, I traveled to Vietnam with my family for the first time. My eyes were opened to two extremes: the treasures and culture of the country of my ancestors, and the startling reality of the poverty in the third world. Now, for three weeks, I would be going to Vietnam with my best friend Tammie, who was also Vietnamese, and her mother, who was a nurse. For the first week and a half, we would be able to travel, visit relatives, and enjoy the sights. Then, for 5 days, we would meet with a group of doctors and nurses from Maryland who were being headed by a Vietnamese Catholic priest named Father Vang. Father Vang created an organization called Viet Toc Foundation, which sought to provide relief to an indigenous group living in the central highland region of Tay Nguyen. I was excited to gain a completely new experience and insight that would not only benefit my career aspirations in the medical field, but also allow me to see how these village people survived on a day-to-day basis with such limited resources. Then, for our final two days in Vietnam, we would head back to Ho Chi Minh City, re-pack and rest, then head back home.
     In preparation for our trek, my anticipation for the things we would encounter in Vietnam (the 19 hour flight, the heat, the swarm of motorcycles crowding the city streets, the existence of little traffic control, the pollution, the luxury we would encounter during our travel versus the dire conditions we would face during the medical mission, the delicious food, the natural beauty, the cheap prices) could be described as ambivalent. A few tips to remember before traveling to any foreign country, especially in the third world, would be to always drink bottled water, always carry sunscreen, a bottle of bug spray, and a good pair of sneakers, and when concerning fresh fruits and vegetables to remember these four steps: cook, boil, peel, and if the aforementioned 3 steps cannot be done, throw away. Also, always carry a roll of toilet paper and hand sanitizer, and when using a public bathroom where the sanitary conditions of the toilet seat are questionable, or worse, if the lavatory is simply a hole in the ground, it would be best to invest in perfecting the squatting method.
After my mom and I finished packing a total of 5 suitcases, I was as ready as I was ever going to be. My first suitcase contained my personal items (clothing, toiletries, etc.), my second contained personal items I would need to use during the medical mission (scrubs, gloves, sanitizer, bed sheets, mosquito repellent, dry shampoo, body wipes-no showers in the central highlands!, first aid kit, over the counter medication, etc.), and the final 3 suitcases contained medical supplies and toys that would be donated and used for the village people we would be meeting (over the counter medication, prescription medication, sanitizer, first aid kits, toiletries, blood pressure cups, stethoscopes, body thermometers, etc.).
Since I love to do arts and crafts, I was put in charge of coordinating art activities with the children we would be meeting. Tammie and I had the idea for a project where we would make embroidery string friendship bracelets with the kids. Durable, and easy to make, the bracelets would provide a fun activity for the children that would always remind them of our visit. The dominant patterns we would use would be the candy stripe, the stripe knot, and the braid. Other projects would include origami and paper crafts. Since the art supplies would have been too heavy to carry in our luggage, we figured it would be more efficient to buy the supplies in Vietnam where they would be infinitely cheaper.
     For our flight schedule, we boarded Continental Airlines for a 13 hour flight to Japan-Narita Airport. Then, we boarded a 6 hour flight on JAL Airlines to Ho Chi Minh City, Vietnam. Tips for a long flight would be to bring a sweater and sweatpants-it gets cold on the flight, even with the blanket they provide you, toiletries, a book to read, headphones, Airborne supplements, and allergy medication if like me, you get congested on flights and have trouble sleeping. Also, try not to eat any strange or foreign foods on the airplane that might not agree with you later on, and stay away from acidic drinks like orange juice and dairy products when it comes close to landing time-often with a rocky landing, these products can make you extremely nauseous. When we finally arrived in Vietnam, we met with my aunt and stayed at the Kingston Hotel (3 Stars, very nice accommodations) for two nights in Ho Chi Minh City.
     The city was exactly how I remembered it from three years before-chaotic, polluted, and cramped, but I got a strange feeling of comfort from seeing the mass of tan, black haired, brown-eyed faces similar to my own. At the advice of my aunt, from the start to the end of our stay in Vietnam, we drank fresh coconut juice from the gourd to help digestion.
During our first day in Ho Chi Minh City, we went to many places. Although I have grown up in a wholly Vietnamese family and culture, English is my most dominant language. The language barrier was especially frustrating during the first day. For example, in the morning, with the help of my aunt's street savvy, we went to a fabric shop and a tailor shop to have some clothes made. One of the amazing things about the country was the enormously cheap prices. Tammie and I were able to pick out designs from expensive tailors such as J. Crew and Delia's and have clothes custom-made for a fraction of the US price. At first, we found it difficult to express in Vietnamese how high we wanted the necklines, or how tight we wanted the waist cinched. It was only later on in the day that we realized how pathetic our Vietnamese really was.
My aunt, who is building a resort in the southern beach city of Phan Thiet, had to buy supplies for her workers. In the afternoon, we went shopping in an eerily Costco-esque shopping warehouse called Metro in Ho Chi Minh City. As we got in line to buy for our purchases, Tammie and I were able to strike up conversation with a woman standing behind us in line. We seemed be doing well at first, answering her questions with adequate responses. Then, she asked in Vietnamese, "You're not from here, are you?" The priest we would be meeting for the mission had urged us beforehand to only speak Vietnamese when we were in Vietnam in an effort to pass us off as natives, but even when we spoke the language we gave ourselves away! When we left Metro, my aunt had to check on a few other supplies still in the store. Since it was hot outside, she told Tammie and I to sit in the taxi where it would be air conditioned until she came back. As we got in the taxi and closed the door, our driver asked us in Vietnamese where we wanted to go. I responded that we didn't want to go yet, that we would be waiting for my aunt. Nonetheless, our driver began to drive. Thinking that he simply wanted to get closer to the store door to wait for my aunt to come, Tammie and I said nothing. When the car started to get back on the road back to the city, we both yelled in panic: "No! Not yet! We have to wait for our aunt!" In just a few minutes, we would have been teenage girls lost in the traffic of motorcycles and with no idea of direction in a foreign country. It was a bad case of lost in translation. When we sheepishly had the driver turn back around to the Metro parking lot, I whispered in English to Tammie that we would never get in a taxi alone again.
While we were in Saigon, we had a selection of very delicious food, including pho (Vietnamese steaming noodle soup made with a savory broth flavored with hoison sauce, sliced beef strips, rice noodles, fresh vegetables, and pork meatballs), xoi ga (Vietnamese steamed rice topped with fried onions, soy sauce, and chicken strips), and cha gio (Vietnamese fried rolls made with rice paper and filled with seafood, meat, mushrooms, and vegetables).
The next day, we traveled to the southern river region of Can Tho and stayed there for two days. We were able to take a boat tour of the surrounding villages, and I was filled with amazement. On the tour, we were able to see the floating market, hundreds of merchant boats on the river with flags indicating the products being sold on each particular boat. Exotic fruit, coffee, cold beverages, poultry, clothing, bamboo and wood crafts were being sold on the boats. Some merchants and their entire families lived on one boat, while others worked on the water during the day and went back to port to go home at night. My meals in Can Tho included novelties such as steamed snails, frog (tastes like chicken-imagine that!) with a curry vegetable broth, eel, sardines, fried tofu, sauteed spinach with garlic, mini clams stuffed with garlic and crushed peanuts, and Vietnamese pork jerky. From the floating market, we were able to buy dorian fruit, jackfruit, dragonfruit, and rambutan fruit. At the conclusion of our second day in Can Tho, we traveled to the beach city of Phan Thiet for five days where my aunt's resort was located.
     On the way to Phan Thiet, I was under the impression that we would be staying at my aunt house, which was in close proximity to the resort. However, when we arrived, I was shocked to see that we were at the resort. Beautiful bungalows, gazebos, 2 pools, a mosaic patio, the sound of the ocean waves and clear white sand greeted us in the night. I had no idea that the construction had progressed so far and that we would be the lucky first guests. We enjoyed a variety of meals from the very skilled chef of the resort restaurant such as pho noodle soup, crispy rice with squid and vegetables in a mild red sauce, rice noodles sauteed with crab and vegetables, broiled fish in a savory sauce, sour fish soup, crab soup, fish kabobs, fried fish, and fried rice.
Each day felt like a feast, and I relished every moment spent in Phan Thiet whether it was playing on the beach, talking walks along the sand, swimming in the pool, reading and listening to music in the gazebos, or watching the calm waves go up and down. At night, while walking on the beach under the stars, millions of hermit crabs could be seen scurrying out of their holes in the sand. Tammie and I had the time of our lives chasing them and attempting to catch them in buckets with flashlights. While we were at the beach, we were able to visit a few locations such as an ancient palace in the neighboring beach city of Mui Ne where we humorously discovered that the common people worshiped male genitals in the belief that males were the source of prosperous population. Tammie and I argued pointedly that it "took two to tango" and that women should have been given equal recognition.
Other sights we visited were the Faerie Stream in Mui Ne (a river of mud that provided a refreshingly pleasant barefoot walk), attending mass at a vigil for the Virgin Mary on top of a mountain, and sliding on the sand dunes of Phan Thiet. My aunt's resort was relatively small, but each bungalow was very personal and private, and the friendly staff and workers provided an overall family environment. Tammie, her mom, and I were all filled with a bittersweet anticipation of when we would leave the exquisite, luxurious, peaceful resort and return to Ho Chi Minh City to go to the central highlands with no showers, no toilets, and harsh conditions for the medical mission. Every day, Tammie and I would walk to my aunt's house to check our emails to see if there had been any changes with the mission schedule, but we received no emails. We had asked a family friend to buy art supplies for us in Ho Chi Minh City, and we would pick them up when we returned for the mission.
     The morning we left the beach, we tearfully said goodbye to the staff and workers at the resort. They had worked so hard to make us all comfortable and welcome. After spending five days at the resort, the staff and workers had all become our friends and they urged us to return soon. We arrived back in Ho Chi Minh City early in the afternoon. That night, we would be going to a church to meet with the mission people and head to the region of Tay Nguyen the following day. After we hastily packed the necessities for the mission and freshened up, we got a taxi to drive us to the church. The weather had suddenly become ominous. Rain was pouring and thunder and lightening marked the skies. We had all of our medical and art supplies ready.
When we pulled up to the church, it looked strangely vacant. Tammie's mother told the taxi to wait until we talked to the people inside before leaving. When we knocked on the door, a priest who was pastor at the parish emerged. He seemed very angry, and began saying how Father Vang was not at the church, that no mission people were inside, and how Father Vang had been neglecting his emails. I was filled with a sense of dread, but I wanted to wait until we had more information before panicking. Suddenly, we received a phone call from Father Vang informing us that the medical mission was canceled. As I shot a glance at Tammie, both of our jaws hung open in shock. THE MEDICAL MISSION WAS CANCELED???!!! I was in complete disbelief and utter shock. On the phone, Father Vang added that he could not talk for long, was very busy, and that the mission was canceled because he had gotten permission from the local government to bring in foreign doctors and nurses to provide relief to the people, but when the higher level of authority found out about it, they forbade entry. Since the government of Vietnam is Communist, exposure to poverty is a very sensitive subject.
In previous years, Father Vang had organized missions, but that only included doctors and nurses born and living in Vietnam. When the government discovered that foreigners would be coming into the region, they did not want the poverty to be exposed. In addition, the indigenous people of Tay Nguyen have been the subject of much discrimination and neglect at the hands of the government, so it provided another reason to deny any relief aid to the area.
I was filled with so many emotions as we received the news: anger, distress, sadness, helplessness, confusion, disbelief, and defiance. After hastily collecting donations from our family and friends, buying medical and art supplies, asking our friends to bend over backwards to acquire the supplies for us, and planning so many activities for the people in the region, our efforts were wasted. I was angry not only for our efforts, but for the efforts of the doctors, nurses, and other volunteers who were supposed to be coming. Where were they now? Had flights been canceled? Were they even informed on what had just happened? Where would we go for the next week? Why had no emails been sent? How had this happened? Why did Father Vang not seek permission from all levels of government before organizing a massive medical mission and flying Americans all the way to a foreign country across the world? Did he have a plan B?
There were so many questions I wanted the answers to. Selfishly, I though about how I'd been planning to write about my mission experience for college. I'd been robbed of an opportunity, and that made me angry as well. As Tammie and I sat in shock on the benches outside of the church, I felt my chest heaving and I started to hyperventilate. So many people in such dire need of medical care and attention had been waiting for us to come, and now we would never arrive. I wanted to cast the blame somewhere-the government, Father Vang, the unfair conditions of the world we lived in…
     We received a call from one of the women who was supposed to be coming on the mission. It turned out she was staying in Ho Chi Minh City at the moment and offered us a place to stay for the night at a company that gave jobs to the deaf and mute. After despondently deciding that it was our only option, we met the woman at the company. She told us that we would be meeting with Father Vang the next morning at a house to discuss our plan for the remaining week. I tossed and turned as we slept on the floor, too immersed in the events that had just occurred to peacefully fall asleep.
The next morning, we met with Father Vang and the rest of the mission people at the house close to the company. As it turned out, he did not have a plan B. After expressing his sadness and disappointment at the turnout of events, we exchanged ideas for what we could do for the remainder of our stay in the country. After a long discussion, we decided the best course of action would be to stay in Ho Chi Minh City and try to carry out missions locally with the supplies that we had. In total, Tammie, her mom, and I participated in 4 local missions.
     With the group, we first traveled on an overnight bus to a poor region 6 hours outside of the city called Soc Trang. After the bus ride, we arrived in the region around three o'clock in the morning. Until six AM, we slept in the pews of the community church. After a brief breakfast, we set out to do our work. That day, we were able to provide care to approximately 1000 elderly, adults, and children. In the morning, I was able to play with the community children, doing activities such as blowing up balloons, handing out stickers and toys, and teaching them how to make friendship bracelets. It was extremely hectic and the children were very hyper, and I was beginning to get overwhelmed. At nine thirty Father Vang held mass for the volunteers and natives. I was extremely drowsy from lack of sleep and the morning heat, but I pushed myself to stay awake.
After mass, I was able to volunteer at the pharmacy station organizing and handing out prescriptions for the patients. The lines moved swiftly and I struggled at first, but towards the end I became very efficient and friendly with the other volunteers. Lunch was served, and then I helped to take blood pressure at a station with Tammie's mom. In the late afternoon, several stations for making friendship bracelets had been set up. I was overjoyed by its popularity. The best thing was, once the other volunteers and I were able to teach a few students how to make the bracelets, they in turn were able to teach the other children and adults how to make them, making our jobs a little easier. At the end of the day, I felt wildly accomplished and happy that I had done what I came to the country to do-provide medical relief and interact with the people.
Our next mission took place in a tribal region two hours outside of Ho Chi Minh City called Binh Phuc. There, the elderly especially were in need of medication and care. Although we only got to spend 4 hours in the region, we were able to provide some aid and participate in a cultural dance and ritual with the people. The priest who was overlooking the region was most admirable. He had built the community church for the tribal people on his own, cutting the wood, and creating the foundation. He lived in the community with the people, surviving in a tent and immersing himself in their culture. He also had superb English and was welcoming and humorous. Our final mission was visiting two orphanages 30 minutes outside of the old capital city. The first orphanage consisted of 53 boys and girls living in one small house. The orphanage was being overlooked by religious sisters. All of the children were so loving, polite, and endearing when they did not even have parents who cared for them. I was especially appreciative of the well-balanced, religious environment being provided for the children by the nuns. One orphan that broke my heart was a two-week old baby who still longed to be nursed, and kept digging its face into Tammie's shirt in search of milk.
The second orphanage we visited was all boys. They, too, were extremely loving, polite, and extremely smart. This orphanage was being cared for by religious brothers. This orphanage also left me feeling sad. The only medical supplies that the 20 or so boys had was a small first aid box attached to the wall filled with three or four over the counter pill bottles. All of our medical supplies had already been used, and the only thing we had to give to the orphanages was our leftover string to make friendship bracelets. It was heartbreaking to leave after only visiting each orphanage for a few hours. True, we were giving the gift of our presence, but it did not feel like enough.
     In brief, my trip to Vietnam turned out to be wildly unexpected, and full of chaos and irony. I relished my time spent with my aunt and traveling, and was even more exhilarated to be able to participate in mini-missions, even though I had not foreseen the sudden turn of events that made them happen. I have emerged inspired, humbled, and motivated from my experience with the different people we encountered. Seeing how people of a different world lived and experiencing the difficulty of their day-to-day activities with such limited resources provided such a more valuable gift than anything I could have given them during my brief stay. The only things I can do to bring hope and relief to these people are to continue participating in missions as often as I can, and giving people a story to tell so they too can bring change.
Dear Reader: This page may contain affiliate links which may earn a commission if you click through and make a purchase. Our independent journalism is not influenced by any advertiser or commercial initiative unless it is clearly marked as sponsored content. As travel products change, please be sure to reconfirm all details and stay up to date with current events to ensure a safe and successful trip.
---