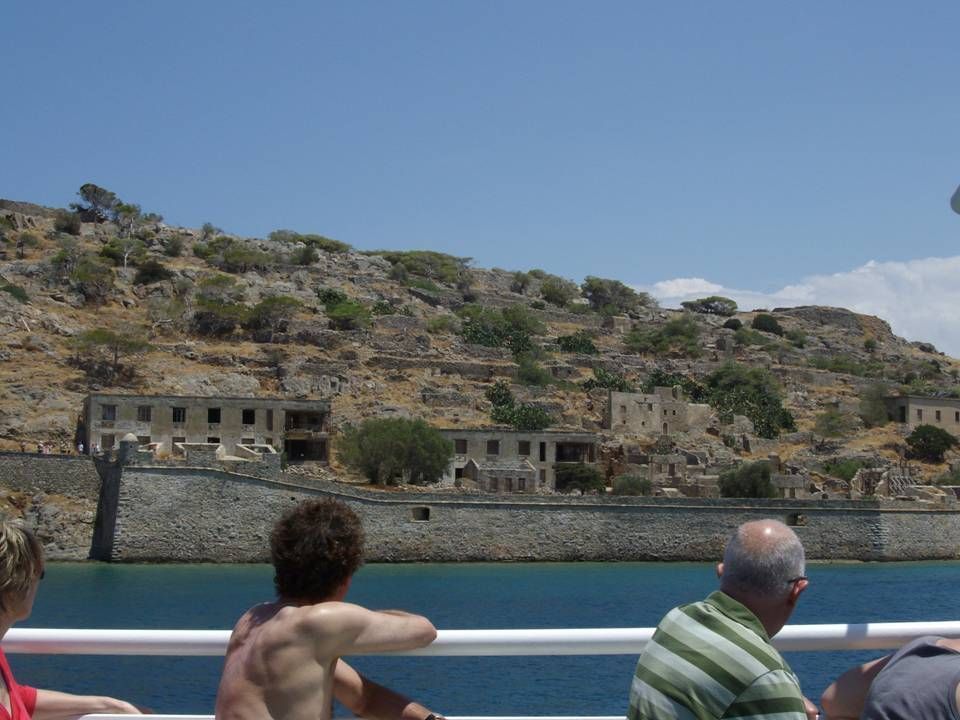 One trip in particular stands out from our vacation in Crete: our trip to Spinalonga (spin-a-long-a) Island, a rocky formation just off the coast that is famous for its Venetian fortress and deserted village (both decaying) .  Initially I wasn't interested in going, partially because my stomach and the sea are not on good terms. My family outnumbered me, however, and the trip was on.

The drive to Agios Nikolaos where we got the boat was long, and boring, with the exception of some beautiful scenery here, a touch of goat there, and bullet-riddled signs everywhere. In Agios Nikolaos we discovered that there was only one ferry to Spinalonga island (or so they said) and we had an hour to kill. We ate pastries (delicious) and walked around, and then boarded.

My mother and I found seats on the first deck, and my brother and father went to the second. Numerous smokers began gravitating  towards the ashtrays  in front of us. I sensed intestinal danger and fled to the safety of the second deck.  Up there the sun was shining and the air was clean. When we reached the island I asked my mom how it was in the "smokarama."  She summed it up in three words, "bad, very bad."  Note to self: stay on upper deck.

We had an hour on the island before the boat left (hopefully with us on it). My mother, with us in tow, skirted around the tour guide, as if he was oozing  a deadly, contagious disease. We preferred to roam the island freely. We had a hasty picnic lunch near a withered olive tree (they seem to grow everywhere). Then an idea struck my mother: "Why not climb to the top?" Seeing as there were: 1. no marked paths and 2. the terrain was rocky; and 3. I'm afraid of heights, my brain flashed warning signals with bullhorn noises.  

"There are no paths," I said in a desperate attempt to thwart the plan.

My mother then spotted people climbing along the cliff face. Two tourists had found a trail.

"Perfect!" she exclaimed.  

"Damn tourists," I mumbled.

I trudged up the path, cursing under my breath. Near the top I thought the worst was over, *bzzt* WRONG. From there we could see that the island had two rocky ridges that are connected by a very narrow, cliff side trail. My just eaten lunch surged to my throat as I heard my mother eagerly say,  "let's go across!"  Note to self: get new mother.

 

With my lunch tucked somewhere under my eyeballs, I followed. One foot. The next foot. Only after I had safely crossed did the path open up (away from the cliff face) and my lunch settle into its usual place. It was then that I could see around me. The view was spectacular: deep blue coves; a fishing village on the mainland; and our little, itty bitty boat. Wow. We took it all in.

My mom then looked at her watch, "time to get back, if we want to make the boat."

The path we were on led to a track going down the other side of the island. Going down is easier than going up. It led us to the deserted village, now just stone walls and rotted wood ceilings, and then the main gates of the fortress. Past the gates was the harbor where our boat was anchored.

Safely back on the boat, on the upper deck, with the wind in my face, I thought to myself, "Crappy boat ride. Cool island." Note to self: worth the trip.

 

Dear Reader: This page may contain affiliate links which may earn a commission if you click through and make a purchase. Our independent journalism is not influenced by any advertiser or commercial initiative unless it is clearly marked as sponsored content. As travel products change, please be sure to reconfirm all details and stay up to date with current events to ensure a safe and successful trip.
---