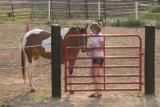 There are few experiences like the first time you leave your family and travel on your own. My trip to China during the summer before my sophomore year in high school is one I will not soon forget. The Chinese Summer Bridge Camp program, through the Confucius Institute at the University of Massachusetts, brings students across the world to discover the mysteries of China. This was not my first time visiting China, but visiting China with my grandma and great uncle and visiting China with fifty other American teenagers were completely different experiences. Arriving in Beijing after a thirteen-hour flight and being greeted by hundreds of cheering Chinese students set the tone of the trip.
Our main base of operations was the Greentown Yuhua School, located in the city of Hangzhou in the Zhejiang Province of China. In the mornings at the Greentown Yuhua School, we would have daily Chinese lessons and tests to further our understanding of the language. Afternoons were spent engaged in some sort of cultural exchanges such as calligraphy or paper folding. 
From our school base, we traveled on one-day excursions out to exotic places such as the majestic West Lake, with an incredible water garden, the silk market, where almost everyone purchased some authentic Chinese silk for their families, and the National Wetland Park. Another great trip was our visit to the Tea Museum, where we learned about the incredible healing properties of green tea, and got to purchase some high quality green tea at the end of the tour. The most incredible experience of my China trip, and quite possibly my life, was the time we spent at the Shaolin Temple. That's right. The Shaolin Temple, the most famous home of martial arts in the world. Not only did we get to see the monks' breathtaking martial arts perform, but we also took daily trips to the temple to learn martial arts with the greatest kung fu masters in the world. And I'll tell you one thing, they didn't treat us differently then any of the other thousands of Chinese training there. One girl in our group actually ended up going to the hospital. We were forced to quickly learn the way of the monk, fighting with our hands and using weapons. "PUNCH PUNCH KICK PUNCH ROLL KICK GO GO GO GO GO!!!!!!!!" There is no experience quite comparable to being taught martial arts by the greatest masters of them in the world, while they bellow at you in a language you cannot understand and expect you to do things you never knew you were physically capable of doing.
            The Chinese language and culture are not entirely new concepts to me though. My public school system offers Mandarin classes from 1st through 12th grade, and next year I will be taking AP Mandarin. By going to China, I was able to get a lot of practice in on the language, because trust me, Chinese is not an easy language to learn. My time spent in China was a life-changing event, as well as a turning point for me. I realized what it was like to be independent and to travel, and I realized that my new goal was to see as much of the world as possible. I would strongly recommend anyone and everyone to look into participating in a summer bridge camp trip to China and experience the country first hand. But if you decide to venture there, remember, the turtle meat and duck feet you will be eating are not as bad as they look!
Dear Reader: This page may contain affiliate links which may earn a commission if you click through and make a purchase. Our independent journalism is not influenced by any advertiser or commercial initiative unless it is clearly marked as sponsored content. As travel products change, please be sure to reconfirm all details and stay up to date with current events to ensure a safe and successful trip.
---