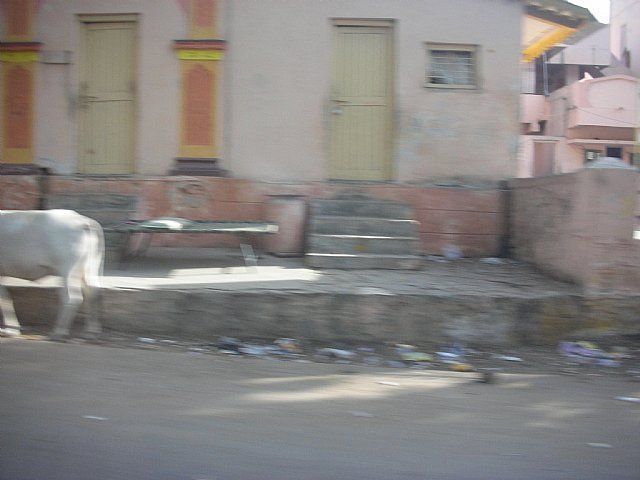 My skin is brown like the people. And our cultures are alike, but still I don't belong…

My sister and I take a stroll through my dad's village, Gandevi, the first day we arrive in India. Right off the bat I remember why I didn't want to come here again. We pass tiny, colorful houses, once beautiful, but now washed away with old age and mold. Trash lines the sides of the roads, and putrid smells of who knows what flood onto us. As we walk we try to avoid the potholes that appear on the ground. A white cow ambles across the street. Some boys ride past us on their scooters. They stare just as the people sitting on their porches do. "They must be the Americans," wearing capris and showing legs because they get too hot.

Beggar children horde our family as we stand waiting for a train to take us to Surat. No matter how much we try to blend we cannot. We are NRI (non-resident Indian), and they know we have folds of cash in our pockets. Masa, my uncle, shouts "hut, jat tu" for them to go away. One of them doesn't leave. We try to avoid her bichari(poor) eyes, her dirt brown hair, and tattered yellow dress. She shakes her empty metal plate under our eyes. My mom gives in.

I wake up in the middle of the night covered in a layer of sweat. The heat is too much to bear. The power has gone out again, meaning no lights or fans for the day. The ice cream we try to eat is like liquid soup. A cold shower has no effect. The minute I turn it off the sweat returns.

I cannot communicate with anybody. Gujurati is no longer my native tongue. My parents beg us not to speak at stores. It makes it too obvious that we are foreigners, and they will ask for more money.

The toilets here are holes in the ground. The market stalls are covered in flies, but no one seems to care. There are strange bugs crawling everywhere. I can't eat cold food because it is dangerous to my health. Milk must be boiled properly before being drunk. Only bottled water is allowed. The roads are chaotic. Everything is different.

 

And then I begin to think. So what if I don't belong. This is my heritage. I just need to accept it. And somehow that makes it better….

My sister and I sit out with my foi and fua, aunt and uncle, on the cool cemented porch. We don't say much, because nothing needs to be said. This is the same porch we passed on our stroll the first day we got to India. But, somehow I now understand it. The wear and tear that comes from a lifetime of living in a tiny house means it is a house of love. They all are. I look up at a perfect starry night. This is the peace of village life. We can go to a stranger's house and they will welcome us. No one needs to lock their doors. I ask to my fua, "Aa su che?" (What's that?) pointing towards a flying bird. Even though I don't understand his reply, it doesn't matter.

There is good and bad to everything. India may not be paradise but it is my unforgettable past. I just have to be accepting. My parents left from here with only some cash and their futures in mind. I will not forget their hard work.

 

Dear Reader: This page may contain affiliate links which may earn a commission if you click through and make a purchase. Our independent journalism is not influenced by any advertiser or commercial initiative unless it is clearly marked as sponsored content. As travel products change, please be sure to reconfirm all details and stay up to date with current events to ensure a safe and successful trip.
---