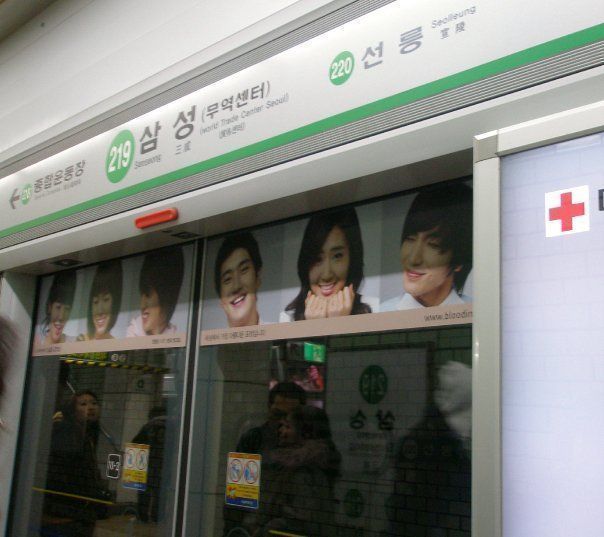 Winter of 2009, I decided to travel across the globe to one of the fastest growing and technologically advanced countries in this century: South Korea. Of all the wonderful areas available to my grasp in Asia, I chose the city of Seoul for its abundance of mainstream Korean pop culture and flourish of entertainment availability. Three years ago, I fell in love with Korean pop (Kpop) music because it is truly reflective of traditional and modern Korean culture. It was almost fate on an arbitrary summer day that I stumbled upon some Korean pop songs as I lazily searched around the internet for various forms of entertainment. Kpop became a passport to a new culture before I even left my bedroom, and turned me into a Kpop music enthusiast!
                On my 18th birthday, I flew with a friend to South Korea. We stayed at the Intercontinental Coex Hotel in the business district of Seoul, which is called Samsung. I have never been on a subway before, so I was skeptical about using this method of transportation and solely relied on a taxi at first. However I soon found out that in Seoul, the subway systems are the easiest, quickest and cheapest form of transportation for locals as well tourists. I purchased the public transit card at the subway stations, and boy, did I see those Wons (Korean currency) save up! The major subway lines always have an English option on their intercom and most Korean stores have English captions. The street signs are also written in English; therefore, deflating the intimidation factor of a language entirely written in symbols and characters. I am not fluent in the language but I did learn some basic phrases that impressed many local storeowners!
                While in Seoul, I went to musicals, concerts, museums, palaces and temples. The pop scene in Seoul is very much like the one in the states; however, they are less explicit and go straight to the root of its music. They are very conservative in the sense of the material that they expose to the public. I love this concept about the Korean culture because it holds a very positive stature for its public eyes. Their music is so truthful and pure that it helped me break through who I was to who I am now. No longer am I on the internet randomly surfing for meaningless entertainment, but I am now experiencing firsthand optimistic cultural infusion. They have songs of encouragement through hard times in the economy as well as advertisements with famous stars promoting the act of giving to local and worldwide charities. Whether it is giving blood, community service opportunities or donations, these advertisements show up more on the streets of Seoul than I've ever seen in my life in the states. It made me realize Koreans are very thankful people. With all these positive promotions, the average streets of Seoul have influenced me to share what I have with the world and my community.  
                 After returning home, I began to see myself engaged in more charitable programs. I signed up for a mentoring program at my high school; I started donating to the soldiers overseas and children's hospitals in Seoul and Vietnam. I registered as an organ donor, volunteered at a dog shelter every Saturday, and at my local Buddhist temple every Sunday by cooking for the monks, there. The Korean culture enhanced my growth as a beneficial addition to the world.
Helpful Links:
Intercontinental Coex Hotel in Samsung business district–
http://www.intercontinental.com/intercontinental/en/gb/locations/SEOHB?sicreative=3516118440&dp=true&sicontent=0&sitrackingid=77605332&cm_mmc=Google-PS-InterContinental-_-G%20B-APAC-_-KOR-Seoul-SEOHB-_-coex%20intercontinental&siclientid=1911
Picture: Kpop Stars promote donating blood (advertisement) on the Samsung subway station line –
Dear Reader: This page may contain affiliate links which may earn a commission if you click through and make a purchase. Our independent journalism is not influenced by any advertiser or commercial initiative unless it is clearly marked as sponsored content. As travel products change, please be sure to reconfirm all details and stay up to date with current events to ensure a safe and successful trip.
---